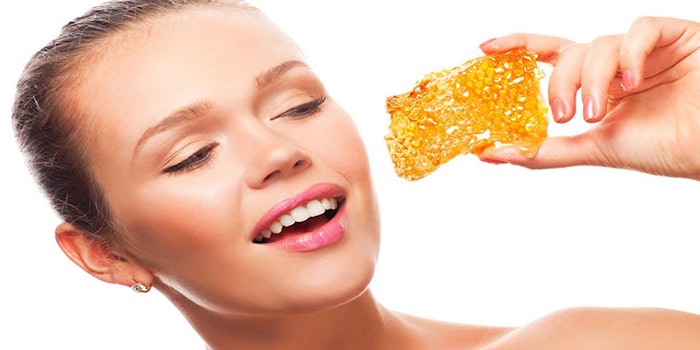 The show floor at in-cosmetics Global featured an array of food-derived ingredients and food-inspired product concepts, including Merck's ready-to-use foodie formulation: Vanilla Pudding, Strawberry Smoothie, Lemon Sorbet and Berry Cheesecake. But that was just the start.
Food-inspired Formats
Product demos at the show displayed a wide range of food-inspired formats to create an experiential boost to beauty. For instance, Brenntag created a skin cream that evoked the look and feel of panna cotta, while it also offered an ice creamlike texture for an aftersun treatment that melts upon contact with the skin.
Inolex introduced a Blush Bomb Sorbet comprising a cream-to-powder format with a skin-softening effect. 
Oh, Honey
Biesterfeld, displayed a Bee My Honey gentle cleansing oil with a warming texture, honey smell and oil-to-milk format, and silky after-feel. The formulation comprised the non-ionic co-emulsifier Dermofeel G50, the Dow Corning 3901 Liquid Satin Blend of silicones, a dispersant, Dow Corning FZ-3196 and Zemea propanediol for hydration, preservative effects and low-irritation.
Naturex presented a different twist on honey, with its Chakah Honey from the Yucutan, which can increase the mitochondrial biogenesis of cells confronting oxidation. It can also increase ATP production and inhibit the expression of the genes responsible for mitochondrial dysfunction. From a moisturizing point of view, Chakah Honey can improve skin hydration and improve skin barrier function.
Naturex also offers Orange Blossom Honey from Spain, Multi-Flower Honey Powder formulated with 50% maltodextrin, Lavender Honey from Provence, Manuka Honey from New Zealand formulated with 50% glycerin, Acacia Honey from the Carpathian Mountains and Multi-Flower Organic Honey formulated with 50% organic glycerin.
From the Garden
Naturex presented indulgent gourmand materials to nourish and plump the skin, including Rhubarb LG (INCI: Rheum Palmatum Root Extract). Naturex noted that, between 2012 and 2016, there has been a 308% increase in the number of product launches touting rhubarb extract.
The company also introduced detox concepts, including Kale LG (INCI: Brassica Oleracea Acephala Leaf Extract), which can help to purify and protect the skin. Naturex noted that launches of kale-touting launches have increased 15 times over between 2013 and 2016.