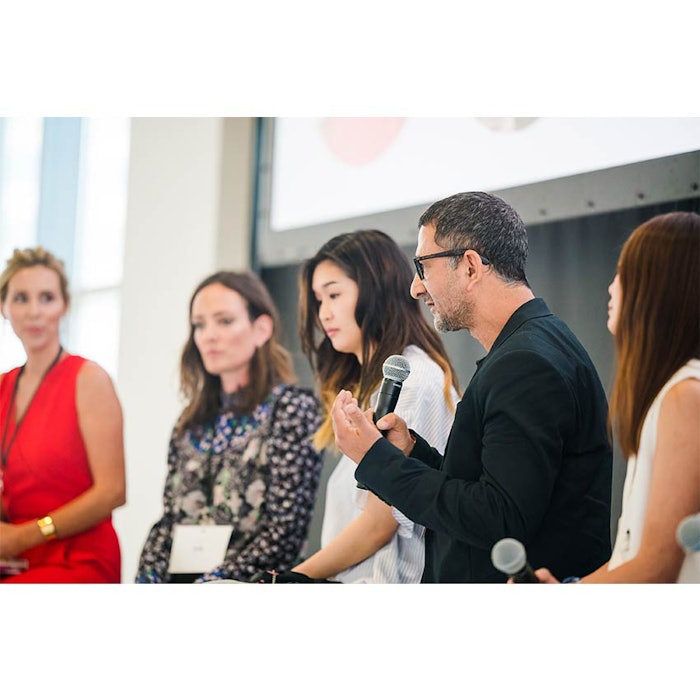 FounderMade Beauty recently presented a look at the world of independent beauty, including founders, investors, the latest startups and retail leaders. Like FounderMade's Wellness Summit, the event pointed to the key trends shaping the industry. This story is part of a multi-part feature covering the key topics from the conference.
Sabrina Tan, founder of Skin Inc. Global (not to be confused with Allured Business Media's Skin Inc. magazine), has a background in the tech industry and views the beauty industry through that lens. The customizable skin care brand features the Skin Supplement Bar, which allows consumers to easily build their own regimens based on their needs, as well as the online Skin Identity Check diagnostic tool.
Tan has focused on simplifying skin care by leveraging technology and addressing skin care needs for every specific situation. Skin Inc. Global's recent launches include the Vitamin B3+ Serum, comprising niacinamide, panthenol and hyaluronic acid, for minimizing pores and addressing pigmentation, as well as the hydrogel Multi-Masking Facial In A Flash series in a Bento Set, comprising the Soothe-n-Purify Black Gold Mask, Lines Be-Gone Rose Gold Mask and Get Glowin Platinum Mask.
The masks come with top and bottom halves that can be mixed and matched for a customized mask for consumers' specific needs. Tan explained that the multi-mask concept saved time by allowing consumers to provide different solutions to different portions of the face, simultaneously. The brand added a gold tone to the masks to make them more Instagrammable.
Tan noted that consumer attention spans are so short that it's critical for brands to get the fundamentals right. Data is critical to ensuring launches succeed.
Suveen Sahib, co-CEO of Aquis, also has a tech background. Aquis retails hair towels and turbans to "simplify your hair care routine." According to the brand, "Our products cut drying time by 50%, protect hair from frizz and prime it for effortless styling." The brand retails at Sephora and elsewhere.
Beauty needs to be driven by data, particularly as consumers seek more definitive answers regarding product efficacy.
During a FounderMade panel, Sahib stated that beauty needs to be driven by data, particularly as consumers seek more definitive answers regarding product efficacy. Aquis will eventually expand into hair care products, based on Sahib's comments. The co-CEO told the FounderMade audience that the future will be driven by biology-enabled beauty, optimized cellular performance, genetics-based beauty, water-efficient innovation and more.
Sahib explained that Aquis has focused on the crowded, low-innovation hair care space, specifically its friction points and how they impact split ends, hair health, styling, etc. In developing hair care, Sahib said that Aquis will focus on delivering fast results and personalized solutions that really work. He added that brands can no longer develop products in isolation and that it is critical to use data to develop products based on "real numbers" and to attain an understanding of consumers' constant evolution.
Sahib concluded that founders must create strong execution teams and a culture of challenge within startups. This will make an operation more scalable, he noted. This includes freeing staff to challenge founders and requires those founders to let go of certain tasks in order to focus on strategic growth.