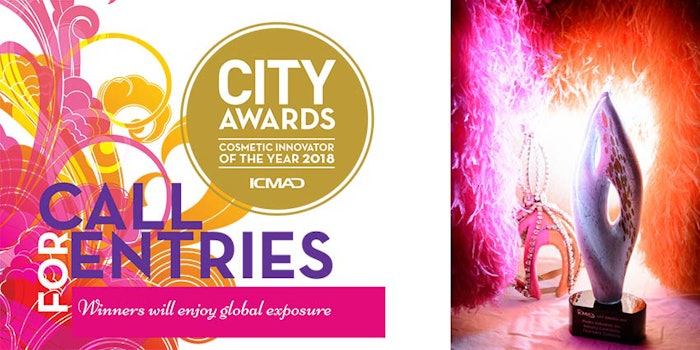 The Independent Cosmetic Manufacturers and Distributors (ICMAD) Association is accepting nominations for the annual Cosmetic Innovator of the Year (CITY) Awards.
The awards honor industry contributors, product innovation, and advertising/marketing concepts within the cosmetics and personal care industry over the past year and are open to startups and well-known brands alike.
Winners will be honored at the 2018 CITY Awards ceremony, held July 30, 2018, at the Mandalay Bay Resort and Casino in Las Vegas during Cosmoprof North America. The evening will include a dinner, the awards presentation and live music and entertainment.
"ICMAD is proud to foster innovation and celebrate creativity in the cosmetics and personal care industries. Last year's competition – the imagination and originality of entries – was wonderful. I'm looking forward to this year's CITY Awards entries and the exciting entertainment we have planned," said ICMAD president and CEO Pamela Busiek.
Nomination forms, tickets and further details can be found at ICMAD.org; both members and non-members are encouraged to submit nominees. The enrollment deadline is June 15, and late enrollment is accepted June 18–22.