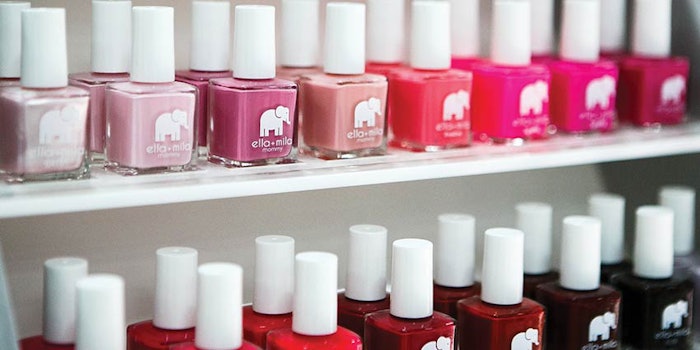 The market for sustainable/green/eco-friendly/clean, organic and natural beauty products is exploding, creating new opportunities for multinationals and small startups. As a result, Cosmoprof North America (CPNA), which will take place July 24–26, 2016 at Mandalay Bay Convention Center in Las Vegas, will unveil a new Discover Green section to its event.
Read coverage of Cosmorof North America 2015 here.
The dedicated area will include green beauty in all its permutations of wellness and environmental consciousness. Discover Green will feature companies that cover both the retail and spa distribution markets, as well as unique indies and "power brands."
"Each year we see an increase in the amount of exhibitors displaying natural products and an increase in our buyers' interests in natural products to meet the growing consumer demand," said Daniela Ciocan, marketing director, CPNA.
Key specialty retail buyers specifically attend the show to meet exhibitors from the area and are connected through one-on-one meetings during the show.
"Discover Green was established to meet the needs for both; exhibitors now have a focused platform to promote their unique, eco-friendly brands and buyers have a curated, central location to discover them."
The launch follows previous additions to the show, including Discover Beauty, the multicultural Tones of Beauty and Discover Scent, as well as its Beauty Pitch mentorship and funding contest, highlighting the event's status as a launchpad for newer brands and emerging trends. Recently, Ciocan spoke with GCI about the brands featured at the show, as well as the unique needs of startups.
GCI: What is the spectrum of stages of companies present at Cosmoprof North America?
DC: CPNA exhibitors are mostly made up of small- to medium-sized companies seeking to develop their overall distribution. Larger multinationals do also attend but more specifically to meet with domestic and international distributors.
Consumers love the stories and people behind the brands.
GCI: For startups, what resources do they need most?
DC: Most startups are cash-starved and looking for access to investment. In addition to monetary needs, having industry experts who can lend support or feedback is also important as he/she can provide necessary guidance with regards to allocating funds and creating a strategy for business growth.
GCI: What are their biggest challenges?
DC: The biggest challenge facing most companies, especially startups, is garnering the attention of retailers and distributors. Most startups struggle to get the necessary face-time to pitch their brand or even obtain valuable feedback. However, even before attempting to get their interest, finding who the key influencers and getting contact information is another big challenge.
GCI: How does the Beauty Pitch support brands?
DC: The Beauty Pitch is a launchpad for small and established companies. It provides tremendous exposure to the industry at large but more specifically access to investors. Smaller companies are being reviewed by angel investors, whereas the larger equity groups are looking at participants with more established businesses.
Either way, the access to capital is the primary purpose for Beauty Pitch participants. In addition, brands have the opportunity to develop further distribution through collaborations with Amazon Launchpad and BSG CosmoProf.
GCI: What are the opportunities for small beauty companies? What is the landscape like for small-scale organizations?
DC: Consumers love the stories and people behind the brands. Using the power of the internet to push one's message is a powerful and cost-effective tool. The same goes for ecommerce sales in that it provides brands better margins when compared to traditional retail distribution. When combined with strategic social media engagement, the return can be even higher.
A great opportunity for networking and learning can come from associations like ICMAD who offer a plethora of information for building businesses and offer legal registry help. In addition, the association holds its annual ICMAD CITY Awards. This award is tailored for indie brands, providing an unbiased product review and simpler application process than other industry awards.
Participating brands have gone on to great success.
In general, seeking award opportunities can be a great way to gain exposure and funding. The seal of award winners gives brands instant credibility and marketing cache. One final opportunity not to be overlooked is the power of trade shows for networking, branding and business development.
For example, Cosmoprof North America brings together the world of beauty under one roof and offers several unique programs to help brands connect with buyers.
As an example, the highly coveted and curated Discover Beauty area was specifically created for niche, smaller brands looking to build distribution. Key specialty retail buyers specifically attend the show to meet exhibitors from the area and are connected through one-on-one meetings during the show.
Participating brands have gone on to great success. From TV shopping auditions and buyer programs, exhibitors have the unique advantage of meeting with multiple business prospects from around the world in one location. Those who take advantage of all the marketing opportunities available are able to use their show participation as a powerful business building tool.