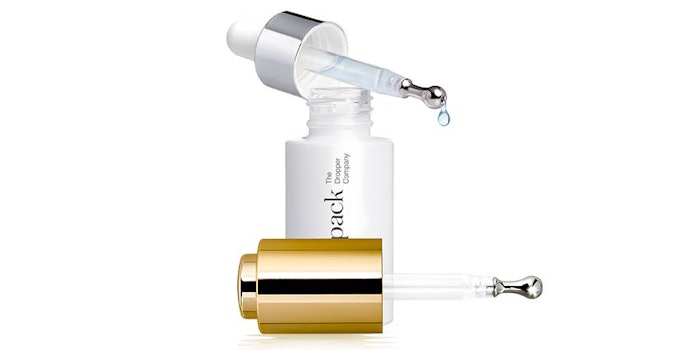 Look for expanded coverage of more launches and highlights in the April 2020 issue of Global Cosmetic magazine. Subscribe for free here.

At PCD Paris 2020, which wrapped up on January 30, packaging suppliers across the beauty and personal care sectors unveiled their packaging innovations. The two-day event consists of meetings, networking opportunities, awards and suppliers showcasing their offerings.
The brand earned several recognitions for its packaging developments at this year's ADF&PCD Awards, including nominations for three of its proposals developed through 2019.
The Dropper for CBD and The Ring Dropper were finalists in the personal care dispensing category.
Virospack Massage Applicator Dropper was awarded one of the best proposals in packaging innovations for personal care brands. The two in one dropper is the first dropper which pipette ends in a metal tip for a massager action with an instant cooling effect.
Pascale Laurier, Virospack sales manager of Europe, collected this recognition at the Awards Ceremony in Porte Versailles on January 30.
Verescence
Developed for French startup What Matters, a digital brand focused on reducing plastic consumption in skin care and personal hygiene products, Verescence showcased its Safety Glass bottles, which are set to launch in April 2020.
The bottles are intended to offer an ecoresponsible alternative to the plastics that are not easily recyclable. Safety Glass is 100% recyclable and remains in the circle of recycling glass.
Safety Glass is constructed with a second skin so if breakage occurs the fragments can be retained inside that second layer. The second skin also provides a non-slip effect on the surface of the glass.
"Our patented technology The Unbreakable - Safety Glass strengthens the mechanical resistance of glass while keeping its intrinsic properties," Samuel Joachim, director of innovation at Verescence, said. "A very thin layer of polymer applied on the glass surface allows [it] to absorb shocks."
"We are very proud of this partnership with Verescence, the leader in eco-designed glass packaging, which gave us the opportunity to develop our project by providing its expertise and giving us access to a brand new technology on the market," What Matters co-founder Charlotte Catton said. "We are very grateful to the Verescence teams who have shown agility in industrializing this packaging innovation in less than a year."
Mixer & Pack
In previous years, this event has been an essential part of the growth and international expansion strategy of the Spanish developer and perfumery manufacturer. In this last edition, the manufacturer succeeded in reaching new clients in the international market, returning with promising projections and important contacts in its client's portfolio.
During 2019, Spain has positioned itself as the second world exporter of perfumes, exceeding a total volume of €4,260 million, which has led the international scene to become increasingly aware of the potential of the "Spain Brand" in the manufacture and export of perfumes. Mixer & Pack is currently creating perfumes and cosmetic products for more than 120 countries around the world.
The company is immersed in the new 4.0 industrial revolution, which requires the maximum digitization of processes, interconnection and the use of artificial intelligence. This allows Mixer & Pack to offer electric printing technologies in the interaction of its supply, product and consumer chain.
This year, Mixer & Pack revealed its latest innovations in sustainable packaging development, applied to its perfumery and cosmetics developments through a careful synergy between transparency, traceability and quality in the industrialization of its designs.
"PCD Paris has become a key event for the internationalization plan that Mixer & Pack has been implementing in recent years," Lorena Corbacho, director of business and product development at Mixer & Pack, said. "Attending PCD Paris is an excellent way to contribute to the growth of the company every year."