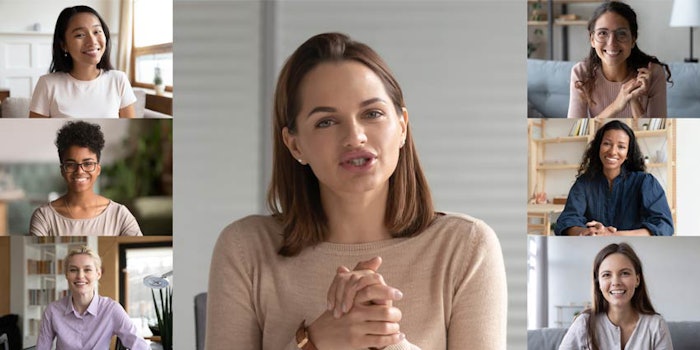 A unique face-to-face virtual roundtable event will close out the final day of Beauty Accelerate Virtual (October 18-21, 2021). These small-format sessions will feature no more than 15 attendees, allowing participants to interact directly with expert speakers on a range of topics, including psychodermatology, marketing strategies, beauty market data analytics, inclusive design and more. Registration is now open.
Taking place at 11:00 a.m. on October 21, speakers in these sessions will engage attendees in forward-thinking conversations, while attendees will have an opportunity to pose their questions directly to the experts. See the full event lineup here.
Roundtable Lineup
Psychodermatology and Skin Aging: The Mind-Skin Connection
This roundtable discussion gives a clinician's view of connections between mental stress and skin aging. Tap into these insights to inspire product concepts with the potential to improve consumers' state of mind and subsequently, skin condition.
Expert: John Koo, M.D., is a professor of dermatology at the University of California at San Francisco (UCSF) School of Medicine. He received his medical degree from Harvard Medical School in Boston, where he was a Harvard National Scholar.
Board certified in both psychiatry and dermatology, he is a member of the American Psychiatric Association and the American Academy of Dermatology.
Formulating Clinically Effective Products
Clinically effective products are more than optimized formulas; they are products designed with biological targets in mind. Learn and explore these unique considerations in this roundtable discussion.
Expert: Ruandro Knapik is the R&D technical leader and external innovation leader at a major manufacturer. He serves as an R&D business partner to drive progress and achievements in sun care, sensitive skin, eczema prone skin and face care, working with global and multidisciplinary teams.
He also supports upper management for growth strategies regarding technical aspects for these categories. He previously served as senior formulation chemist for the company when he joined in 2018. Prior to that, he was principal formulation scientist at Oriflame, researcher III and IV at Grupo Boticário and senior scientist at Johnson & Johnson.
Inclusive Design for Universal Beauty
Designing products to enable individuals who face unique physical challenges can translate to better products for all. Join this discussion to help move products in a more inclusive direction.
Expert: Gabriela Daniels is the program director, science/lecturer, Masters of Cosmetic Science program, London College of Fashion. She holds a degree in chemistry and specializes in cosmetics and fragrance technology and hair science.
Daniels co-authored a recent paper in Cosmetics & Toiletries on making cosmetics more accessible for the blind; she hopes to continue this work to integrate novel sensory cues into consumer products.
Roaring 20s: Shifts in Consumer Beauty Behaviors for 2022
What beauty's bounce-back will look like in the year to come. This session will feature data from Spate's analysis of online search signals. Spate's data capabilities can be seen in this recent trend report.
Expert: Yarden Horwitz is the co-founder of Spate, the artificial intelligence trends platform for beauty. Prior to founding Spate, Yarden co-founded Trendspotting at Google–where she launched renowned reports such as The Google Fashion Trends Report and The Google Skin Care Trends Report.
Breaking Beauty
Standing out in the beauty industry takes a creative mindset and technical skill. Join this panel with key members of the WWBB (Women Warriors in Beauty Business) team. With seasoned experience in beauty and consumer good launches, they'll answer questions specific to beauty brand development like:
Where to start?
How much $$ is needed?
How to identify patterns and white space?
What are the current trends?
Why transparency?
How to target an audience?
Experts: Cherie Buziak, CEO and owner, BeautyEdge LLC; Kathleen Carroll, CEO and founder, The Branding Clinic; Sheri L. Koetting, founder and chief strategist, MSLK; and Joi Ruud, senior business manager, global growth innovation, Edgewell Personal Care
Optimizing Your Digital Beauty Marketing
This session will focus on the tools and content that provide trust, education and intrigue online and what role these elements play in new customer acquisition via digital marketing.
Expert: David Van Veen is the head of digital marketing at MSLK, a New York-based branding agency with clients such as Amazing Lash Studios, Chanel, Joico, John Masters Organics, Lavanila and Redken, in addition to many smaller brands. MSLK leverages leading industry trends and user education to create robust conversion-centric e-commerce and digital marketing strategies.
Each roundtable is limited to 15 virtual attendees; seats cost $20 each and are available on a first-come, first-served basis.