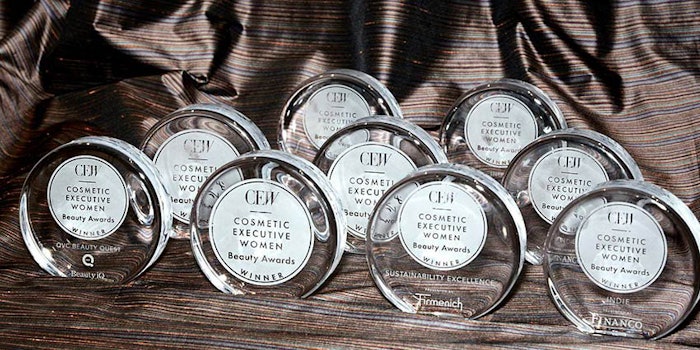 The New York Society of Cosmetic Chemists (NYSCC) has renewed its partnership with Cosmetic Executive Women (CEW) for the organization's 2019 Beauty Awards.
NYSCC will once again sponsor a special award for formulation innovation, the "Supplier's Award: Ingredients and Formulation," which recognizes new ingredients or formulations bringing innovation and new technology to the industry.
"Increasingly, the line between marketing and formulation is being challenged and blurred in product development and this award highlights how all the elements and departments—ingredients, formulation and new technology—need to work together for successful product launches," said Cathy Piterski, NYSCC chair.
The winner of the Supplier's Award will be announced in advance of the 40th annual Suppliers' Day, set to take place May 7-8, 2019 at New York City's Javits Convention Center; they will also be recognized at the CEW Beauty Awards luncheon, to be held May 17, 2019 at the New York Hilton.
Any ingredient and formulation provider that has demonstrated innovation and new technology is welcome to self-nominate for consideration. Submissions can only be entered from a supplier; there is no year limitation, and natural and synthetic ingredients alike can be entered.
A panel of beauty and personal care industry experts, including members of the NYSCC scientific advisory committee, will select the finalists, who will be announced April 2, 2019.
"From the beginning, the CEW Beauty Awards have celebrated innovation. When beauty products deliver on their promises, and bring joy to consumers, it is because of quality ingredients and creative formulation," said CEW president Carlotta Jacobson. "For that reason, honoring the best in beauty must include honoring what truly makes those products possible."
The deadline for submissions is Jan. 15, 2019. To enter, or to find out more information, email beautyawards@cew.org.