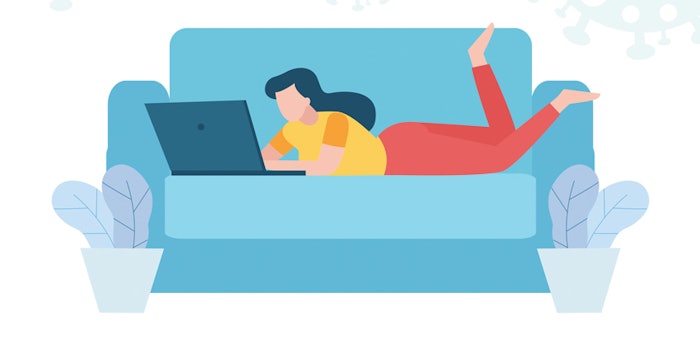 The coronavirus pandemic may make you feel like shutting down all marketing operations and ducking for cover until it passes. The truth is, every market change breeds opportunities for those brave and savvy enough to seize it. Are you wondering how to look for these opportunities and where to focus your energy during this trying time? Online is a great place to start.
Consumers' shopping behaviors have changed dramatically in recent months. All signs indicate that evaluating your digital presence and experience is a worthy investment for both the present and the "new normal" post-pandemic.
Not only are online sales up 91% over the same time period last yeara, but there is a need for more transactions directly through brand sites. Amazon has at times temporarily decided to stop accepting new non-essential products into its warehouses, degrading customer experiences overall. Out-of-stock items, longer-than-usual shipping times and price gouging are running rampant across many big-name retailers.
Consumers have had to dig deep to find the products they are looking for, giving indie brands with direct e-commerce the time to shine with their full stocks and quick shipments. Amazon is overwhelmed and will likely remain so for at least a few more months, which can be potentially advantageous for your brand.
With the situation changing daily, your brand's approach must change with it. Fortunately, there's a wide range of tactics available to deploy.
1. Paid Search and Paid Social
Paid search and paid social are currently the fastest way to capture what people are searching for and draw them back to your website.
While you may feel inclined to save money by stopping paid advertising, we highly recommend against it. Ad costs have been down, which presents the opportunity to use more general search terms. Now is a great time to reach larger audiences by using non-branded, product-specific search terms (such as "shampoo" or "natural deodorant"). Be sure to emphasize to those searching that your brand's products are in stock and ready to ship. Another methodical option is geotargeting areas where your product is sold out at brick-and-mortar retail locations. It may be sold out in stores, but let users know that they can still get it online.
Once users click and are directed to your site, make sure the next steps are in place: products should be easy to find, the e-commerce experience is set up to convert sales and encourage visitors to join your mailing list. This gives your brand an opportunity to create repeat customers, especially in a time that is putting customer loyalty to the test.
2. Organic Social
Although the immediate return on investment of organic social will likely not be as strong as paid social, this is still a great tool for brand building and product education.
Now more than ever, consumers are turning to social media to get tips and tricks to spice up their beauty routine.
Livestreaming is a great way to replicate the relationship consumers once had with your retail team. Instagram and YouTube Live are long-time influencer favorites. The emerging platform Twitch has seen a significant increase in viewership over the past few months. Tik Tok, which has been downloaded more than 2 billion times worldwide, including more than 115 million times in March, supports livestreaming, though the option is not currently available to all accounts.
Engage with fans by hosting a virtual event, such as a simple Q&A, an upbeat dance party, free consultations and/or product recommendations. Anything to connect with your community can be powerful.
Social media challenges have also seen an uptick in response rates. MAC Cosmetics' #MACkissofgratitude racked up more than 3,500 Instagram posts to share a virtual kiss of gratitude to those fighting the pandemic on the front lines. In addition, all proceeds from Viva Glam lipsticks will be donated to organizations aiding COVID-19. What a great way to engage fans and do good at the same time!
3. Organic Search
Organic search is a cost-effective solution for long-term results. At present, the most productive use of organic search is optimizing your existing site around trending keywords. Take advantage of terms that are rising in consumer demand during this time—anything with the search term "delivery" has had a huge hike, as well as "out of stock" (and conversely, "in stock"), "closed" and even "aloe" as people are getting creative with hand sanitizers.
For the full article, check out Global Cosmetic Industry's September 2020 digital magazine.