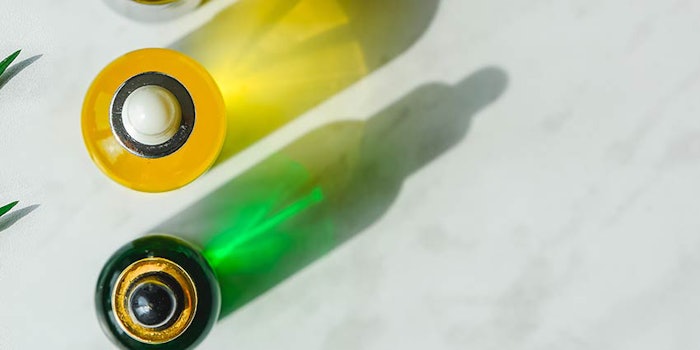 The "Agriculture Improvement Act of 2018," known as the "Farm Bill," removed industrial hemp from Schedule I status under the Controlled Substances Act (section 12619). Section 10113 of the bill sets specific regulatory definitions:
"The term 'hemp' means the plant Cannabis sativa L. and any part of that plant, including the seeds thereof and all derivatives, extracts, cannabinoids, isomers, acids, salts, and salts of isomers, whether growing or not, with a delta-9 tetrahydrocannabinol [THC] concentration of not more than 0.3 percent on a dry weight basis."
CBD and other industrial hemp derivatives produced within these constraints are captured within this definition.
The original version of this story lacked this clarification. We regret the omission. -Editor
The U.S. Drug Enforcement Agency has descheduled hemp-derived cannabinoid ingredients from Schedule I of the Controlled Substances Act under the specific specifications contained in section 10113 (see introduction).

Related: U.S. FDA Issues 15 Warning Letters Over CBD Products
Cannabinoid and CBD ingredients solutions provider, Purisys, focuses exclusively as a broad-range ingredient and solutions provider to pharmaceutical/consumer product companies intending to use CBD and other cannabinoid ingredients.
Since 2016, Purisys has been manufacturing ultra-high purity CBD­–less than 0.001% THC­–which fall below the 0.3% THC limit for consumer products set in the 2018 Farm Bill.
"Now that our products no longer are subject to DEA Schedule I status, our customers in the pharmaceutical, personal care and food and beverage spaces are able to more easily conduct the research that will be important to the use of cannabinoids in a wide range of products," said Purisys CEO Jim Mish. "At Purisys, we stand ready to back this research, with our applications support, analytical reference standards and small-scale cGMP manufacturing."
Tim Jones, vice president of global API and OTC for Purisys, claimed, "Descheduling means our customers no longer need DEA registrations to work with Purisys materials."