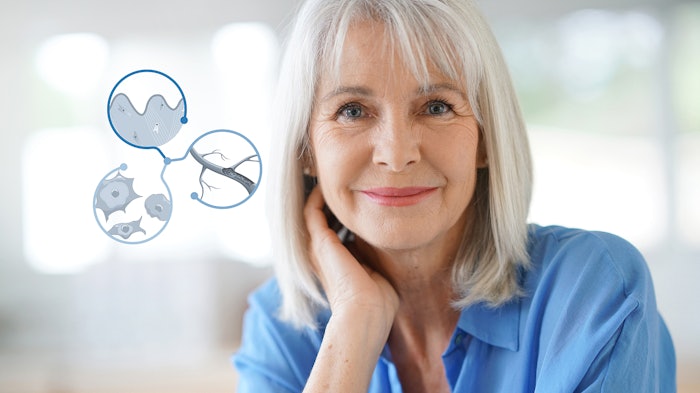 Silab's latest launch, Regenixir (INCI: Saccharomyces Cerevisiae Extract), has been shown to activate skin's innate regenerative mechanisms for anti-aging effects. According to the company, to cope with an aggression, the cutaneous, immune and vascular systems cooperate to revitalize cellular interactions indispensable to cutaneous regeneration.
Firboblast Regenerating Complex
Fibroblasts, in particular, play a pivotal role by interconnecting these systems via the secretion of a pool of growth factors, referred to as the fibroblast regenerating complex. Although this dynamic process occurs throughout life, novel modeling studies developed by Silab Research—through partnerships with two prestigious research laboratories—have demonstrated the process is altered with age.
According to Silab, these original vascularized models and models of immune cells have led to the first-ever demonstration of the depletion of the fibroblast regenerating complex with age, as well as its negative impact on the interactions of aged fibroblasts with the cutaneous, vascular and immune systems.
See archived: Shiseido Uncovers Elasticity in Capillaries for Anti-aging Approach
By restoring the capacity of aged fibroblasts to interact with their environment, Regenixir reportedly enables a transversal action on the three interconnected systems: the cutaneous system, supporting matrix restructuring and epidermal renewal; the vascular system, restoring the vascular network; and the immune system, increasing the regeneration of the macrophages population.
In vitro
Tested internally, at 1% on aged human fibroblasts, Regenixir significantly restored the migration velocity of aged fibroblasts (+97%) and significantly stimulated their differentiation into myofibroblasts (synthesis of α-SMA: +40%). In addition, the secretome of aged fibroblasts significantly restored the migration velocity (+93%) and cohesion (ZO-1: +77%) of aged endothelial cells.
See related: Phenotyping and AI, 3D Inflammation Model, Stress and Skin Architecture at SCC National
In vivo
In vivo, Regenixir was tested at 2.5% in an emulsion applied for 21 days by Caucasian and Asian subjects (n = 84). The ingredient significantly reduced crow's feet wrinkles by 10% and 6%, respectively (see figure below).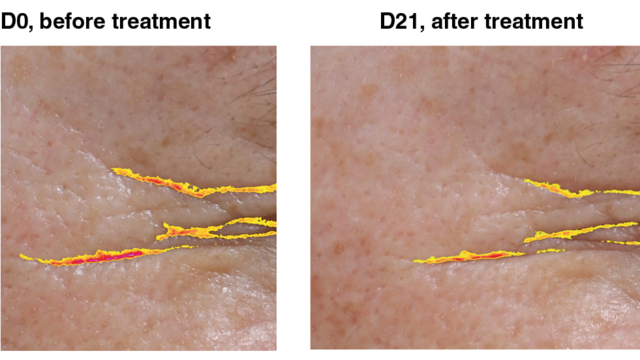 Under the same conditions, in Caucasian volunteers, the active was shown to improve the biomechanical properties of skin (firmness: +10%; elasticity: +14%; tonicity: +25%); attenuate the visibility of microvessels (-6%); significantly improve the color of under-eye circles (parameter b*: -2.9%); and significantly restore parameters characteristic of complexion radiance (reflection: +9%; pink color: +15%; olive color: -7%; luminosity: -6%).
The company reports all of these effects continued after 42 days of treatment and were perceivable by the volunteers themselves.