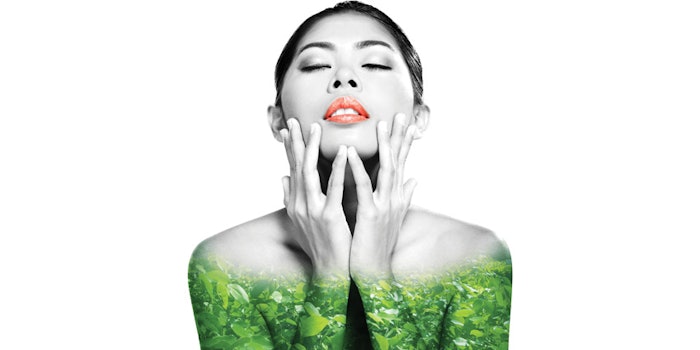 Beauty innovation is "fast-paced, exciting and vibrant," says Rouah Al-Wakeel, a technical consultant and cosmetic chemist who will lead two R&D tours—"Biotechnology Actives" and "The Future of Anti-Aging"—at in-cosmetics Globala. "There is so much potential in terms of the type of ingredients being created … which means there are many new products on the horizon for consumers."
She adds, however, that new innovation creates industry challenges for "education and sharing." Al-Wakeel explains that "in-cosmetics Global is a melting pot of experts, ideas and materials" that helps address the challenge, taking "experts out of the comfort of their labs and offices and into this melting pot."
She concludes, "Exciting developments such as smart phones have revolutionized our lives and only exist because experts from different disciplines shared and applied their discoveries."
in-cosmetics Global 2018 will provide a platform for the latest ingredient launches, research and claims, demo formulations and product concepts, trends and more, offering a view of the innovation that will shape beauty and personal care launches in the coming years. Here, we offer a preview of new research and ingredients, as well as insights into the underlying technical, consumer and market trends that will most impact product development and marketing.
Defensive Beauty
All things protection are a leading area of innovation and market demand. For example, sun protection will remain the largest ingredient category for the beauty industry through 2021, according to a July 2017 analysis from Euromonitorb. The ingredient segment has benefitted from the expansion of UV protection from sun care products to general market categories such as skin care and multifunctional makeup.
The Euromonitor report also points to new growth areas for protective ingredients, including anti-pollution, infrared and blue light defense. Antioxidant and anti-inflammatory botanical ingredients will benefit from these emerging concerns, creating volume CAGR of 7% through 2021. But how will these emerging claims be verified?
A recent paper from a group based in Swedenc noted, "When skin cells are exposed to pollution factors, changes in a number of skin properties can be observed, such as lipid composition, lipid and protein oxidation, pH, sebum secretion rate, oxidative stress, inflammation markers, and collagen and elastin levels. These can be measured and used as markers to verify anti-pollution claims."
The authors reviewed a number of in vitro and in vivo tests that can be used to verify anti-pollution efficacy of ingredients and formulations. They concluded that, "In vivo and in vitro assays have various advantages but also limitations, so combining these two approaches is the best option to provide reliable and trustworthy results."
Frederic Nunzi of Idea Tests Groupe will discuss the establishment of anti-pollution and other claims during in-cosmetics Global, as well as the implications for brands working to meet consumer expectations.
Anti-pollution Goes Mainstream
Pollution can expose the skin to particulates containing heavy metals, which can catalyze oxidation reactions that adversely affect the skin. While consumers want to respond to this threat, they also want natural-touting formulations.
Anti-pollution innovation has already appeared in markets around the world. Recent introductions include Flower Beauty's Seal the Deal Hydrating Setting Spray, Yes To Cotton Anti-Pollution Oxygenated Foaming Cleanser and Urban Decay Cosmetics' All Nighter Pollution Protection Environmental Defense Makeup Setting Spray.
Suppliers continue to roll out ingredients and ingredient blends to address the issue. Indena's Vitachelox, for example, comprises a selection of skin protection botanical compounds—including Vitis vinifera (Grape) Seed Extract, Camellia sinensis Leaf Extract and Quercus robur (Oak) Wood/Bark Extract—that act as free radical scavengers and chelating agents on various mechanisms triggered by common polluting agents. Indena has reportedly assessed the efficacy of the ingredients in combination and in isolation. The supplier is investigating the compounds' efficacy on blue light exposure related to the sun and technological devices.
Hallstar's Oléos has introduced Blue Oleoactif, which also spans applications in blue light and anti-pollution defense. Developed via eco extraction of germ from brown rice, the ingredient offers antioxidant, photo-protective and anti-inflammatory activity thanks to its tocopherol, gamma-oryzanol, phytosterol, and phytic and ellagic acid content. The material's soybean oil content—and a proprietary co-extractant—offers hydration, membrane fluidity and supports a functional epidermis barrier.
But how can suppliers and brands validate their anti-pollution claims? Véronique Newton, R&D and laboratory manager at CIDP, will present a talk at in-cosmetics Global focusing on the application of a pollution exposure system to substantiate anti-pollution claims regarding the generation of reactive oxygen species (ROS) and the resulting oxidation of lipids and proteins.
Blue Light Breakthroughs
Maria Coronado Robles, senior ingredients analyst at Euromonitor International, will speak at in-cosmetics Global about the connections among well-being, pollution and beauty productsd. Robles has noted, "With increasing urban population, alarming pollution levels and growing number of skin conditions, an incipient awareness about holistic health and well-being is germinating." Therefore, she concludes, consumers are seeking out products that evoke nature while contributing to their bodies' defenses.
As Euromonitor's 2017 analysis showed, environmental pollution isn't only in the air outside, it's in our homes, and even our hands—in the form of blue light-emitting screens. One example of the natural defense trend in action is Bluemidin from Clariant, which is extracted from Lespedeza capitata, a plant harvested in South-Korea. The ingredient reportedly counters the effects of blue light exposure by neutralizing oxidative and nitrosative stress, reducing the appearance of puffiness and dark circles, and boosting skin radiance.
Giada Maramaldi of Indena is scheduled to deliver a presentation at in-cosmetics Global that will discuss a natural blend of polyphenolics that have been validated by in vitro testing to defend against oxidative damage caused by airborne pollutants and blue light emitted by the sun and electronic devices. The blend reportedly also protects against skin microbiota imbalances, which can in turn prevent hyperproliferation of Propionibacterium acnes.
Rahn has also introduced a trio of cosmetic actives designed to defend the skin against blue light. Celligent (INCI: Helianthus Annuus (Sunflower) Seed Oil (and) Ethyl Ferulate (and) Polyglyceryl-5 Trioleate (and) Rosmarinus Officinalis (Rosemary) Leaf Extract (and) Water (aqua) (and) Disodium Uridine Phosphate (and) Tocopherol) can be utilized for UV/HEV (high-energy visible light) protection for DNA, cells and stem cells, and rapid regeneration of UV-damaged skin.
Rahn's Myramaze (INCI: Propanediol (and) Water (aqua) (and) Myrothamnus Flabellifolia Extract (and) Ascorbic Acid (and) Citric Acid) is recommended as a cell membrane safety guard and blue light protector for stressed and fragile skin, while Proteolea (INCI: Glycerin (and) Water (aqua) (and) Levan (and) Decyl Glucoside (and) Olea Europaea (Olive) Leaf Extract (and) Phenethyl Alcohol (and) Zizyphus Jujuba Extract (and) Citric Acid (and) Ascorbic Acid) can reportedly be used as a cellular recycling manager that offers blue light protection and delivers a six-year skin rejuvenation effect in four weeks.
Infrared Defense
As pollution and blue light defense have gained traction, so too have infrared protection claims. Products like Ahava's Beauty Before Age Uplift Day Cream and Origins' A Perfect World Antioxidant Moisturizer with White Tea offer defense against environmental aggressors such as infrared radiation.
Near-infrared radiation, or IR-A, has the ability to penetrate deep into the dermis, which can generate free radicals that cause harmful biological effects that result in skin aging and wrinkles. Suppliers have responded with a range of ingredients, many of which were shown at the 2017 in-cosmetics event.
This year, more infrared defense innovations will be presented, including TiO2-IR300-ASG3 (INCI: Titanium Dioxide (And) Stearoyl Glutamic Acid) from Kobo Products, Inc. The large-size, acicular titanium dioxide has a strong capacity to block IR-A light without harming formula aesthetics, according to the company. The patent-pending material has been tested in vivo and in vitro.
Epigenetic Skin Care
Epigenics focuses not on the modification of genetic codes, but rather the changes caused in organisms via the modification of gene expression. The field has opened a significant new innovation pipeline for the beauty industry.
In one recent example, Givaudan Active Beauty's marine biotechnology R&D team revealed new benefits for its Megassane ingredient (INCI: Caprylic/Capric Triglyceride (and) Phaeodactylum Tricornutum Extract): it improves skin tone by activating natural proteasomes that clear away extraneous or damaged proteins.
The ingredient's lipid composition is derived from Phaeodactylum tricornutum, a red micro algae, and is able to stimulate skin proteasomes in a damage-preventive and curative way under high UV exposure. This regulation acts at both the epigenetic level—regulating a specific miRNA—and genetic level—acting on proteasome regulators. The result is that the enzymatic activities of the proteasome are restored, stimulating cell and skin detox to reverse the appearance of dull skin.
Megassane was clinically tested in volunteers who smoke and have dull, greyish skin. After 56 days of treatment, the volunteers' skin tone improved by 200%, revealing a more vibrant color and complexion, according to Givaudan Active Beauty. In effect, the ingredient acted as a natural highlighter, decreasing dullness for a natural and healthy appearance.
The Microbiome & the Future of Well-aging
"I think consumers are now more aware and interested in the science behind the aging process," explains Al-Wakeel. "They appreciate that the microbiome is having an effect and are contemplating the changes occurring at the surface of the skin, so rather than wanting a quick-fix to make them look younger, they are now looking for something to actually slow down the process whilst having long-term anti-aging benefits—in addition to instant results."
She adds, "Our knowledge of the efficacy of natural ingredients has increased, and this is having a big impact on anti-aging. Natural actives such as those found in the salicylate family, which have potencies similar to retinol, are now available to formulators. Also, a huge range of exciting anti-aging peptides have been developed."
Increased knowledge about the human microbiome is also having an impact on the beauty industry's approach to anti-aging, or well-aging.
"The microbial communities that live in harmony with us on our bodies can now be described and watched through techniques such as next generation DNA-sequencing," says Al-Wakeel. "These techniques are bringing us a new understanding of the effects of imbalances in skin's microbiota and how these microbial communities interplay with actives and products. This is expected to have a huge impact on formulations generally, but … we expect to see the microbiome playing a big role in maintaining youthful skin."
Well-aging Beyond the Microbiome
Lipotrue will be presenting new marine-derived anti-aging ingredients at in-cosmetics Global. The materials are based on a marine microorganism found 2,700 m beneath the ocean near Greenland, according to a presentation summary by Silvia Pastor, Lipotrue's business development manager.
Recently, Chemyunion introduced Ecoffea, an organic green coffee seed cake glycerinated extract (Coffea arabica) with antioxidant mitochondrial protection properties that support anti-aging activity, particularly in mature skin. Ecoffea's reported protection of mitochondrial function, which declines with age, and promotion of corneocyte regeneration can counteract the signs of chronological aging or photoaging, offering as much as a 13-year rejuvenation and improved skin surface in 15 days, says Chemyunion. The ingredient can be applied in creams, gels or serums.
Microbiome Technology on the Market
La Roche-Posay has introduced a range of products that address sensitive skin concerns by offering prebiotic support for the microbiome. The brand's research has implications for eczema, a condition that afflicts 32 million Americans and can cause psychological and social lack of well-being.
La Roche-Posay's recent introductions include the Lipikar Balm AP+ Intense Repair Moisturizing Cream, which contains the brand's prebiotic thermal water and patented Aqua Posae Filiformis (Vitreoscilla filiformis), a bacteria grown in La Roche-Posay's thermal spring water. The key ingredients reportedly reduce dry, rough skin and help rebalance the skin microbiome to soothe the skin and boost its defenses against pathogenic agents that cause irritation.
Many suppliers have also stepped up their microbiome research. For instance, Silab will present a talk at in-cosmetics regarding recent discoveries in the area of cosmetic applications of skin microbiota.
Validating Microbiome Claims
However, as claims such as anti-pollution show, it is critical to better understand the microbiome and to create clear claim support. Stephan Bielfeldt of the proDERM Institute will be addressing key questions for formulators, brand leaders, marketers and product developers at in-cosmetics, including the classification of the unique microbiome of each body site, defining what constitutes a healthy microbiome on each of those particular sites, and what claims can be made with existing technology and formulations. This talk will cover microbiology analysis, the classification of the skin biome and 16S rRNA gene sequencing, as well as the handling of quantitative data.
According insights provided by proDERMe, the Shannon diversity index can effectively be used to characterize a microbiome's species diversity by accounting for factors such as evenness and abundance of present species. The company argues that the higher the diversity on the index, the healthier the skin flora.
proDERM's research could potentially validate claims that focus on maintaining the natural skin flora or correcting an imbalanced microbiome. The company has investigated microbiome testing methods in relation to deodorant use, as well as with patients with dermatitis, acne and psoriasis. The results are forthcoming.
The Microbiome and Safety
Every technical breakthrough gives rise to new considerations for formulators and brands, says Al-Wakeel.
"Consumer safety is of the utmost importance; all new ingredients undergo thorough safety checks and assessments including the challenge test, which requires all formulas to quickly kill any added microbes," she explains. "When these formulas are applied to skin they very probably disrupt the healthy skin microbiota."
Al-Wakeel adds, "We need safe products and healthy skin, so maybe new techniques such as next generation sequencing—which showed us the microbiome—should now become part of the way we ensure products are safe."
Ensuring safety efficacy and consumer perception are critical in the age of social media and increased ingredient scrutiny. The recent launch of the SkinNinja app in the United Kingdom is emblematic of the challenge. The digital tool, which promises to help consumers "Discover which ingredients are hiding in your skin care products," allows consumers to enter the names of their skin care products into the app, which generates a list of that product's ingredients from a database that color codes materials on a scale of green ("clear") to orange ("suspected") to red ("nasty").
The system's creators therefore have immense power to unilaterally flag products and ingredients as "nasty," to offer insights on how materials can supposedly impact human health and, critically, which ingredient and product alternatives consumers should consider purchasing.
The beauty industry will have to be nimble to stay one step ahead of these self-appointed experts—without stifling innovation.
Clean Beauty: Is Less More?
The increased scrutiny and consumer uncertainty around beauty products has created the phenomenon often dubbed "clean beauty." The term is vague, but its influence, whatever its validity, is everywhere in the headlines: "What is 'clean beauty'? Here's what you need to know," "How to switch to natural deodorant and other ways to detox your beauty routine," "Target Just Launched A New Line Of Paraben-Free Fragrances."
Brands and suppliers alike have responded quickly. For example, WeylChem's consumer care unit has introduced a range of WeylCare PB ingredients for paraben-free personal care applications. WeylCare HexaPB (INCI: 1,2-Hexanediol), WeylCare OctaPB (INCI: Caprylyl Glycol) and WeylCare PhenylPB (INCI: Phenylpropanol) are non-ionic preservative boosters, which show synergistic effects and conventional preservative systems. They also serve as mild moisturizing and emollient agents.
The range can be used for face or body care such as creams, lotions or peeling products, conditioners and shampoos, sun creams and lotions, makeup and eye cream, and deodorants.
Ajinomoto has introduced its amino acid blend, Prodew 600, a paraben-free moisturizer for skin and hair that is formulated with hygroscopic natural moisturizing factor (NMF) components. The result, according to the supplier, is strong moisture absorption and retention. According to Ajinomoto, Prodew 600 can improve the skin barrier function, resulting in the diminished appearance of fine wrinkles.
In recent years, suppliers have worked to create formulation alternatives to conventional preservatives that have come under scrutiny. For example, Evonik Dr. Straetmans GmbH has developed a natural multifunctional active ingredient, Dermosoft Decalact. The ingredient possesses antimicrobial properties against the microorganisms that cause disorders such as dandruff and athlete's foot. Therefore, it can be applied as a natural and mild replacement for triclosan and climbazole.
Clean beauty has also led to a focus on functional and quality issues, such as the impact of some silicones on hair and skin. To that end, Cosphatec has launched Cosphaderm Feel (INCI: Triheptanoin), a Cosmos-certified silicone replacement with reportedly high spreadability and skin compatibility. The material functions as a solvent for UV filters and pigments in sun care products and color cosmetics. It can also be used as an emollient in W/O and O/W emulsions to develop a light and mild skin product.
The liquid is easy-to-apply, according to the company, and can be used pH-independently in a concentration of 5% to 10%. The ingredient is sourced from castor oil and is palm oil free. It is also 100% naturally derived from a triglyceride of heptanoic acid.
The New Natural: Sustainable Biotechnology
The beauty industry has always leveraged the power of nature, but new technologies are enhancing brands' ability to deliver new functionality without sacrificing safety or sustainability.
"Biotechnology offers the opportunity to develop new products and make materials that would otherwise come from undesirable or unsustainable sources," says Al-Wakeel. "All this is achieved without giving up the ambition of having a greener earth and better economy."
Al-Wakeel continues, "We have been able to use biotechnology as a tool for discovery and for developing new materials and for manufacturing—including ingredients which can help to delay the aging process. For example, fermentation [entails] enzymes bio-transforming fruits, plants and herbs using yeast to help generate new, naturally derived and more sustainable ingredients. Essentially, this is the foundation of synthetic biology, which is the future of our industry."
From stem cells to algae extracts to peptides, biotechnology has delivered extensive new innovation to beauty.
Biotech ingredients, says Al-Wakeel, "allow us to create more intelligent formulations with enhanced efficacies and an increased awareness of sustainable, ecologically friendly approaches to personal care."
She adds, "Formulators are asked to meet a list of requirements, specifications and functions for new product development, or for improving existing products on the market. By using biotechnology, the industry now has a plethora of actives available, which cover the broad range of required efficacies. There have never been so many options available to the formulator; we are spoilt for choice. This enables us to be creative in terms of the finished products we produce and the brand concepts we create."
Recent examples of biotech at work include Mibelle's Biochemistry's PhytoCellTec Malus Domestica, which is a liposomal preparation of stem cells derived from the rare Swiss apple known as Uttwiler Spätlauber. The PhytoCellTec plant cell culture technology allows the company to produce sustainable large-scale quantities of the Malus Domestica stem cells. These cells are reportedly rich in epigenetic factors and metabolites, which boost the longevity of skin cells and, therefore, slow the visible effects of aging. The apple stem cells also delay the senescence of hair follicles, according to Mibelle Biochemistry.
In another approach, Active Micro Technologies has derived antimicrobial peptides from Leuconostoc kimchii lactic acid bacteria—famous for its role in producing kimchi fermented cabbage—which can promote antimicrobial protection by preventing unwanted growth while exhibiting milder activity on the skin. A recent study by the company found that 4% of an antimicrobial peptide applied to nasal folds increased the beneficial bacteria on the participants' skin area while also decreasing the presence of Gram-positive Propionibacterium sp.
The ingredient could have a notable impact on preserving healthy levels of histone deacetylases (HDAC) on the skin, a marker of microflora balance; HDAC3, in particular, is critical for healthy skin because it modulates the epigenome and nearby gene expression. Any reduction in HDAC can render commensal bacteria less effective, thereby compromising the immune system and, ultimately, skin health.
Solvay's Succinoglycan polymeric rheology modifier is derived from the fermentation of agrobacterium tumefaciens and reportedly offers shear-thinning rheology and wide pH tolerance. The material can act as a stabilizer of oil-in-water formulations and has synergistic thickening activity when combined with acidic actives. Succinoglycan is compatible with electrolytes and works well with other thickeners to suspend particles like zinc oxide and titanium dioxide in oil-in-water systems. Critically, according to Solvay, succinoglycan does not leave a sticky feel on the skin and, instead, imparts a soft, velvety after-feel to oil-in-water formulations.
Looking ahead to future innovation, Croda International Plc, has acquired Nautilus Biosciences Canada Inc., a marine—or, "blue"—biotechnology company based in Charlottetown, Prince Edward Island, Canada. Nautilus focuses on using marine microbial biodiversity to discover novel actives and materials, particularly for skin care and hair care, as well as crop care. Croda will establish Nautilus as a Croda Centre of Innovation for Marine Biotechnology at Nautilus' existing base at the University of Prince Edward Island, where it will have exclusive global access to the Marine Microbial Library.
Natural Benefits
Beyond novel fermentation techniques, natural products continue to deliver unique benefits. Lessonia's Algsecured algae paste, for example, allows formulators to manage the concentration of heavy metals, especially arsenic, in algotherapy treatments. Algsecured was reportedly formulated to overcome the common challenge of heavy metal absorption and iodine reactions while delivering essential minerals across the cutaneous barrier. The material, which is appropriate for body wraps in thalassotherapy and spas, is compliant with regulations in Europe, Korea, China and more.
Meanwhile, Natural Sourcing, LLC's chokeberry seed oil (INCI: Aronia Melanocarpa (Chokeberry) Seed Oil), sourced in Poland, offers brands a six-month shelf life in skin care, hair care, nail care, lip care, makeup and aromatherapy. The fast-absorbing, polyphenol-rich polyunsaturated oil can soften, soothe and protect sensitive, parched, dry, itchy, mature and problem skin, according to the company, and restore scalp vitality in normal, dry and damaged hair.
Natural Sourcing has also introduced a line of natural exfoliants to replace conventional microbeads. The materials, including nut and seed meals, offer nutritive natural oil content, as well as moderate to aggressive levels of exfoliation for facial and sensitive skin products, hand and body scrubs, polishes, soaps and other skin care formulations. The exfoliants include salts and sugars, fruit seeds and fibers, jojoba wax beads, nut and seed meals, bamboo powder, rice husk powder and pumice powder.
IBR Ltd. has introduced new data for its IBR-Dormin (INCI: Narcissus Tazetta Bulb Extract), which has the ability to inhibit hair regrowth, density and thickness, while increasing skin softness. The ingredient is ideal for body and face care for women and men, particularly before and after depilatory products, shaving products, deodorants, and products for excessive body and facial hair.
Ex vivo testing showed that using 0.02% IBR-Dormin reduced hair shaft elongation by 34% and transitioned the hair follicle from a growth to a resting phase. In vivo, the delay of hair growth after waxing was achieved with 0.2% IBR-Dormin cream, while 3% of IBR-Dormin gel cream led to a delay in men's facial hair regrowth after shaving.
Roquette has developed two plant-based emulsifying and thickening systems that offer texture and feel benefits. The emulsifying system is a ready-to-use and all-in-one O/W emulsifier that offers "unique" sensory effects and can be used at room temperature. The thickening system comprises natural polysaccharides, is ready-to-use, cold-processable, resistant to electrolytes and stable over a wide pH range, according to the company.
Meanwhile, Omya is introducing its Omyacare range of calcium carbonate in a range of particle sizes. Omyascrub is designed for scrubbing applications, Omyaskin is ideal for decorative cosmetics and Omyadent is optimal for functional particles in toothpaste applications. The Omyacare range is produced in a low-energy manufacturing system, which reportedly keeps its carbon footprint low.
Omyacare particles can be applied at levels as high as 10% in sustainable soap bars, providing weight and a natural mechanical cleaning functionality. The brightness of the Omyacare materials can allow formulators to eliminate titanium dioxide from formulations, according to the supplier.
Omyaskin minerals can be applied to makeup products to boost luminosity and color opacity, while also boosting texture and spreadability. Potential applications include lipsticks and foundations.
Omyascrub can be applied as a replacement for conventional microbeads, according to the supplier. The materials have low microbiological activity, ensuring hygiene and enhanced shelf life. The levels of Omyascrub applied to products can alter the consistency of products and the cleansing effect level, which can vary from exfoliation to skin renewal to rejuvenation.
Sustainable Improvements: from Sourcing to Products
A range of companies are contributing to the increased sustainability of formulations and products. At in-cosmetics Global, Paul Wanrooij, business development manager of Emerald Kalama Chemical, will discuss the improvement of benzoate preservative efficacy through the use of chelators, glycols and preservative synergies, including in challenging products such as skin lotions with pH 5.5–6.5 and wet wipes at pH 6.0. These strategies can allow even challenging systems to achieve Cosmos-, Ecolabel- and Nordic Swan-compliant products.
Meanwhile Durant Scholz, president and chief visionary officer of Active Concepts, will offer a presentation highlighting the use of efficacious anhydrous actives and formulas to create innovative and sustainable anti-aging personal care, while reducing the amount of water consumed.
Taking a larger view, Clariant's Aleksandra Zmiric will outline the implications of sustainability for the bath and shower category—beauty's most water-intensive segment. Zmiric will discuss the need for new thinking on packaging—refillable bottles and small formats), formulations (solid and pasty, with low water content) and products (non-rinse and quick-rinse formats).
To that end, Schill+Seilacher GmbH will discuss its Rheo2Green Series, which reportedly generates consumer-preferred viscosity, skin feel and foam. The concentrates are Cosmos- and Natrue-compliant and conform to Eco-Label and Nordic Swan standards. The cold-processed materials are free of sulfates, solvents and fragrances.
Further down the supply chain, IOI Oleo has developed a sustainable quality of MCT (INCI: Caprylic/Capric Triglyceride) that is 100% coconut-based. An alternative to palm-based equivalents in segments such as hair conditioning agents, preservative boosters, emulsifiers and emollients, the Witarix MCT range includes Witarix MCT 60/40, Witarix MCT Organic, which is certified 82.3% organic, and Witarix MCT pure organic, which is certified organic 100% (All INCIs: Caprylic/Capric Triglyceride).
Meanwhile, Solvay has expanded its Sustainable Guar Initiative by partnering with Henkel to double the number of Indian farmers involved in the project to 6,500 by the year 2020. Solvay started this project in 2015 with TechnoServe, a non-profit organization that teaches sustainable agricultural practices to 3,000 guar bean farmers across 20 villages in the desert region of Bikaner, Rajasthan.
More Effective and Individualized Beauty
"Due to next-generation sequencing, we can see what is happening on the surface of the skin in real time," says Al-Wakeel, referring to 16s rRNA sequencing. This culture-free method provides a full analysis of microbial communities and allows researchers to combine multiple samples in a single sequencing run. The result is a cost-effective tool for accurately identifying the components of a complex microbiome.
"We can now see more readily the effects of environmental factors and how different ingredients and products behave on the skin and with different skin types," Al-Wakeel continues. "If we want to go even further, we can determine this on the skin of different individuals, which can lead to a more bespoke type of skin care. In addition to this, we can use biotechnology to enhance the performance of active ingredients, thus increasing the efficacy of the finished product."
Anti-aging and Anti-stress for the Skin and Hair
When BASF surveyed 100 volunteers, 90% reported stress as having a negative effect on skin, causing it to turn dull and dry. In response, the company has launched a trio of anti-aging and anti-stress active ingredients that reportedly offer consumers a more youthful appearance.
BASF's Hyalurosmooth (INCI: not available) helps counteract the harmful effects of daily stress by helping the skin recover its hydration and radiance. It represses the cortisol damaging impact on skin, restoring the collagen type I and hyaluronic acid that are affected.
BASF's RNAge (INCI: not available) helps reshape the face by rebalancing the microRNA, the over expression of which decreases the production of proteins that are significant in building the dermal structural design. The active therefore helps the dermis to stay dense, rebuilding it from deep within and firming facial shape.
DN-Age (INCI: not available) is an anti-aging active ingredient for hair, slowing down the graying process and reducing hair loss. The active acts on the scalp and prevents UV-induced DNA damage, while also protecting hair follicle cells. According to BASF, 80% of panelists said their hair was stronger, fuller and thicker with this ingredient.
Mibelle Biochemistry, meanwhile, has launched KeraGuard (INCI: Caesalpinia Spinosa Fruit Pod Extract (and) Helianthus Annuus (Sunflower) Sprout Extract (and) Propylene Glycol (and) Phenoxyethanol (and) Sodium Benzoate (and) Water (aqua)) to help protect and repair hair in leave-on and rinse-off formulations. KeraGuard was designed to counter harmful effects of environmental stress like UV and pollution, and chemical stress like coloring and straightening, while also repairing hair to make it healthy and radiant. Its tara tannins are potent antioxidants and radical scavengers that naturally bind to the protein structure of the hair. Ex vivo studies reportedly showed that, at 0.5%, the active protected dyed hair from color fading, in addition to reducing heat damage on hair cuticle scales.
Clariant's Genadvance conditioners address naturally dry, dull and extremely damaged hair types. The company had created an array of demo products addressing each specific hair concern using formulation technology that reportedly overcomes conventional quaternary ammonium compound limitations. Each is designed to revitalize, repair and moisturize the hair.
Male Hair Care Focus
Male grooming, always the looming opportunity for the beauty industry, is experiencing new market opportunities as men begin to adopt hair care that extends beyond hygiene to more active treatment, particularly because men produce higher levels of sebum on the scalp compared to women.
Chemyunion recently developed H-VIT Plus, an active ingredient that, according to the company's clinical trials, protects skin barrier integrity, reduces inflammation caused by the environment, controls oil in the hair and scalp, and reduces sebum production between 40% and 60% in applications such as tonics, styling products, and shampoos and conditioners. Chemyunion reports that 95% of its test participants indicated they would purchase a product that could potentially reduce hair oiliness.
Gentle Topical Acne Treatments
During in-cosmetics Global, Yongji Chung of Caregen Co., Ltd., will discuss the development of a water-soluble hepta-peptide-conjugated isotretinoin. The resulting material lacks the cytotoxicity of isotrentinoin which, because it is oil-soluble, is primarily used as an oral treatment for severe acne. The hepta-peptide-conjugated isotretinoin, on the other hand, can offer strong down regulation of pro-inflammatory cytokines, IFN-γ, IL-1β, IL-6, IL17A and TNF-α compared to isotretinoin, and potentially be applied in topical acne products.
Stay Put
Rick Giles of AkzoNobel Surface Chemistry will discuss the creation of long-lasting products in the makeup, hair styling and skin care sectors at in-cosmetics Global. Meanwhile, Lubrizol's Malte Ruffing will discuss the development of hair care offering long-lasting style, manageability and care. Lubrizol's two-component Fixate Keratin thermal hair treatment was developed without formaldehyde and glyoxylic acid chemistry and is inspired by skin care encapsulation technology that reportedly results in "perfectly smooth, healthy and young looking hair for more than 10 shampoo wash cycles," according to the company.
Halal Beauty
According to a report from Grand View Researchf, the halal cosmetics industry will be worth $52 billion by 2025, led by Muslim consumers willing to pay a premium price for cosmetics that keep with their ethical beliefs, as well as 12.3% CAGR in hair care alone.
According to data cited by DSMg, the Asia-Pacific region, home to the world's largest Muslim population, accounted for 72% of halal beauty products introduced between January 2014 and October 2016. The company noted that halal products are also making inroads with non-Muslim consumers eager for all-natural, health-conscious products.
It's no wonder, then, that more than half of DSM's personal care portfolio is now certified as halal. This includes skin care actives, UV filters and vitamins. The approval was granted by the Halal Food Council of Europe (HFCE) after audits were conducted at DSM's production sites in Vouvry and Aesch, both in Switzerland. HFCE is recognized by organizations such as the Islamic Food and Nutrition Council of America, the Indonesian Council of Ulama and the Department of Islamic Development Malaysia, among others.
Green Biologics, Inc., has also announced its achievement of kosher and halal certifications for its bio-based BioPure n-butanol and acetone, which enables the company's chemicals to serve as ingredients for halal personal care. The products are produced using renewable feedstock. BioPure can be combined with acids derived from plant-based oils to produce a range of renewable butyl esters, which can be utilized in nail polish remover as an acetone, as well as in applications such as natural lipsticks, moisturizers and as aroma chemicals in fragrance products. These materials have also received 100% bio-based, USDA BioPreferred certification.
New Innovation for Sensitive Skin
Skin sensitivity is an increasing area of focus for ingredient suppliers, formulators and m arketers. Recently, C'est Moi launched a range of gentle skin care for tweens and teens. All C'est Moi products are dermatologist tested, clinically tested on sensitive skin, made with natural and organic ingredients, hypoallergenic, fragrance-free, talc-free and cruelty-free.
C'est Moi's Gentle Skin Care Collection for Spring 2018 features ingredients such as organic aloe, calendula, extracts of strawberry, cucumber, kiwi and apple, green tea, and chamomile water, organic sweet almond oil and shea butter.
The products include a Gentle Foaming Cleansing Gel, Gentle Makeup Remover Cleansing Wipes, Gentle Moisture Lotion, Gentle Mineral Sunscreen Lotion SPF 30 and 3 Step Gentle Skin Care Set.
To support product development for consumers suffering from conditions such as allergic contact dermatitis, researchers are exploring the potential to test formulated products, not just individual ingredients, for skin sensitizing potential. A forthcoming talk at in-cosmetics Global from Sophie Catoire, the toxicology in vitro manager at Thor Personal Care, will argue that a 3D co-culture method can provide a holistic analysis, rather than simply examining the sensitization caused by individual components. According to Catoire's abstract, "This modeling enables solubility problems to be overcome and the cutaneous bioavailability, absorption and metabolism of a personal care product to be taken into consideration."
A Splash of Color
Venator Materials PLC, a specialist in titanium dioxide and color pigments for the cosmetics industry, will exhibit its pigments and additives for cosmetic, skin and dental care formulations. The pigments reportedly deliver long-lasting and vibrant results in mascaras, eye shadows, lipsticks, blushers and more. The titanium dioxide pigments provide a finish in foundations and help give concealers and correcting creams consistent coverage capabilities, according to the company. Venator produces titanium dioxide grades for anti-aging skin care treatments, natural baby care products and sunscreen formulations.
Footnotes:
aApril 17–19, 2018, at the RAI Amsterdam, Europaplein 2, 1078 GZ Amsterdam, Netherlands; www.in-cosmetics.com/global/
bJohn Madden, "What is the New Ingredients Data Telling Us?" July 20, 2017; https://blog.euromonitor.com
cJadwiga Rembiesa, Tautgirdas Ruzgas, Johan Engblom and Anna Holefors, "The Impact of Pollution on Skin and Proper Efficacy Testing for Anti-Pollution Claims," January 2, 2018; www.mdpi.com/journal/cosmetics
dFor the full educational schedule, visit www.in-cosmetics.com/education2018/
ewww.proderm.de/en/study-types/cosmetic-efficacy/skin-care/
fwww.grandviewresearch.com
gwww.dsm.com