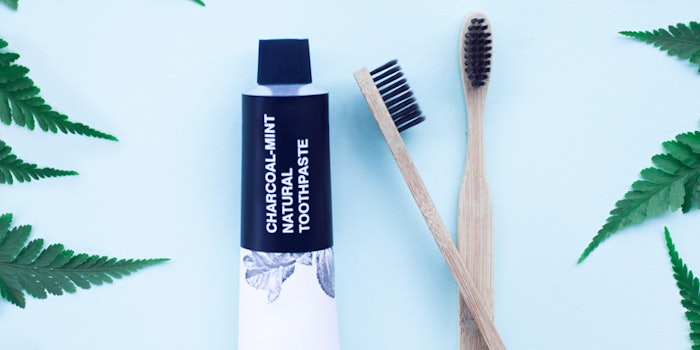 What was once reserved for those on Santa's naughty list, charcoal has now become a popular ingredient in many health and beauty products. 
Charcoal as a consumable product began as a social media darling with deep black ice cream covered with rainbow sprinkles hitting Instagram. Then followed waffles, juices and teas. Now it can be found across the entire health and beauty category online, but is charcoal just a passing fad?
Trendy Teeth Whitening
One use of activated charcoal that has really taken off is teeth whitening. Activated charcoal for teeth whitening has generated $95 million online sales since 2015 and $33 million in 2018 alone in the form of toothpaste, toothbrushes and charcoal powder to rub on your teeth. From 2016 to 2017, this online category grew over 800%, but growth slowed the next year to only 12%. At its peak, activated charcoal products made up 24% of all online teeth whitening product sales, but in 2019 made up only 5% of the teeth whitening online market. 
Likewise, activated charcoal has seen its heyday for skin treatments come and go. Most notably in the form of blackhead removers and facial masks. From 2016 to 2017 skin treatments with activated charcoal grew over 250% to $17 million, but these products haven't seen positive sales growth since. 
Factors of the Charcoal Decline
What are we to point to for the decline of charcoal? It could be that health officials finally spoke out about the harmful side effects of continued use. For toothpaste and teeth whitening kits, dentists warn consumers not to brush it on their teeth too often, as it can scratch the enamel. It could also be that the purported health effects have been disproven. Activated charcoal is good at absorbing things, but not at discerning it what it absorbs. That means if one consumes a juice made with activated charcoal, it may simply absorb all the natural nutrients found in the juice. 
So, have consumers become wise to the marketing hype or have consumers just moved on to the next thing? Time will tell, but while new uses for charcoal appear to be waning, online sales of charcoal for actual cooking continued to grow in 2019.  
Source: 1010data
About the author:
Theodora Richards is a Data Quality Analyst at 1010data, a leader in analytical intelligence and provider of consumer transaction data to hedge funds and other asset managers. She can be reached at Theodora.Richards@1010data.com