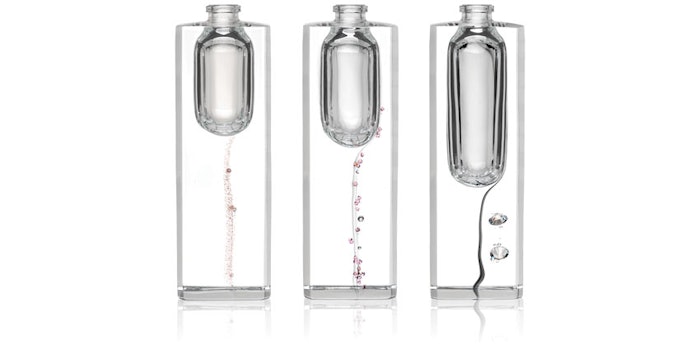 Packaging makes a first and lasting impression on consumers; in the beauty business, that impression is everything. However, as it becomes more and more difficult to make a product to stand out, differentiation has become the big challenge for today's beauty packaging industry.
Every year, Veresence's marketing and R&D teams collaborate with a trends agency to transform the "mood on the street" into innovative glass packaging concepts featuring state-of-the art glass manufacturing and decoration. The objective of the trends presentation is to suggest mood boards for future trends and to create a global approach to the beauty market.
Elevated and Experiential Design
Consumers will continue to push brands to address issues such as sustainability, well-being and premiumization to offer elevated and engaging product experiences, versus just products. Spotlighted here are three trends that will be key platforms for beauty market innovation.
1. Metaphysical Nature
The first influence, "Alive," is an evolving vision of nature touching on magical, mystical and telluric forces. These manifestations of life continue to stimulate and inspire innovation, at times radically changing our approach to beauty products.
Regenerative minerals, magical textures and strange magma-like metallics all feature high impact colors. Meanwhile, total immersion massages, regenerative stones and enigmatic beauty care tap into the benefits and metaphysical power of minerals for the body and mind. Colors impacting this trend are chlorophyll greens, lavender blue, and floral pinks underlined by a clean white.
2. Simple and Essential Beauty
The second influence, "Simple-City," stems from a desire to unclutter our lives and let go. Its impact can be seen in the emergence of wellness lifestyles and healthonism (healthy hedonism)—a quest for well-being which is ushering in new, simple and essential beauty rituals.
This is also seen in the latest technological advances, which offer ever more practical and easy-to-use products. Authenticity and minimalistic design, together with consumers' need to find immersive experiences, leads brands to include design elements with earthy effects and clean lines.
3. Meaningful Luxury
The growing appeal of "Opulence," our third and most lavish trend, is driven by the permanent push for premiumization and the rise of discreet luxury. Luxury markets tend to be dynamic and influenced by social trends. In this respect, the nature of luxury is changing: think designer brands creating ranges for high-street fashion chains.
As masses gain access to the elite's lifestyle, luxury is no longer seen as an object or possession but as an experience. New luxury involves people looking for the story behind a brand, delivering a subtle sophistication to luxury.
Fusing genres, traditions and modernity, beauty care focuses on the sensual appeal of rich materials, smooth textures, heady essences and nourishing balms. Packaging is ornamental, jewelry fancy with semi-precious gems to add sophisticated effects for exceptional everyday beauty.
Giving Brands a Voice
A brand has a lot to say, and package design is its voice. Color, texture, and shape all play a vital role in packaging and how consumers perceive brand equity.
Sheherezade Chamlou ([email protected]) is the vice president of sales and marketing, North America, for Verescence.