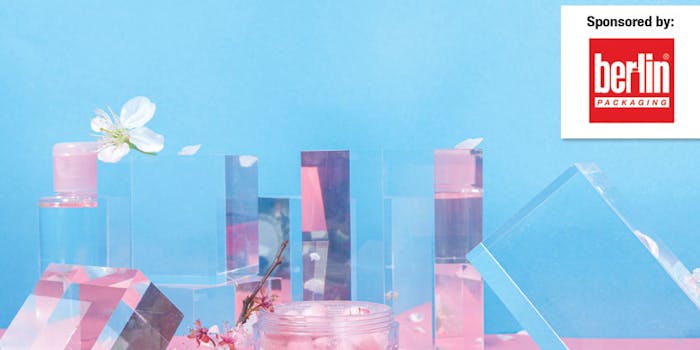 An increasing number of beauty brands and retailers are embracing multifaceted sustainability protocols for packaging, pairing multiple strategies among their initiatives. Here, we round up some of the most notable introductions so far this year.
Part 1: Sustainability Under Scrutiny
Part 3: Sustainable Ingredient & Formulation Advancements
Part 4: Beauty Retailers: Sustainability Sells
Refills on the Rise
Refillable product formats offer brands an opportunity to keep products in circulation longer while also building customer loyalty. The Body Shop, for instance, is launching refill stations in 500 stores this year and a further 300 in 2022.
"Our global refills program is really ambitious—we want to start a refills revolution around the world!" said Lionel Thoreau, global brand director, The Body Shop, in an interview with Global Cosmetic Industry. "As you can imagine, large-scale programs like this are complex and it all comes down to choices."
He continued, "Making a refill proposition that is compliant with local regulations across our 70-plus markets takes time and understanding, so we needed to work closely with our partners around the world to unify our proposition. For our recycling program, picking the right partners and ensuring we are complying with local regulations is also key."
Thoreau concluded, "An important factor for scalability is that we have two different sizes and shapes of refill stations. This means we can include refill stations even in our smaller stores, making accessibility more widespread." 
By choosing refillable aluminum bottles for shower gels, shampoos, conditioners and hand washes, consumers can easily clean out packaging before heading to the store for a refill. The durability of the bottles also allows them to remain in circulation for long periods of time.
Thoreau noted, "[I]ndividually we can prevent 32 plastic bottles going to waste each year—collectively this adds up to 25 tons of plastic we could save in the first year." He added, "Our incentives will differ by market, but on the whole, our aim is that every fifth refill is free, encouraging customers to continue refilling."
The company is exploring refillable options via its website and direct selling channel, The Body Shop At Home.
Meanwhile, Ulta Beauty has partnered with Loop as part of its Conscious Beauty at Ulta Beauty initiative to give "easy access to beauty and personal care products from leading brands in durable, returnable packaging." Customers can shop on the Loop website and purchase their beauty products to be delivered in zero-waste packaging that is cleaned and refilled to be reused again. Loop by Ulta Beauty can be purchased across 48 states on loopbyulta.com.
Like The Body Shop, individual brands are initiating refillable concepts throughout their ranges. For instance, Unilever's Love Beauty and Planet brand has announced that 100% of its packaging will be recyclable, refillable or compostable by 2030. Refillable aluminum bottles are available for the brand's Coconut Water & Mimosa Flower and Murumuru Butter & Rose launches, both online and in-store at Target. The 32 oz refills are made from 100% post-consumer recycled content.
On the upstart front, Peach, a brand by Grove Collaborative, has debuted a 100% plastic-free Deodorant & Body Care refill system, including deodorant, a solid body lotion and a solid all-over-body balm.
"With this Peach launch, we're expanding Peach's domain beyond the shower and into the bathroom cabinet," said Luana Bumachar, VP of owned brands, Grove Collaborative. "Refillable deodorant offerings are popping up in the market, but there aren't any players who offer clean deodorant in 100% plastic-free refill containers. Also, refillable, solid body lotion is an even newer and less permeated space."
Bumachar explained that the plastic-free containers are in line with Grove Collaborative's larger Beyond Plastic initiative, "a comprehensive plan to help the company achieve its ambitious goal of becoming 100% plastic free by 2025 and to lead the industry out of single-use plastic."
Hello Products' recent launches included the Naturally Healthy Mouthwash Refill Pouch. The refill pouch reportedly has 80% less plastic compared to two of the brand's 16 oz mouthwash bottles and caps.
On the supplier front, Verescence has partnered with niche French perfume house Marcelle Dormoy for an exclusive refillable purse spray collection. The collection includes the perfumes Nacarat, Heliodor and Gemma Veneris, which are now packaged in a new 10 ml refillable and portable glass bottle, the Cara, from La Collection Verescence.
The Cara bottle comes in travel-sized formats, and features a square section and slender silhouette with rounded angles and flat panel sides.
Quadpack recently launched the Regula Airless Refill, a refillable version of its airless range. A snap-on ring allows brands and fillers to insert the removable inner component in the pack after filling through a safe and convenient system that protects the formula, per the supplier.
Its eco-design encourages consumers to reuse the product since the inner part can be easily disassembled through a thread system. In order to boost recyclability, Regula Airless Refill has a metal-free pump. The pack has the same size as Regula Airless and is available in 15 ml, 30 ml and 50 ml versions.
Recycling: Returnables, Monomaterials & More
Allure's editors have pledged to stop using the term "recyclable" in relation to plastic packaging for beauty and personal care products due to the low actual recycling rates witnessed worldwide. Retailers, brands and suppliers are actively working to remedy this challenge.
For instance, The Body Shop first offered returnable bottles in 1993 via its Bring Back Our Bottle recycling scheme. Now, the company will extend its in-store recycling program, Return, Recycle and Repeat, across 800 stores in 14 markets by the end of 2021.
Elsewhere, Element Packaging has joined forces with MOB Beauty and retailers Credo Beauty and Hudson's Bay to create the Pact Collective, a not-for-profit initiative to tackle waste. This membership organization looks to recycle components that are typically hard to recycle, including parts that are small or which use mixed or flexible materials. The partnership works alongside recycling companies like New York-based Reverse Logistics to do so.
A Pact recycling bin can be found in all 10 Credo Beauty stores and in 20 Hudson's Bay locations in Canada. Consumers are encouraged to drop off empty beauty containers, no matter the brand. All pumps, caps, plastic tubes, lipsticks, lip glosses, eye and lip pencils, mascara tubes, plastic compacts, colored glass bottles and jars, as well as plastic bottles and jars smaller than a yogurt cup, can be dropped off. A mail-in recycling program is also in the works.
To improve the recyclability of packaging, suppliers and brands are also issuing monomaterial designs that are more easily and readily processible. For instance, Aptar Beauty + Home has launched the fully recyclable, monomaterial and e-commerce-friendly Future pump, addressing an array of beauty industry requirements simultaneously.
The pump's design eschews metal components and comprises only polyethylene (PE), easing recyclability. It is also available using post-consumer resin (PCR). Only the PE cylinder and rounded shape in 300 ml and 500 ml can be made with PCR; testing on ocean plastic versions for hair, body, skin and other products is underwayj.
The design can be used for products such as shampoos, shower gels and body lotions. The pump is suitable for a range of viscosities and can be customized to two dosages and two neck sizes.
Future's design is also showerproof, per the company, allowing for formula protection. The pump reportedly combines well with transparent PET bottles for designs that seek to reveal the absence of a metal spring.
Future is certified by CyclosHTP, the institute for recyclability and product responsibility. It has also received an "A" from RecyClass (for the undecorated clear or white pump), a cross-industry initiative that works to establish a harmonized recycling approach and traceability in Europe. Furthermore, Aptar Beauty + Home has obtained an International Sustainability & Carbon Certification (ISCC) for its European production.
Elsewhere, APC Packaging has launched glossy monomaterial PCR polypropylene (PP) GSPP jars and caps to do away with the need for disassembly. The GSPP is available for full decoration customization in 15 ml, 30 ml and 50 ml sizes.
"My goal was to create an elevated looking mono material PP jar that was more elevated looking with a cap that was correctly proportioned to the jar profile and still heavy wall enough to give it the correct feel," said Robert Bulla, director of engineering and innovation at APC Packaging.
On the brand side, Beautycounter has launched its first clean, monomaterial, refillable deodorant, The Clean Deo. Available in three scents—Clean Rose, Fresh Coconut and Soft Lavender—the product reportedly neutralizes body odor, absorbs sweat, glides on smoothly, leaves no white residue and leaves skin feeling soft, smooth and fresh.
The refillable deodorant comprises polypropylene monomaterial packaging. The format is said to cut water, fossil fuel and greenhouse gas emissions by an estimated 47% and helps minimize waste in landfills.
Industrial/Chemical Recycling
Some companies are expanding beyond conventional return and recycling programs by leveraging chemical recycling. For instance, LVMH Perfumes & Cosmetics is using the Eastman Cristal Renew copolyester for its Dior Addict Lip Maximizer packaging. The companies are working together on sustainable packaging solutions across LVMH's family of brands, with additional adoptions expected soon.
Eastman's circular molecular recycling technologies produce resins from mixed waste plastic rather than fossil-based feedstocks. These molecular recycling technologies reportedly divert waste plastic from landfills, give waste plastic new life and reduce greenhouse gas emissions relative to traditional production.
Elsewhere, Kao has begun using chemically recycled PET (polyethylene terephthalate) materials manufactured by PET Refine Technology Co., Ltd., for its cosmetics bottles. This technology enables the recycling of containers made from PET material into material with purity equivalent to virgin PET. It is even purportedly capable of matching the quality of virgin PET when recycling PET material with color printing and decorations, or containing residual cosmetics content.
First up are bottles for the brand's Twany cosmetics brand. Going forward, Kao will promote this initiative to collect used bottles and reuse them in cosmetics PET bottles, achieving material recycling from bottle container to bottle container, per the company.
Per Kao, widespread adoption of chemical recycling will boost the availability of recycled material. Kao will therefore progressively expand its use of bottle containers using chemically recycled PET material. It is also considering ways to gather and reuse used containers.
More solutions are on the way. INEOS Olefins and Polymers USA announced its manufacturing sites in Texas and California have been awarded the ISCC PLUS certifications from ISCC (International Sustainability and Carbon Certification).
This certification recognizes the company's commercial-scale trials of advanced recycling technology to produce ethylene, propylene, high-density polyethylene (HDPE) and polypropylene (PP). The ISCC PLUS certification supports the success INEOS has achieved in the commercial-scale trial and lays the groundwork for INEOS' commercial offering for polymer products.
According to INEOS, advanced recycling converts waste plastic, which was destined for a landfill, back into a liquid raw material for reuse in plastic production. This technology can be used for various types of plastic, including mixed plastic waste streams that are normally difficult to process with traditional recycling. The product properties are reportedly identical to virgin plastics made from oil and gas.
Biodegradable Beauty 
A range of companies are exploring ways to enhance the biodegradability of beauty products.
 Tula Skincare is increasing its commitment to sustainability via its partnership with TerraCycle and Cloverly, as well as with the launch of the biodegradable Balancing Act purifying and pH-balancing toner pads. The pad applicators are made from biodegradable bamboo fibers that can be replaced with refill pods instead of an entirely new container. The toner is said to instantly lift impurities and help tighten the look of pores while balancing the skin's natural pH after cleansing, nourishing and improving skin smoothness.
The Tula Skincare Recycling Program allows consumers to send in Tula Skincare jars, tubes and blister packs for processing. Participation is free and consumers can sign up online at www.terracycle.com/en-US/brigades/tula. 
Elsewhere, Federal Package's Eco Smart containers for sunscreens, deodorants and other personal care applications are FDA-compliant and U.S.-made using a proprietary organic additive that helps the plastic begin breaking down in days when disposed in a biologically active landfill.
Once in a biologically active landfill, marine or other environment, the additive encourages microbes to penetrate the container and break down the chemical bonds of the plastic, accelerating the break down in biologically active landfills, marine or other environments. The process has been tested to ASTM D5511 (municipal landfill) and ASTM D6691 (marine) protocols.
Eco Smart represents an update to the company's existing line of containers, reportedly with no change in form, fit, function, or design or color options. They also have the same physical properties and strength as those manufactured without the Eco Smart additive.
"Eco Smart differs from other degradable plastics, in that it does not contain starch, heavy metals, or other fillers that can produce microplastics which have been known to contaminate soil and water," said Steve Dakolios, president of Federal Package. "The resulting biomass remaining after complete biodegradation is no longer a polymer. The scientific term for this residual is commonly referred to as biomass, humus or compost."
Solid Beauty
Clariant's recent BeautyForward trend analysis featured the "beauty unwrapped" concept, which responds to heightened consumer criticisms for plastic packaging and the amount of packaging in general used for products.
"Bars offer options for no-plastic packaging and also provide branding messaging—essentially showing rather than telling a company's values and ethics," said Jasmine Shah, customer experience and trends leader for the company. "It's a point of differentiation."
In response, Clariant developed concept formulations for several categories. The Nourishing Bath Melt is said to bridge self-care with skin care in a solid product that dissolves in warm water, providing moisturizing, skin renewing and gentle cleansing benefits during bathing. Featured ingredients include Plantasens cocoa butter (INCI: Theobroma cacao (cocoa) seed butter) as an emollient; GlucoTain Sense (INCI: sunfloweroyl methyl glucamide) as a surfactant; buriti oil (INCI: Mauritia flexuosa fruit oil (and) tocopherol) as an active moisturizer; and others. 
According to Shah, "The melt is solid at room temperature but in the bath, or even in the hands, it melts. The technology is like a lipstick."
The Hair Necessities Bar solid shampoo bar is a concentrated solid shampoo bar formulated to ensure a rich, creamy foam with gentle cleansing. The solid format, like the bath melt, also opens the door more sustainable packaging options. Ingredients featured include the GlucoTain Care (INCI: cocoyl methyl glucamide) and Plus (INCI: capryloyl/caproyl methyl/glucamide (and) lauroyl/myristoyl methyl glucamide) surfactants, plus Beraclay Old Rose (INCI: kaolin) as the active. 
Elsewhere, Beauty Kitchen has debuted 100% plastic-free hair care bars—Deep Cleanse Shampoo Bar (coconut, peppermint, orange and spearmint), Daily Shine Shampoo Bar (hints of grapefruit and lemon), Intense Moisture Shampoo Bar (coconut and cocoa) and Everyday Gentle Conditioner Bar—for all hair types. According to the company, the shampoo bars last up to 70 washes and save two single-use bottles; the fragrance-free conditioner bar saves three single-use bottles.
The bars are palm oil-free, microplastic-free and vegan-certified. The packaging is reportedly 100% compostable and is made from FSC-certified material.
Meanwhile, Peach—Grove Collaborative's new personal care soap brand—features a collection of 10 bars said to promote scalp, hair and skin health. According to Peach, the products are 100% plastic-free and plant-based. Per the brand, each Peach shampoo or conditioner bar is equivalent to two 12-oz liquid product bottles. Each hand and body bar is equivalent to three 22-oz body wash bottles, while each facial bar is equivalent to one 4-oz cleanser bottle.
Products in the collection include the Balancing Facial Bar, which gently cleanses and calms skin while washing away bacteria; Hydrating Facial Bar, which cleanses and hydrates skin while washing away bacteria; Strengthening Shampoo Bar, which promotes a healthy scalp and strengthens and smooths damaged hair; Strengthening Conditioner Bar, which strengthens and smooths damaged hair; Moisturizing Shampoo Bar, which restores scalp health and softens dry hair and brings back shine; Moisturizing Conditioner Bar, which restores scalp health and softens dry hair and brings back shine; Volumizing Shampoo Bar, which invigorates scalp and lifts and amplifies fine, flat hair; Volumizing Conditioner Bar, which invigorates scalp and lifts and amplifies fine, flat hair; Deep Cleansing Hand & Body Bar, which exfoliates and renews skin while effectively washing away bacteria; and the Moisturizing Hand & Body Bar, which moisturizes and protects skin while effectively washing away bacteria.
Back on the formulation side, Colonial Chemical has developed a palm-free conditioner bar concept formulation that features its Colonial S18PF palm-free conditioning aid, which reportedly leaves hair soft, bouncy and smooth. The PEG- and sulfate-free formulation also includes nourishing butters and oils and has dual usage as a conditioning shaving bar. The concept allows for brands to do away with bottles, per Colonial.
Stephenson has launched its first solid conditioning bar as a part of its Melt and Pour range, designed to bypass the need for plastic containers and reduce the use of water during hair washing. The formulation, which can be tailored using additives, includes natural ingredients such as behentrimonium chloride, a cationic surfactant to help condition the hair; shea butter and coconut oil, which provide hydration; and hydrogenated ethylhexyl olivate, a natural emollient within the base.
Stephenson's Melt and Pour range has been expanded to include more than 30 products ranging from Crystal Donkey Milk to Crystal Hemp and more. All of Stephenson's crystal melt and pour products are paraben-, preservative- and PEG-free. 
Sustainable Packaging & Tools for Beauty 
Kraft Paperboard Tubes
Berlin Packaging's kraft paperboard tubes are designed as a sustainable alternative to plastic lip balm tubes. Its kraft tubes are made from recycled paper and post-consumer content and can be used for everything from balms and salves to cosmetics and solid perfume. 
"For brand owners of beauty and personal care products in search of sustainable packaging, Berlin Packaging recommends that you start with a comprehensive and broad-based analysis of your packaging, including functionality and performance," the company said in a statement. "Set sustainability goals that are achievable and that resonate with your target consumers. Your outcomes should be easy to understand, like acres of forest preserved or gallons of water saved. And don't forget about profit growth. For instance, a package with multiple sustainability benefits that performs poorly will likely create waste, frustrated consumers, logistics issues and reduced overall profitability."
As a result, the company statement added, "Rather than focus on a single material like PCR content, Berlin Packaging advocates a holistic approach to sustainable packaging. Exploring a variety of materials and options allows brand owners to identify various solutions tailored to their specific applications and sustainability goals. As the world's largest hybrid packaging supplier, Berlin Packaging can source globally from over 1,700 packaging manufacturers—offering maximum flexibility in sustainable packaging opportunities." 
Sustainable Printing
Overnight Labels is a certified Sustainable Green Printing Partner with an eco-friendly packaging portfolio, which includes stocks, films, inks and adhesives. The printer's newest offerings include hemp label stock, shrink sleeves made from recycled PET bottles and compostable flexible packaging. 
Mindful & Green Packaging 
WWP Beauty has launched two sustainable stock packaging collections, the Cutsie Green Collection and the Mindful Collection.
The Cutsie Green Collection is made up of sleekly designed cosmetic packaging options that include eyeshadow compacts, face and cheek compacts, a cushion compact, and a slimline lipstick and lipgloss package. Each component in the Cutsie Green Collection is made with PCR materials on the cover base and platform; these compacts are 25-30% slimmer than a compact of a similar size, per WWP. This reduces the use of virgin materials and creates a smaller carbon footprint during the development and shipment process.
The Mindful Collection features mono-material compositions and light-weighting to offer different sustainability attributes. The range combines these strategies, creating products that have an impactful recyclability story, as well as use less plastic. This collection is made up of PCR compacts; a PCR, POM-free airtight lipstick and lip crayon; PCR face stick; monomaterial bio-PE (sugarcane) tubes; and a PCR powder jar with sifter. 
Disposable Cosmetic Applicators
Qosmedix has expanded its eco-friendly product range with the launch of its disposable cosmetic applicators featuring sustainable FSC-certified white paper handles. The collection consists of applicators for eyeliner, eye shadow, lip gloss, lipstick and mascara. Qosmedix will donate 1% of its profits from the sales of these eco-friendly products to The Nature Conservancy's Plant a Billion Trees program.
Meanwhile, Qosmedix has launched its Qosmedix Cares Initiative, which brings corporate social responsibility (CSR) to the forefront of its overall future business strategy. The company's CSR goals revolve around four pillars: environment, labor and human rights, ethics and sustainable procurement.
Focused on packaging and other beauty supplies, Qosmedix is also debuting a re-launched line of EQO-Friendly products made with sustainable materials. It has plans to roll out more products in this category over the next several years. As noted, the company will be donating 1% of profits from the sales of EQO-Friendly products to The Nature Conservatory's Plant a Billion Trees Program, which helps to restore forests around the globe. 
Biobased Innovation
Baralan's Biobased Packaging Series for skin care, fragrance and makeup products represents variations of Baralan's current product offerings but produced with a biopolymer comprising renewable natural fibers and manufacturing waste not linked to the food chain. The company produces some standard items with existing injection molding technology and equipment by combining the processing capabilities of thermoplastic materials with the properties of the renewable resources and natural materials. Per the company, "Baralan has and continues to perform positive mechanical tests, and testing compatible coloring elements and/or decorations."
Cork Fragrance Caps
Quadpack has announced the development of a range of cork fragrance caps for its QLine portfolio. The sustainable cork caps use by-product of the wine stopper industry as raw material.
Cork is hypoallergenic because it does not absorb dust, helping to protect against allergies and respiratory diseases. In addition, the suberin and ceroids contained in the cell walls protect the cork against moisture and allow it to age without deteriorating.
Cork has low conductivity to heat, noise and vibration, due to the gaseous components contained in cork that are enclosed in small, impermeable compartments, shaped like a honeycomb. It also adapts to variations in temperature and pressure without compromising its integrity.
From a tactile point of view, cork offers softness and flexibility, combined with a naturally uneven surface, while exhibiting lightness due to the 50% of its volume attributable to air. In fact, cork weighs 0.16 grams per cm3 and can float.
Biodegradable Water-Based Packaging
Quadpack partner Sulapac has launched Sulapac Barrier packaging for water-based cosmetics, which biodegrades without leaving permanent microplastics behind, per the company.
Sulapac has also announced a new flexible material designed for thin-walled jars with impact strength. It has a low carbon footprint, featuring climate-conscious raw materials and cost-efficient, high-volume manufacturing. Sulapac Barrier helps the company's partners at Quadpack provide a portfolio of different sized jars for both oil- and water-based cosmetics.
Recyclable Toothpaste Tubes
Unilever's Signal, Pepsodent and Closeup have announced plans to convert their entire toothpaste portfolio to recyclable tubes by 2025. The recyclable tubes will be available in late 2021 in France and India. First launching in France with Signal, the new tubes will be rolled out across its largest product range, Integral 8, which represents more than a third of Unilever's toothpaste portfolio in the country.
Instead of aluminum, the new tubes will use a material made mostly of high-density polyethylene (HDPE), a widely recyclable plastic. The thin, 220-micron plastic material will reduce the amount of plastic needed for each tube. By 2022, the brands plan to introduce more post-consumer recycled plastic into its recyclable tubes in France and other European markets.
To encourage wider industry change, the innovation will be made available for other companies to adopt.
The oral care brands partnered with multiple packaging manufacturers including EPL (formerly Essel Propack), Amcor, Huhtamaki and Dai Nippon Indonesia (DNPI).
Self-Cleaning & Sustainable 
Taiwan-based EpoPack's TD Series Bottles feature a vintage apothecary-type shape and are made from sustainable PET heavy wall plastic. Notably, they can also be done in 100% PCR PET.
The design features a wiper add-on that cleans residue off of a dropper tube as it is pulled out of the bottle, thereby eliminating mess and preventing dried-out product, particularly for serums. The TD Series Bottles are available in 15 ml, 30 ml and 50 ml variations and feature a glass-like look and shatterproof design. 
Upcycled & Renewable Polymers
Beiersdorf will use SABIC's certified renewable polymers for the packaging of its Nivea Naturally Good range of face creams. SABIC's bio-based polypropylene (PP) resin, part of its Trucircle portfolio, will be used for producing the jars. The new Nivea packaging is currently being phased in at point-of-sale outlets worldwide.
Derived from second-generation renewable feedstock, such as tall oil waste from the wood pulping process in the paper industry, SABIC's certified renewable polymers (PE and PP) are not in direct competition with human food production sources, per the firm. According to Beiersdorf, approximately 76 g of CO2 are saved per jar produced, a reduction of about 60% compared to the fossil-based jar.
Biodegradable Delivery Systems
CaseMed Engineering's U.S.-made VersaPad and SnapPad biodegradable controlled delivery systems are designed for a wide variety of gels, powders, liquids and more. VersaPad is a latex-free, recyclable, single-use flat pad that acts as a liquid reservoir and applicator all in one. It features a finger-use design with pull-tab activation (hidden or exposed), one- to four-finger applicator sizes, and double or single pad options in various colors and finishes. The design is drip-free, touchless to avoid contamination and can include pull-tab activated warming technology.
The SnapPad design hygienically dispenses and applies a variety of solutions with a single, dual or multi-chamber design. The SnapPad includes both a liquid reservoir and applicator; pinch activation for single-hand use; variable sizes and shapes to accommodate a range of substrates; varying surface designs ranging from soft to exfoliating for touchless, drip-free application; and an optional foil layer for additional product protection and brand communication. 
Rice-Based Makeup Brush
Kohl Kreatives has launched its Mi Fan Brush, a makeup brush made from rice. The Mi Fan Brush eliminates plastic by using the husk removed from rice and combining it with a plant starch, producing a new compound made up of 80% husk and 20% plant starch. This creates a clay-like material that can then be injection molded into the shape of the Mi Fan Brush.
The Mi Fan Brush is BPA-free and biodegradable since it can be returned to the soil as fertilizer. The synthetic bristles are vegan and cruelty-free. The brush's sleeve comes with an embossed QR code that leads to an online audio guide for those with visual impairments.
All profits go to the company's charity, Kohl Kares, which provides free makeup workshops worldwide to those who are recovering from cancer, transitioning between genders or those with motor disabilities.
Eco-friendly Frosting Effects
Environmentally friendly Eco-Frost Spray from Technigraph and Alpha Packaging can be applied to recyclable plastic packaging, allowing brands to feature both premium aesthetics and eco-friendly benefits. The frost can be applied in clear or colored finishes, or translucent or opaque tints. Eco-Frost can also be combined with environmentally friendly UV screen printing of up to six colors.
Other environmentally friendly processes can also be combined with Eco-Frost, including super silver, textured inks and glow-in-the-dark inks. Furthermore, the frost effect can help disguise the discoloration associated with 100% post-consumer PET bottles and jars.
The above processes can be used on plastic bottles, jars or closures. To that end, Technigraph now has on-site blow molding or can provide turnkey sourcing for components.