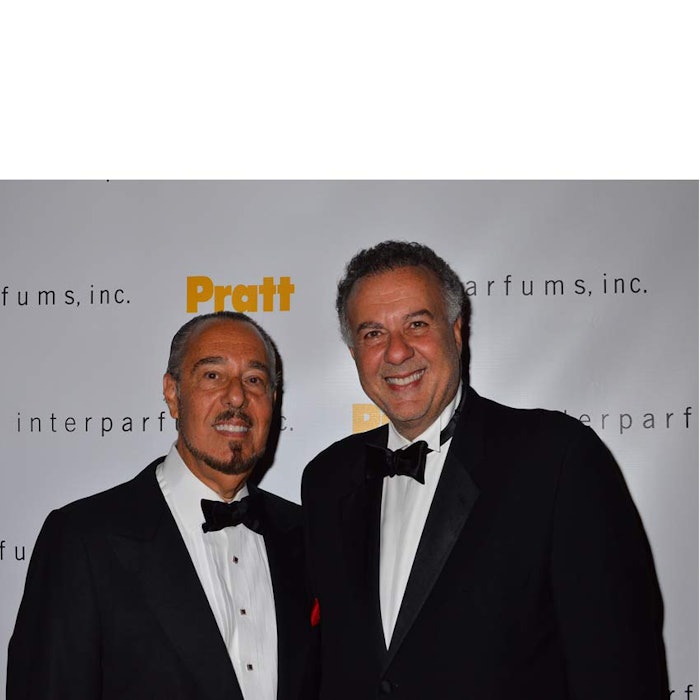 New York's Pratt Institute honored creative notables—both seasoned and up-and-comers—at its Art of Packaging Award Gala in New York, which attracted leading companies and executives from the multi-billion-dollar cosmetics industry. 
Roughly 250 guests attended the June 21 event, which was expected to raise $350,000 to benefit the Marc Rosen Scholarship Fund for Packaging by Design at Pratt Institute. For the past 27 years, the fund has helped raise more than $3.5 million for scholarships for graduate packaging design students at Pratt. 
Even a click from the cap of a lipstick evokes memories - Carol Alt 
Supermodel Carol Alt, who has emceed the event for several years, opened the evening's festivities by musing about how great packaging is beautiful, emotional and compelling. "Even a click from the cap of a lipstick evokes memories," she said. 
The best juice on earth will not sell if the packaging doesn't communicate - Jean Madar 
Jean Madar, chairman of the board and CEO at Inter Parfums, Inc., accepted the Art of Packaging Award which is presented each year to a beauty/cosmetics company that has excelled in the art form. He was introduced by Gilbert Harrison, founder and chairman of Financo, Inc.
For Madar and Inter Parfums, Pratt Institute's Art of Packaging Award tops the list of many past professional honors. "This goes straight to my heart," Madar said when accepting the award recognizing his creativity and success.
Madar, who co-founded Inter Parfums shortly after graduating from ESSEC Business School, has had his heart close to the business from its inception to current day. So much in fact that Madar said his family jokes about how working on the logistics of holiday gift sets are his "summer obsession in San Tropez" when he's supposed to be relaxing.  
"Our bottles know how to tell a story," said Madar. He added: "Our DNA isn't a formula, it is more like alchemy .... "
One of the keys in packaging he said, is creativity, which is "a state of mind." He called his Inter Parfums team members artisans. For instance, he said when working on Montblanc's fragrance, they figured out how to "sensualize" an "intellectual" brand. 
"The best juice on earth will not sell if the packaging doesn't communicate," he said.  
Student Scholarships and Achievement  
The event also highlighted the Marc Rosen Scholarship for Packaging by Design, which will provide full tuition on the basis of merit to Damini Singh, a first-year student in the Graduate Communications Design program beginning in 2016-17. Singh, who flew in from India for the event, will begin her graduate degree in Communications Design in Fall 2016. The scholarship may be renewed for a second year, making it Pratt's only scholarship with the potential to cover the entire cost of tuition.
To date, the Fund has provided scholarships to more than 100 Pratt students, many of whom have become industry leaders. This year's student scholarship winners, each with fragrance packaging design work on display were: 
Paula

Ip

: The name for Ip's scent "

Lumi

" comes from the Finnish word for snow. It is for a woman who is independent and mysterious, but also elegant and serene like winter. 
Talia

Douaidy

: Douaidy's "H2

Eau

" is a fragrance that is as clear as spring water. It combines the spray of a waterfall in Iceland, the fragrance of flowers, and the scent of springtime forest. The movement of water and minerals inspires the design of the bottle.
Xinlu

Liu

: The name for Liu's fragrance "

Demain

" means "tomorrow" in French. With the concept of tomorrow,

Demain

is a green fragrance, and it is designed for women who become more charming and more peaceful as time passes.
Fang

Yi

Chu

: Chu's fragrance "Allegro" is inspired by the movement and rhythm of a woman walking elegantly and confidently. Allegro is a fresh and delightful floral scent providing a shimmery and sweet feeling, but also a unique personality.
Brielle

Wilson: Wilson's "Éclat" is for a woman who is classically elegant with a glamorous edge. She is sophisticated and professional, yet always keeps her spontaneous zest for life.
Eugene Kim: The name for Kim's "

Spectre

" means "spectrum" in French. The fragrance is elegant yet complex and is inspired by the

multi

-faceted woman.
Click here to view last year's winners.