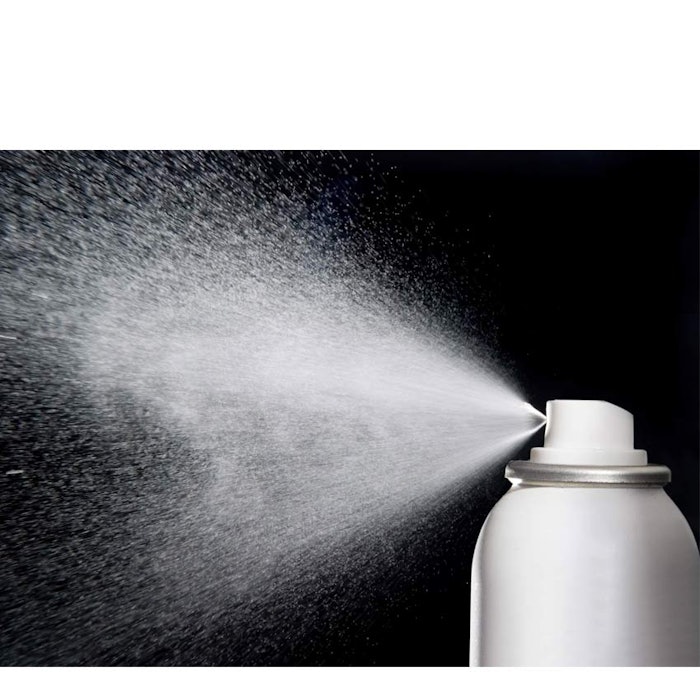 Growth of the global aerosol market is expected to propel forward, reaching $84.04 billion by 2024, according to a new report by Grand View Research Inc.
Growing consumption of personal care and household products in various countries including China, India, the U.S., Germany, Saudi Arabia, United Arab Emirates, and Brazil is expected to augment demand for aerosols. New product launches including Unilever's deodorant aerosols made using less amount of raw material, and energy will boost market growth, the research report noted.
Key Highlights 
Global aerosol market demand was 15.48 billion units in 2015 and is expected to reach 21.66 billion units by 2024, growing at a compound annual growth rate (CAGR) of 3.8% from 2016 to 2024.
Household was one of the larger application segments accounting for over 30% of the global volume and will witness substantial growth on account of increasing consumption for air fresheners and insect repellents.
Increasing focus towards new product developments in shaving creams and deodorants will create new opportunities for the industry expansion.
The European aerosol market accounted for over 35.0% of the volume, dominating the global market in 2015. The market will show growth on account of rising demand for cosmetics in Germany, Italy, France, Spain and UK. 
Latin America is projected to witness significant volume gains at a CAGR of 4.0% from 2016 to 2024 owing to growing demand for hair care products, perfumes, and deodorants in Brazil and Argentina.
The Asia Pacific aerosol market was valued over $12.50 billion in 2015 and is expected to witness significant growth on account of growing use of personal care products including deodorants, shaving creams, among younger population in emerging markets including India and China. 
In May 2014, Unilever introduced compressed deodorant cans for most of its brands including Sure, Dove, Axe/Lynx in Europe and Asia. The new product design is anticipated to cut the carbon footprint of an aerosol spray by almost 25% per can. Ongoing product development by various companies to manufacture cost-efficient and high-performance aerosol cans is expected to drive demand over the forecast period.
Further reading: Sustainable and Ductile Aluminum Solution for Cosmetic Aerosols 
In July 2013, Lindal Group announced the launch of a new product Twist-Lock Actuator for the packaging of deodorants and antiperspirants and sun care products. The product innovation will play a crucial role in increasing its penetration in personal care industry, the analysts concluded.