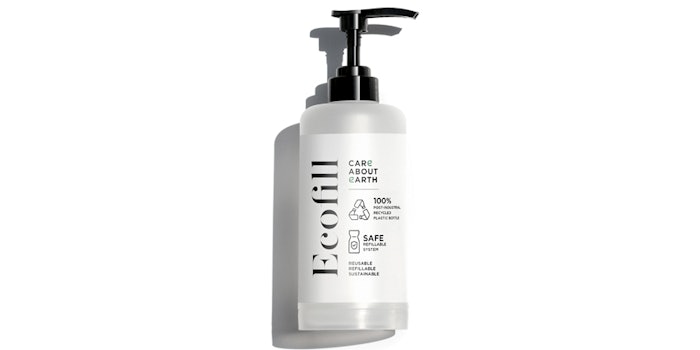 Groupe GM has introduced Ecofill, a refillable cosmetics dispenser that is 100% traceable.
Previously: Research Unpacks Cosmetic Packaging Design Process
The Ecofill dispenser is composed of two main elements: a base and an upper part, which are screwed together. A replaceable sealed pouch is housed inside the dispenser, and a pump is used to extract the product. 
The dispenser has a zero bacteria risk, as the Ecofill pouch is sealed and thereby tamper-proof, per the manufacturer.
In addition, the 400 ml pouch uses 8 g of plastic compared to the original bottles, each of which also used 8 g of plastic for a capacity of just 30 ml. 
Laurent Marchand, president of Groupe GM, said:
As a company, our priority lies in contributing to a sustainable future. Through our Care About Earth program, we are committed to the protection of the environment and to Corporate Social Responsibility. We are very excited about the launch of our new project, Ecofill. It is an innovative, sustainable and eco-designed dispenser that adds significant value to our portfolio of sustainable initiatives. This dispenser is not just eco-friendly, refillable, reusable and traceable; it is also a clean, safe, fast and easy solution with an environmental impact that is close to zero. Each 400 ml sealed pouch contains just 8 g of recyclable plastic packaging and guarantees full formula traceability. The design is both aesthetic and ensures ease of use.
As a company, we work relentlessly to reduce the overall consumption of plastic, non-reusable and non-recyclable materials in our hotel amenities. We constantly aim to minimize excess packaging and prioritize the use of recyclable and recycled materials. Through our Care About Earth program, we have been able to introduce initiatives in favor of plastic reduction, and the Ecofill dispenser is a welcome addition to this portfolio of initiatives. We are looking forward to helping our clients reduce the amount of plastic used in the creation of hotel amenities. Through our continuous innovation and research into more environmentally friendly ways of providing hotel guests with the most luxurious amenities available, we are confident that our initiatives, like the Ecofill dispenser, will significantly reduce plastic and waste in the amenities industry overall.