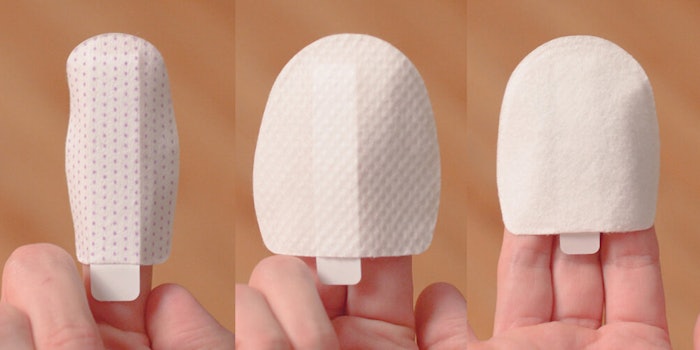 https://www.casemed.us/versapad
CaseMed Engineering has introduced VersaPad and SnapPad, two biodegradable, controlled delivery systems for a wide variety of gels, powders, liquids and more.
Related: Qosmedix Introduces Disposable Cosmetic Applicators
VersaPad is a latex-free, recyclable, single-use flat pad that is a liquid reservoir and applicator all in one.
Features and benefits include:
Finger-use design with easy pull-tab activation (hidden or exposed)

Choice of sizes (from one-finger to four-finger applicators)

Selection of double- or single-sided pads available in a range of colors and surface designs (soft to exfoliating)

Drip-free application with proper dispensing/mixing

Touchless solution that reduces the risk of contamination/infection

Instant pull-tab activated warming technology also available
SnapPad hygienically dispenses and applies a variety of solutions with a single, dual, or multi-chamber design.
Features and benefits include:
A liquid reservoir and applicator all in one

Single hand profile with pinch activation design

Choose from single, dual, or multi-chamber reservoirs in a range of sizes and shapes with the ability to hold multiple substrates

Varying surface designs provide soft or exfoliating touchless, drip-free application

Optional foil layer increases protection and can include product instructions or company branding
Founder and CaseMed engineer Casey Samangooie said, "Made 100% in the United States and patented across four major continents, VersaPad and SnapPad are the latest advancements on our continued mission to pioneer a solutions-based, eco-conscious approach for the cosmetic industry."