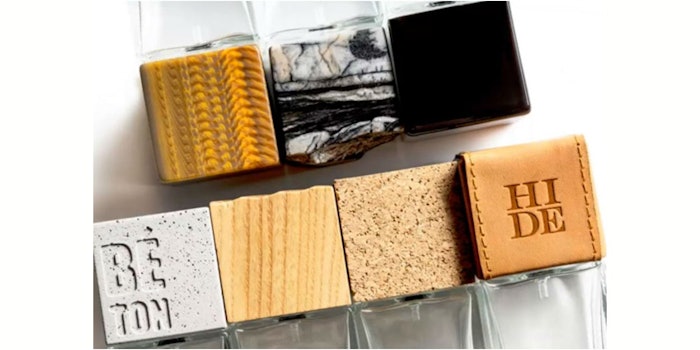 Beauty packaging does much more than simply holding and delivering a product. The packaging can add an element of personalization and heighten the overall sensorial experience. 
The Elemental Collection from Quadpack comprises materials that can be applied to fragrance packaging for bespoke packs with a variety of sensory elements. 
The collection includes:
Leather: PU or real, certified cruelty-free leather, applied with visible stitching, with options to color, engrave and print;
Textured wood: From FSC- and PEFC-certified sustainable forests, crafted at the Quadpack Wood factory in Catalonia, Spain;
Polyester resin: A family of resins, milled and molded at Quadpack Wood and finished with effects, including mother of pearl, stone or marble;
Cork: Round- or sharp-edged, stamped or decorated as desired;
Concrete: Cement-effect resin, with deep engraving;
Stone: Solid, natural stone, granite, marble and stone composites add weight and real luxury; and
Ceramic: Glazed ceramic, made in Spain.