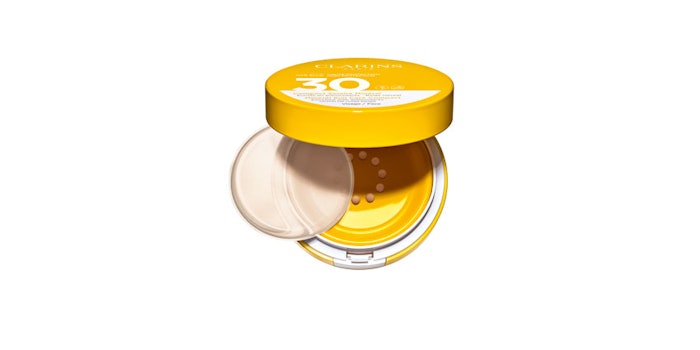 For the on-the-go packaging of its 2019 sun care range, Clarins collaborated closely with packaging manufacturer Texen. 
According to Texen, the packaging for the tinted formula can easily slip into a purse for on-the-go touch-ups throughout the day. The compact features screen-printed decor on the outside and a mirror on the inside lid. The interior also includes a tray and a PU sponge, coated with a TPU film that allows the formula to be applied without wastage and is easily cleaned. The compact is made from injected ABS.
The pack is delivered in two parts in order for the base to be filled before clipping on the obturator. The pack is airtight, offers formula restitution and is practical and easy to use thanks to its mini-format, which houses 11.5 ml of product, Texen stated.
The compact was reportedly designed to offer the most hygienic use possible. The label is positioned over the orifice through which the formula is delivered to ensure the product is not be tampered with prior to opening. The smooth, wide distribution tray allows the formula to be picked up easily and cleanly.