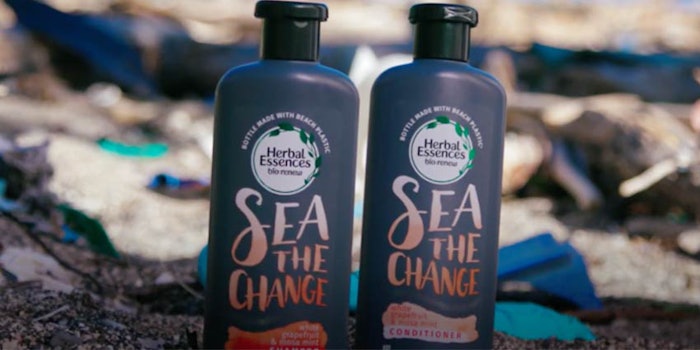 Herbal Essences is the latest brand to team up with TerraCycle, in an effort to make its line of hair care products nationally recyclable.
To participate, consumers enroll in the TerraCycle program and mail in in the packaging using a prepaid shipping label. Once collected, the packaging is cleaned and melted into hard plastic that can be remolded to make new recycled products.
Open to any interested individuals, schools, offices or community organizations, consumers can send in the following items to be recycled for free:
Empty shampoo and conditioner bottles and caps
Hair treatment and color packets
Flexible plastic tubes and closures
Non-Aerosol air mist bottles and pumps
For every pound of hair care packaging waste sent to teracycle through the Herbal Essences Recycling Program, collectors can earn $1 to donate to the non-profit, school or charity of their choice.  
Earlier in 2019, the two companies announced the creation of recyclable shampoo and conditioner bottles made of 25% beach plastic, to be used for a limited time in the bio:renew Collection.
"Herbal Essences Recycling Program with TerraCycle is one way to help encourage recycling plastic bottles, especially from the bathroom," said Lynn Hicks, Herbal Essences, North America brand manager. "We want to be sure all our hair care bottles have a way to be recycled and keep plastic out of our landfills and oceans."
"Through the free recycling program, Herbal Essences is offering consumers a powerful, sustainable option to divert waste from landfills," said TerraCycle founder and CEO Tom Szaky. "By collecting and recycling difficult-to-recycle items, consumers are given the opportunity to think twice about what is recyclable and what truly is garbage."