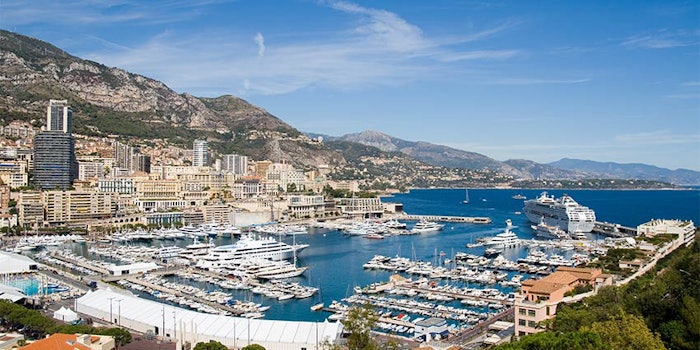 Luxe Pack Monaco 2016 featured 470 exhibitors and more than 8,600 visitors, highlighting the latest innovations in beauty and personal care packaging. Global Cosmetic Industry attended the show and picked out some of the top highlights from the show floor.
Next year's event will take place October 2-4, 2017.
Need to submit packaging for inclusion in our coverage? Email the editor in chief at [email protected].
WestRock
Among the innovations displayed by WestRock was the Aria Luxe pump dispenser (below), which has a comfortable landing area for the finger, metallic aesthetics, a locking mechanism and Pure Path technology.
Artoria displayed refillable bottles and pots in ceramic for beauty care products (pictured below). The packaging has been used by LVMH's Cha Ling brand. Artoria will recycle damaged items.
The former SGD Perfumery has become Verescence, reflecting the company's focus on perfumery and cosmetics. Verescence's adoption of a new name marks an important milestone in its history and reflects its origins with French prestige.
"It's an opportunity for us to have a brand reflecting what we are today: a company going through a major transfor­mation process and striving for excellence, an international company using its expertise, diversity and talent for the benefit of its consumers," said Thomas Riou, CEO.
The global glass manufacturer recently presented a number of its latest innovations at Luxe Pack Monaco, including: Mineral Glass (pictured below), which is inspired by Murano glass and craftsmanship and features colored waves inside; Metal'In metallic coating for fragrance bottles, which give off an ultraglossy mirror effect; Color'in interior color coating for fragrance bottles, allowing for pearlized, opaque and other effects; The Unbreakable glass-wrapping technology that resists breakage; Fine Art fine engravings; Sculpt'in interior engravings; ultra-premium Xtra Flint Glass; 90% recycled material Neo Infinite Glass; and stock bottles such as the Bowie (for niche fragrance, featuring round-shaped shoulders and an elliptic body).
Mega Airless displayed an oval container from its Micro range, which was used for the Visionnaire Yeux Eye On Correction from Lancome (below).
DieterBakic Enterprises displayed a range of innovations, including the Unity: Softtouch (pictured below); as the cap is turned, a disc is raised or lowered, releasing or sealing the opening in the cap.
CTL Packaging
CTL Packaging showed off its ESTube injection-molded plastic tube (pictured below), with an in-mold label. Shown here is a Dositube with an airless actuator.
Knoll Luxury Packaging
Knoll Luxury Packaging was honored at Luxe Pack Monaco for its Estee Edit training and presentation case for Sephora stores (pictured below). The 4-mm cardboard case housed high-density black foam that held seven products. The box also included a video player in the underside of the hinged lid.
GEKA presented its new collection, Blaze of Glory (pictured below), including the curlQUEEN curved brush, which has a stiff core and soft exterior and wedge-shaped fiber tips, as well as the softSECRET molded brush, which is produced using the patented Sandwich process, the beautySTYLIST applicator and precisionLINER eyeliner.
Texen
Texen introduced an airless jar, makeup compact and mini airless containers (pictured below) that offer security of product, elegance and customiz­ation.
HCP presented several new decoration techniques, including Interstellar, Crackle and Prismatic Coating (pictured below).
Saverglass' Art & Touch finishing technology provides a 3-D engraving effect to flass, allowing for a new method for "carving" bottles in numerous design patterns (pictured below).
RPC Bramlage unveiled its Miss Bliss airless pump for cosmetic products, which includes the AirFree bag-in-bottle technology. The pump offers a good restitution rate, Ecocert compatibility, metal-free path, improved finger pad and modified actuation force.