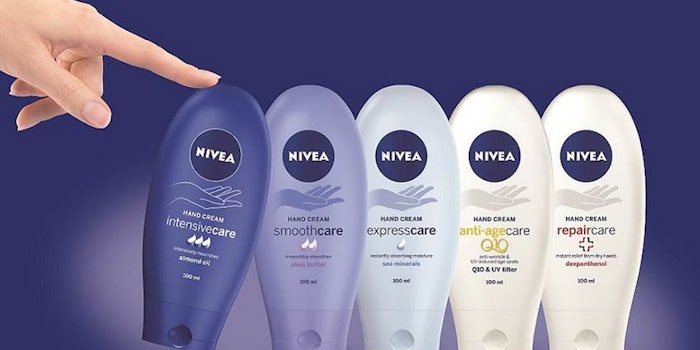 Nivea Hand Care has retooled its formulas and packaging to maximize skin protection and improve product ergonomics. The creams are packaged in a bottle shaped like a pebble, which provides a soft feel and easy squeezability.
The result is a package that has the functionality of a tube, but with improved ergonomics.
The range comprises a new Intensive Care Hand Cream with almond oil, as well as Smooth Care Hand Cream, Express Care Hand Cream, Anti-Age Care Hand Cream and Repair&Care Hand Cream.
"The relaunch is not only about the new beautiful tottle with its amazing soft touch feeling," said Kerstin Plath, project leader. "It is also about wonderful new formulas and a completely new supply chain set-up and of so many people being involved with the same high commitment to the project. Fill hand creams in tottles was not a trivial challenge. It involved among many other things of tweaking the filling line, fitting the new packaging tools, fine-tuning the formulas and a dedicated team."