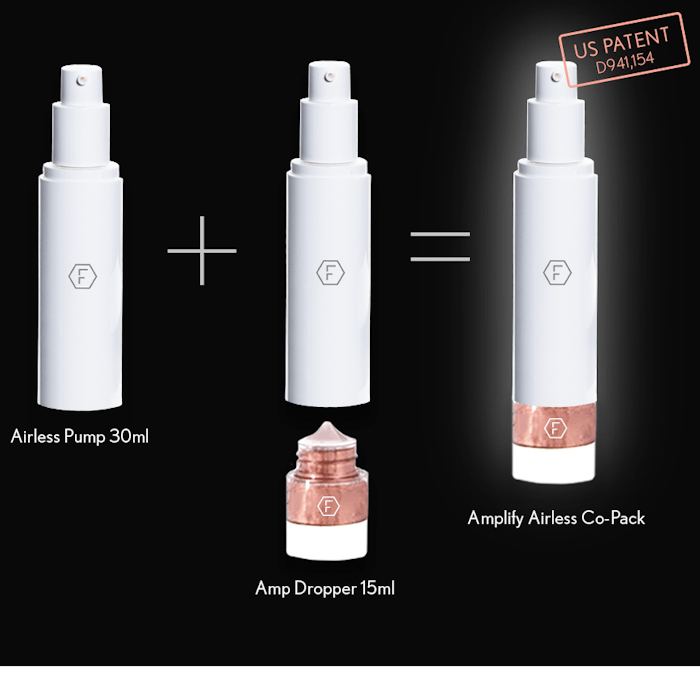 FusionPKG has been granted a U.S. patent for its Amplify Co-Pack dispenser and dropper assembly.
The two-in-one packaging design works with a range of formulas and comprises a 30 ml airless, atmospheric or sprayer bottle integrated with a 15 ml or 30 ml on-the-go Amp Dropper.
The Amplify concept can thereby combine two companion formulas in one package.
The design's airless technology minimizes formula waste with evacuation rates near 100%, per the company, and provides precise and consistent dosing, preserves formula integrity, and offers contactless delivery to prevent cross-contamination. 
The Amplify Airless Co-Pack also features a venting system that allows the airless package to vent and perform while the dropper is still attached.
The Amp Dropper features a flexible button at the base for controlled dosing, minimal air exposure for sensitive formulas and single-handed dispensing.
The dispenser bottle is made in nearly all PP for recycling compatibility and is available with high levels of PCR. The Amp Dropper is available in Eastman Cristal Renew, which provides high levels of certified recycled content from molecular recycling for high clarity and no drop-off in aesthetics or performance, per FusionPKG.
The dispenser and dropper assembly can be customized as needed.
FusionPKG offers the Amplify Co-Pack with a selection of turnkey clean skin care and color formulas through FusionPKG BeautyLab.