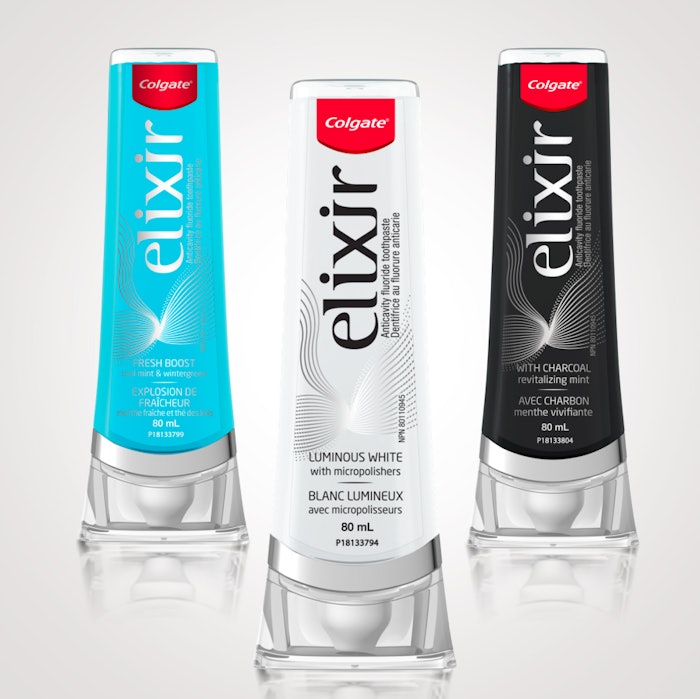 Colgate and LiquiGlide are expanding the retail for the Colgate Elixir toothpaste with packaging that utilizes LiquiGlide's EveryDrop technology. The line initially launched in Europe but will expand to Canada in the winter of 2022. In the United States, Colgate is launching a product with LiquiGlide's packaging technology at Sam's Club.
Related: Colgate Launches Recyclable Toothpaste Tube
The redesigned packaging allows consumers to see how much product is left and recycle the package while remaining easy to dispense. The Colgate Elixir packaging won AmeriStar awards for "Best in Show" and "Design Excellence" from the Institute of Packaging Professionals.
Liz Mellone, worldwide director of packaging innovation, Colgate-Palmolive Co., said, "Colgate Elixir is toothpaste reimagined—breathtaking design in a unique packaging technology that is recyclable and designed to let people enjoy the toothpaste to the last drop."
Kripa Varanasi, co-founder and chairman of LiquiGlide, said, "It has been gratifying to see the European market's positive response to Elixir. Our vision is for EveryDrop Technology to create new standards for sustainability and user experience in consumer packaging around the world. Colgate's decision to build on the success of Elixir and expand into North America is an important step toward realizing that vision."
Dave Smith, co-founder and CEO of LiquiGlide, said, "We are thrilled about the launch in Canada. With increasing consumer demand for sustainable packaging, we are excited to partner with industry leaders like Colgate to create packaging that is better for consumers, the planet and business."