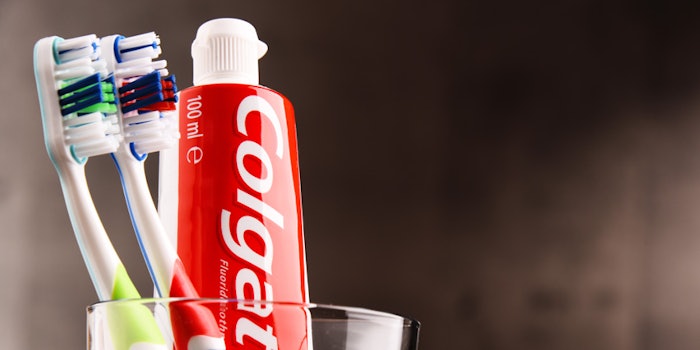 Colgate has announced its fourth quarter 2020 results that showed net sales increased 7.5%—from $4,015 million to $4,324 million—and organic sales increased 8.5%. The company's full-year net sales increased to $16,471 million from $15,693 the previous year.
Previously: Headspace and 'hum' by Colgate Personalize Mindful Oral Care with App
According to the company, net cash provided by operations was $3,719 million for full year 2020.
Colgate reported a gross profit of $2,643 million, compared to $2,414 the previous year for Q4. Its gross profit margin was 61.1%, compared to 60.1% in 2019.
Colgate's Q4 oral, personal and home care sector had net sales of $3,535 compared to $3,335 million in 2019. The full-year results for the sector reported $13,588 million, as compared to $13,168 million the previous year.
Colgate's leadership in toothpaste continued with its global market share at 39.8% year-to-date. Its global market share for manual toothbrushes is at 31.1% year-to-date.
Noel Wallace, chairman, president and CEO, commented, "We are very pleased to end 2020 with another quarter of strong, broad-based organic sales growth. Every division grew mid-single-digit or higher, with double-digit growth in our Hill's and Latin America businesses.
She added, "Our choices to invest in innovation, digital transformation and advertising are helping to deliver growth across our portfolio. While several of our categories continue to benefit from higher consumer demand due to the COVID-19 pandemic, we believe we have the right strategies in place to deliver profitable growth over the longer term."
Wallace concluded, "Our strong gross profit performance in the quarter funded a significant increase in advertising while still allowing us to deliver increases in operating profit, net income and earnings per share on a base business basis. The increased investment was widespread across categories and geographies in support of new product launches, expanded e-commerce activity and strengthened digital engagement. As we enter 2021, we expect high levels of uncertainty as we lap the benefits from pantry loading and other impacts of the COVID-19 pandemic. We also expect volatility in raw material and logistics costs and foreign exchange."