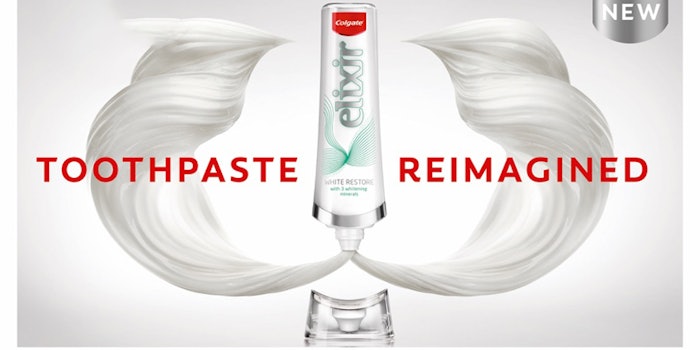 LiquiGlide has announced its latest $13.5 million funding round, bringing the total to $50 million raised, and has announced its new partnerships with Colgate, the Mibelle Group and Yves Béhar.
Related: CO. by Colgate Launches Oral Care for Gen Z
LiquiGlide is the inventor of patented technology that removes friction between liquids and solids, allowing thick, slow-moving liquids to flow with ease in packaging. 
For consumers in Europe, Colgate has just introduced a clear, PET, recyclable toothpaste package, developed in partnership with LiquiGlide, that is said to allow toothpaste to dispense much more easily.
As for LiquiGlide's partnership with the Mibelle Group, its technology is working to eliminate manufacturing waste. Using LiquiGlide's CleanTanX technology, the Mibelle Group has reduced the yield loss in its toothpaste manufacturing tanks up to 99%, and seen significant savings in wash water, energy and labor. Now, the partnership is expanding to other product lines.
In addition, the company has announced that it is partnering with industrial designer, Yves Béhar and his design firm, Fuseproject, to create no-waste, sustainable packaging for a line of health and beauty products under LiquiGlide's EveryDrop label.
As part of its growth, LiquiGlide has added executives from the packaging and biotech sectors:
Damien Dossin will serve as executive vice president and general manager of  LiquiGlide's consumer packaged goods division.

Dan Rippy joined as executive vice president and general manager of LiquiGlide's biomedical division.

Tom Britanik, formerly CMO of The Clorox Company, will serve in the role of CMO at LiquiGlide.
Dave Smith, co-founder and CEO at LiquiGlide, said, "Our technology has redefined what's possible when working with thick, slow-moving liquids. We're already seeing its impact with extraordinary breakthroughs in packaging, manufacturing, and the biomedical industry. As we continue to expand our market presence with our latest partnerships with Colgate and the Mibelle Group, we're proud to join forces with global leaders in innovation and consumer goods."
Professor Kripa Varanasi, co-founder and chairman of LiquiGlide, said, "We are surrounded by liquid products–from food or cosmetics in everyday life to valuable drugs or biologics in industry. Until now, we've accepted significant waste, whether in manufacturing or in packaging, as part of the price for these products because they stick to containers or devices they touch. By eliminating friction, LiquiGlide's technology removes this basic constraint. Now, we can dispense every last drop, minimize yield loss in manufacturing, and reduce occlusions and infections in medical devices. Our team is on a mission to change the paradigm across industries to usher in sustainable products and processes as well as improve patient outcomes."