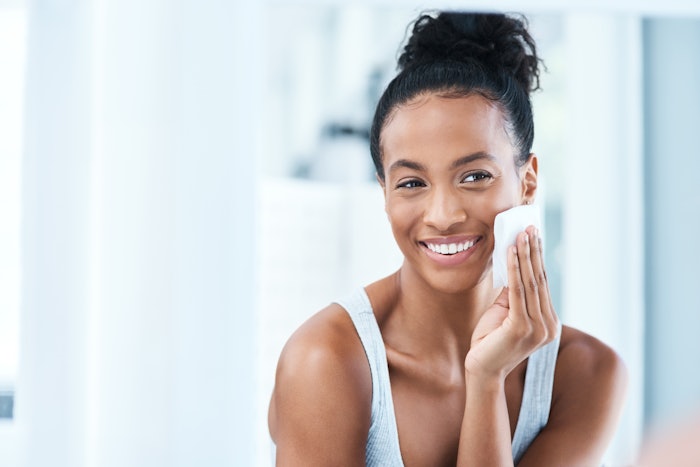 The Lenzing Group has debuted its Veocel brand of wood-based biodegradable botanic, cellulosic fibers in the United States.
According to the company's Sustainability Report 2021, a study published in October 2021 from scientists from Scripps Institution of Oceanography (SIO) at the University of California, San Diego, confirmed that wood-based cellulosic fibers biodegrade in the ocean within a short time frame at the end of their life cycle, making them a viable alternative to fossil-based fibers.
To learn more, Global Cosmetic Industry spoke with Tom Carlyle, nonwovens commercial manager—Americas, at The Lenzing Group.
Can you describe Lenzing's Veocel botanic fibers and technology?
[TC]: Lenzing's Veocel brand represents our family of nonwoven fiber offerings, including some specialty fiber product technologies that we offer to the greater nonwoven marketplace. The foundation of the Veocel brand is fiber products that are fully biodegradable and compostable because they are produced from the natural polymer, cellulose.
All of our cellulose originates from certified, sustainably grown and harvested wood and our Veocel fibers are produced with industry leading technologies allowing for excellent sustainability profiles. As one example, we recently launched Veocel lyocell with climate care technology, the first independently certified carbon neutral lyocell fiber in the world.
What makes it more sustainable?
[TC]: Plain and simple, it is "Lenzing know how." Sustainability can mean different things to different companies and to different people, and that is OK. At Lenzing, we strive to be sustainability leaders in the industries that we serve, and that means not only finding the right solution for your product application, but also finding the right solution for your product's life cycle story. That means that Lenzing is continually working on many sustainability initiatives and including these options in our Veocel fiber product portfolio.
How are brands leveraging Veocel products in their product development?
[TC]: Brands are now seeking a larger partnership than just being a standard supplier. Years ago, the foundation of business growth was all about being the quality leader in your respective industry. That is no longer enough. Brands are seeking supply chain partners that can bring value across many different facets of their business.
The first is always product performance. Lenzing has invested significantly in application R&D. In 2021, we opened our Nonwoven Innovation Center at University Hof in Germany. This added a state of the art spunlace pilot facility to our already expansive R&D capabilities. This center is available for use by our nonwoven supply chain partners, and allows for extensive prototype development work in a short time period.
But the Veocel advantage does not stop there. In addition for brands that are working with  Veocel fibers, they are realizing value in improved corporate and product sustainability profiles, opportunities to gain exposure on a range of communication channels, consumer education campaigns, clear end of life story, easily understood and certified raw material origins, and many other areas.
How are brands calling out the technology or its benefits on packaging or in marketing?
Recognition of our Veocel logo is growing quickly. Lenzing has a brand certification program that enables both B2B and B2C supply chain partners to leverage the Veocel messaging. This happens mainly through four mechanisms: 1) press release initiatives, 2) short term marketing initiatives, 3) e-branding initiatives and 4) co-branding on pack.
As the retail landscape is so dynamic, Lenzing is finding many vehicles to align Veocel and customer product brand messaging including social media, website and targeted videos. Additionally, many regional brands are finding that our global Veocel brand recognition is supporting growth of new users to their product lines. There is not enough data to suggest how much Veocel is reducing customer acquisition costs. But this trend has been noticed and is driving many new brand players to inquire about our Veocel co-branding programs.