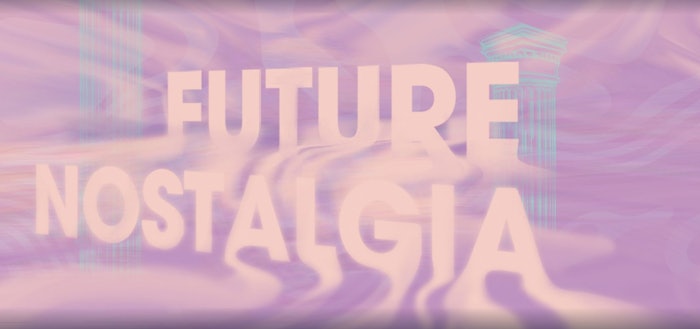 HCT by kdc/one recently presented at Cosmoprof Bologna 2022, debuting several innovations and the Future Nostalgia collection. 
The kdc/one team introduced the following innovations at the show: 
Novel mineral-based SPF formulas    

High performance hair care for various textures    

Innovative waterless solutions to capture conservation efforts

Sensorial and transformative skin care
Low VOC Aerosol formulas    
Future Nostalgia
The Future Nostalgia collection delivers innovative solutions that provide multiple ways to become more sustainably responsible. 
HCT is committed to minimizing the detrimental effects of oil-based plastics by creating packaging that is designed to be recycled, as well as options for lowering a brand's carbon footprint. 
Complexion Color Collection
Sublime Primer: This serum-primer hybrid is designed to blur out pores and even out the look of your skin. This lightweight, ultra-hydrating serum preps, primes and refines skin for longer-lasting makeup application.
Trance Skin Tint: Perfect your skin with a sheer hint of coverage for an effortless "no-makeup" makeup look. The formula easily blends into the skin to hydrate and even out skin tone. This tinted moisturizer helps minimize imperfections and brighten your skin with a mix of natural extracts and vitamins.
Illuminati Foundation: Enriched with moisturizing active ingredients, this formula fuses with skin to create a natural complexion in real life, as well as through the camera lens.
Neo Blush: This formula delivers radiant, natural-looking color with a seamless finish. The hydrating formula builds color seamlessly and blends in easily with your fingertips, sponge, or brush.
Daydreaming Face Glow: This cream to powder formula allows for an easy, even and buildable color application with no fall out. This new formula allows multiple shades to be displayed in one compact, giving a customizable color experience.
Lips Color Collection
Boudoir Lip Mask: This overnight lip mask helps hydrate and restore lips as you sleep.
Radiant Lip Oil: This high performing poured highlighter visibly illuminates the skin to create a dewy glowing effect. The soft melting texture perfectly adheres to the skin to create a lit-from-within radiance.
Passion Lip Tint: This overnight lip mask helps hydrate and restore lips as you sleep.
Modern Lip Mousse: A whipped lip mousse that glides on smoothly and delivers a soft-focus, powdery matte finish. The airy, mousse-like texture coats lips with color and softly sets the lips with a velvet appearance without the drying discomfort of traditional liquid lipsticks.
Dynamic Matte Lipstick: A modern matte lipstick that easily glides on the lips with a soft, creamy and satiny finish. This lipstick provides intense color payoff, while leaving lips supple and moisturized.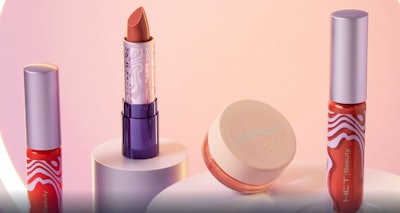 Eyes Color Collection
Play With Clay Palette: This eyeshadow palette provides a range of natural deep shades that are rich with minerals and mixed with unique raw materials to deliver a one-of-a-kind finish on the eyelid with added skin care benefits.
Transcend Palette: A do-it-all face palette with multiple textures allowing you to create endless day and night looks. (Upshadow-Matte Eyeshadow, Pearly Eyeshadows, Holo Highlighter, Le Blusher, Le Bronzer)
Glided Liquid Eyeshadow: This opaque liquid eyeshadow delivers high-impact color with minimal fallout- no primer needed. Wear alone or as an eyeshadow topper to intensify your eye look.
Tranquility Eyeshadow: A lightweight matte liquid eyeshadow that provides pigmented color all day. This creamy formula applies evenly and smoothly onto your eyes while transforming from liquid crème to a flawless non-sticky, matte finish.
Helio Eyeshadow: The cushiony formula provides an intense shimmer on the eyelids without the rough feel of gritty pearls.
Arched Brow Wax: This universal brow wax provides extreme hold without a stiff feel. Easily tame and sculpt every hair into place for the perfect feathered-looking brows.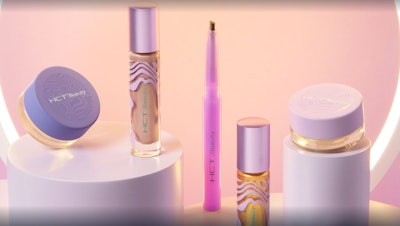 Bridge Products Skin Collection
Balanced Bubble Cleanser Face & Body: A multiuse cleanser that cleanses not only the face, but also the hair and body at once with rich and dense elastic bubbles that provide a fresh cream experience.
Moisture Magnet Milky: A refreshing, lightweight milky mist that works as a magnet to draw moisture into the skin. The Moisture Magnet Milky Mist contains the hydration and nutrition of a cream moisturizer. Papaya extract, AHA, and BHA ingredients gently remove dead skin cells and keep skin radiant and fresh without any dryness or tightness. Ceramides strengthen the skin barrier and keep the skin supple all day long.
3-in-1 Magic Milk Serum: Preps and softens like a toner, moisturizes like a cream and primes the skin before makeup for the smoothest application.  A blend of plant-derived lactic acid and vitamin E balances the skin's oil and moisture while providing a supple and healthy glow.
Rise & Shine Eye Serum Stick: Provides a fresh glow to the skin, while hydrating, cooling and depuffing thanks to caffeine, cucumber extract and coconut oil. Hyaluronic acid helps diminish the appearance of fine lines and wrinkles around the eye area.
Plumping Peptide + Vitamin C Restorative Cream: This product is powered by a peptide blend and vitamin C that quickly absorbs into the skin to provide maximum hydration. The formula visibly boosts complexion, improves the look of fine lines and wrinkles and restores the skin's moisture barrier from day to night.
Moonlit Radiance Cream: Provides deep moisturization and an instant glow to the complexion with prismatic pearl particles. A blend of vitamin C, niacinamide, and evening primrose oil give the skin a burst of hydration, while providing long-term skin-improving benefits, in addition to helping energize a tired, dull complexion, to a moonlit radiance.
Glacé Skin Stick: Provides a natural three-dimensional effect with a subtle pearl finish on the area where volume is needed. Coconut helps maintain moisture, as niacinamide calms sensitive skin, and pineapple extract brightens the skin. Contains vitamin F and ferment oil to strengthen skin barrier and moisturize your skin.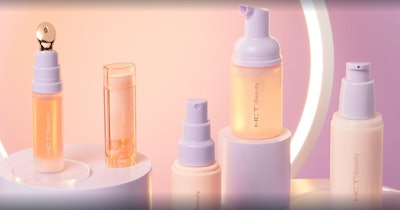 Skincare Collection: Lab Series
Skin Transforming Tonic: This transforming tonic contains a total of 5% high content AHA, BHA and PHA ingredients that effectively remove old dead skin cells and reveal a smoother, perfected skin texture. After application, the skin immediately appears brighter, and the appearance of pores and fine lines are minimized.
Aqua Serum: The Aqua Serum delivers an infusion of hydration due to our Blue Oil Capsule Technology, which leaves skin deeply replenished, smooth and radiant. A blend of adenosine, niacinamide and camellia sinensis seed oil aid with plumping the skin and improving the appearance of textured skin.
Lucid Dreams Sleeping Mask: This overnight mask helps soothe even the most irritated skin and strengthens skin's moisture barrier for a more radiant, refreshed, hydrated and even complexion. A blend of adenosine, niacinamide and camellia sinensis seed oil aid with plumping the skin and improve the appearance of textured skin.