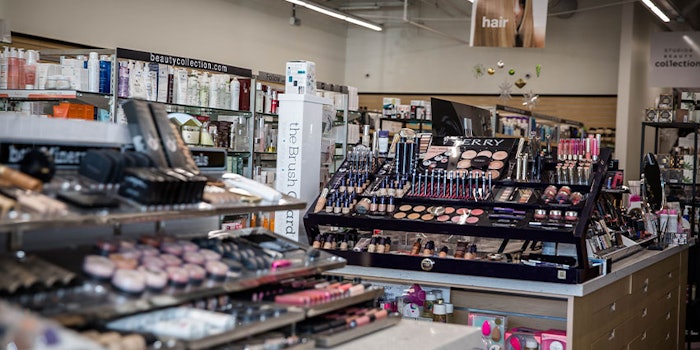 Beauty Collection has long been a destination for high-end, hard-to-find beauty goods. With locations in West Hollywood, Malibu and Marina Del Rey, the family-owned retailer is a hot spot for pampering. 
All locations continue to run at 20% capacity following strict COVID-19 restrictions. The products people want have changed amid the pandemic but the demand hasn't. Beauty Collection shoppers are still looking for clean formulas that are non-GMO and sans petroleum and palm oil. The buyers at Beauty Collection know their products inside and out and do the research so shoppers don't have to. 
I spoke with Beauty Collection brand and marketing specialist, Dominique Rush, for the inside scoop on how the Los Angeles beauty retail favorite is fairing through the pandemic. 
Q:
What's selling at Beauty Collection? 
Rush: PPE products are now our top-selling items. Everyone is worried about health and immunity. Internal wellness is booming and supplements such as Feel Good Organic and Vital Protein are doing great. Our best-selling brands continue to be Natura Bissé, Avène, Dermalogica, Murad and HydroPeptide. We are looking at new brands to offer and have introductions lined up for next year including CITY Beauty, which has traditionally only been available direct-to-consumer. 
Q:
What should we know about the Beauty Collection shopper?
Rush: Beauty Collection shoppers are ingredient savvy. They are always looking for what's new and next, and we find it for them. We have a loyalty program for all clients. Our top-tier curators have access to concierge boxes they can pick up in-store. Our clients love testing new products and sampling. Testers are not available, so whenever you can, sample! 
Q:
What do you look for from your brand partners?
Rush: We are all about support [and] partnership. We love to collaborate with brands, especially those who work locally and are willing to connect with the store staff through training, Zoom, etc. Emerging brands are our favorite because they have a lot of room to grow, and they know it takes hard work to grow and become known.
We admire so many brands, and we want to make sure each one we take on is the right fit with Beauty Collection. Once you are in our stores, [we] make sure that the in-store sales team has been given products they can play with so they can talk about it with passion, experience and from their big hearts.
Q:
What's changed and what does growth look like from here?
Rush: Since the Safer At Home order started, we haven't been able to rely on testers, and sampling is such an important part of the process when we take on new brands. So, we're focusing on the brands we have [and] working with them on product sampling. We want our Beauty Collection shoppers to feel part of a local family and really bring a community together. 
Q:
How does Beauty Collection maximize in-store sales?
Rush: Beauty Collection and its brands work on email marketing campaigns that outline new deals for shoppers like BOGO [buy-one-get-one] and flash sales. Our Beauty Collection shoppers also receive targeted texts and special opportunities for clients that sign up for our loyalty program.
Q:
How does Beauty Collection find trends?
Rush: I tend to receive promotional emails from brands, which usually gives me new ideas and makes me aware of upcoming trends. It's helpful to follow my favorite magazines and makeup artists like @Iluvsarahii because they're always coming up with new beauty techniques. 
Q:
What is Beauty Collection doing to navigate the "new normal?"
Rush: Communication is everything! We get new information daily and we have to follow the guidelines set out for us. We continue to update online assortments so as to stay as organized and up-to-date as possible. As a company, we need the support and dedication of our team members and that has become a strong part of our community since the start of the pandemic.
Q:
What does Beauty Collection do to maximize sales?
Rush: Beauty Collection partners with our shopping center marketing teams and co-tenants. For successful collaborations, communication is key. 
Q:
How has COVID changed your business?
Rush: COVID-19 has changed the way people shop and what they are looking for. We try to communicate with our customers via email, text and customer service, and we continue to add store items to our beautycollection.com site.
Q:
What is some advice you have for brands?
Rush: Keep our sales team informed with easy access to use your product so they can promote it with gusto! Make sure you are working with influencers. We find that local influencers, including small ones that are authentic and resourceful, produce results. Be communicative and open to collaboration.
Nancy Trent (http://www.trentandfcompany.com; mailto:nancy@trentandcompany) is a writer and speaker, a lifelong wellness activist, a globe-trotting trend watcher, and the founder and president of Trent & Company, the leading wellness PR firm. Trent & Company, which launched many health and beauty brands, grew out of Nancy's personal and passionate commitment to helping people live longer and healthier lives. A former journalist for New York magazine, Nancy has written seven books on healthy lifestyles, serves on the editorial boards of several magazines and travels around the world speaking at conferences and trade shows on trends in the marketplace. She is a recognized expert in PR with more than 30 years of experience creating and managing highly successful campaigns.