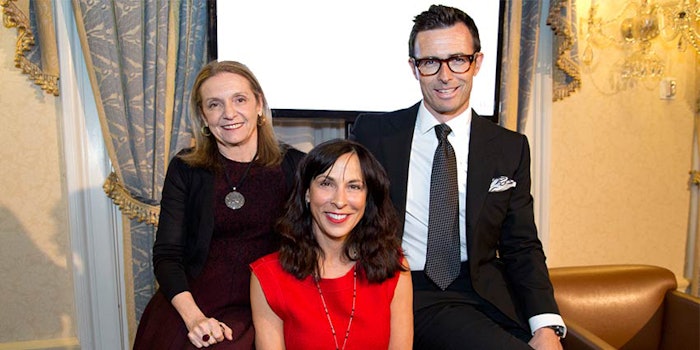 Sephora is reimagining brick-and-mortar by delivering new experiences for the consumer that combine "exceptional hands-on service and technology." With e-commerce giants like Amazon innovating every element of retail and countries such as Russia experiencing heavy prestige beauty product discounting, the go-to beauty destination must keep on its toes.
Sephora's recent innovations were the subject of a CEW-sponsored discussion hosted by CEW chairwoman Jill Scalamandre (SVP, philosophy and CMO, Coty Skincare, Coty Inc.) and CEW president Carlotta Jacobson.
"We're imagining the brick and mortar to continue to evolve our experience for the client, which is a full ecosystem of dot-com, mobile and the brick-and-mortar."
During the event, McDonald explained that Sephora is focusing on luxury prestige beauty and that its BeautyTip Workshop is building upon the consumer experience both in-store and online. For these reasons, Sephora keeps its loyal customers all through their lives.
Previously: These Are the Top Beauty Retail Concepts of 2015
"Our focus with the Beauty Tip Workshop, which is the new concept ... was not about trying to reinvigorate brick and mortar strategy that's not working," said Sephora Americas president and CEO Calvin McDonald. "That's not the Sephora way. It really is how we're imagining the brick and mortar to continue to evolve our experience for the client, which is a full ecosystem of dot-com, mobile and the brick-and-mortar."
Further reading: What is the Sephora shopper Seeking
Building Experience into Retail
The latest Sephora retail concept is based on the TIP pillars of teach, inspire and play, which combine to offer consumers one-of-a-kind experiences.
The 8,500-square-foot space, based on Powell Street in San Francisco, houses more than 13,000 products, including brands such as:
Algenist
Atelier Cologne
Bite Beauty
Bumble and bumble
Burberry Beauty
Cane + Austin
Chosungah 22
Drunk Elephant
Drybar
FORMULA X
Fresh
Josie Maran
Kat Von D Beauty
MAKE UP FOR EVER
Maison Margiela Replica
Ole Henriksen
surratt beauty
Tom Ford Private Blend Collection
Too Cool For School
The Sephora Collection
The retail space includes a Beauty Workshop, where consumers can participate in group classes led by Sephora educators. The workshop also features educational iPad stations and a user-generated shopable gallery showcased on a large digital screen.
The Sephora Beauty Studio, located in the front windows of the store, offers one-on-one makeovers, the Sephora + Pantone Color IQ touchscreens, which feature lip color and concealer updates, and new lighting. Customers can make reservations via the retailer's mobile website and Sephora to Go app.
The Skincare Studio offers skin care consultations, a Mini Facial service, Skincare IQ diagnostics and more.
Fragrance IQ now features InstaScent, which uses a delivery system to allow consumers to sample 18 scent families. The self-guided system allows consumers to self-select their preferences. Fragrance experts are also on hand to guide consumers to more specific selections.
The site also includes a Hair Play Station and new Trend Tables in each category area.
Sephora has added more mobile POS stations, fragrance engraving, gift cards and gift wrapping.
Color Cosmetics and Fragrance: a Tale of Two Categories
McDonald also noted that fragrance and color cosmetics are experiencing very different phenomena. Color, on the one hand, is an innovative, trend-driven category that doesn't "play on price or promotion." The consumer, McDonald explained, "comes in because she wants to explore and is drawn in with the product."
In short: Innovation drives the demand.
Fragrance a challenged category, is very different, McDonald said: "In the fragrance business, promotion has trained the client, and it's very difficult to differentiate [products]. It's a commoditized, highly distributed product and it's heavily discounted."
As a result, Sephora is looking to "reset fragrance" by reshuffling its product assortment, bringing in unique niche brands and finding limited, differentiated products.