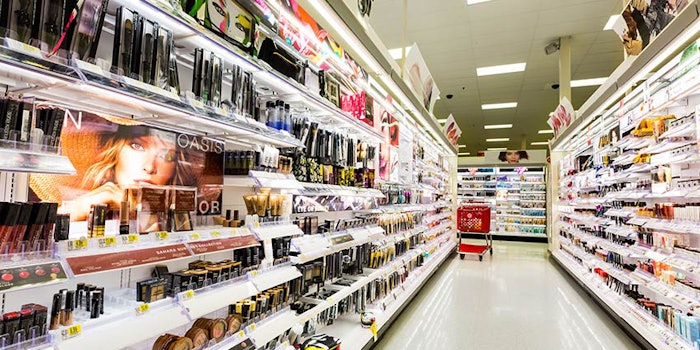 Quri recently compared merchandising execution in the mass (Target) and pharmacy (Rite Aid) channels during the busy awards season, when brands spend large amounts on TV and other campaigns.
What it discovered was uneven execution across categories (eye, lip, nail hair and skin) and brands (Cover Girl, L'Oréal Paris, Dove, Neutrogena, Pantene, Garnier and Revlon), as well as relatively poor performance in comparison to other industries, such as carbonated beverages and snack foods.
Missed Opportunities
Beauty displays tend to be more sophisticated, Quri's team acknowledged, which could lead to a lower presence.
The beauty care category also had a high out of stock rate, in general, particularly with lip products (25%), which had a whopping 45% out of stock rate at Target. For comparison, during peak times, chips and charcoal only registered 7% and 6% out of stock rates.
"The problem is that the in-store execution of these [brands'] complex campaigns is routinely lacking," said Justin Behar, CEO of Quri. "While poor execution costs these brands hundreds of millions annually today, innovation from Quri and others is transforming the industry and turning better in-store execution into a strategic advantage for many of them."
Hair
In the hair category, Quri tracked Clairol, Garnier, L'Oréal Paris, Pantene and TRESemmé. The category had a low overall out of stock rate (7%) and an average of 30% display presence. However, the category over-performed in the beauty care space when it came to percentage of displays outside the product's home aisle (34% overall and 49% in Rite Aid).
Skin
In the skin care category, Quri tracked Burt's Bees, Dove, L'Oréal Paris, Neutrogena and Olay. Quri found that skin care had a lower display presence in the pharmacy channel (Rite Aid) than it did in the mass channel (Target). Because skin care is a high-velocity, everyday product, it's ideal for a retailer such as Target.
The category had a larger display presence and out of stock rate in Target, versus Rite Aid (44% vs 26% and 10% versus 6%, respectively), and boasted 50% of displays outside its home aisle in Rite Aid.
As Quri noted, "Securing a presence outside of the home aisle can provide incremental sales and share gains for both brands and manufacturers."
Lip
In the lip category, Quri tracked the performance of Burt's Bees, Cover Gir and L'Oréal Paris). The lip segment had a 44% display presence in both channels and a much higher out of stock rate in Target, versus Rite Aid (45% vs 14%). It also had a higher percentage of displays outside the home aisle in Rite Aid.
Nail
In the nail category, Quri tracked Essie, OPI and Revlon. The category had only a 17% display presence overall, representing a massive opportunity to boost retail performance. The segment's out of stock rate was three times as high in Target, versus Rite Aid (21% vs 7%).
Eye
In the eye category, Quri tracked Maybelline, Revlon and Rimmel. Eye products had the highest average display presence at Rite Aid and Target, with 57% presence at the former. The category had a relatively low out of stock rate (12%), compared to lip products (25%).
The eye segment also had more than double the out of stock rates at Target, versus Rite Aid (16% vs 7%).