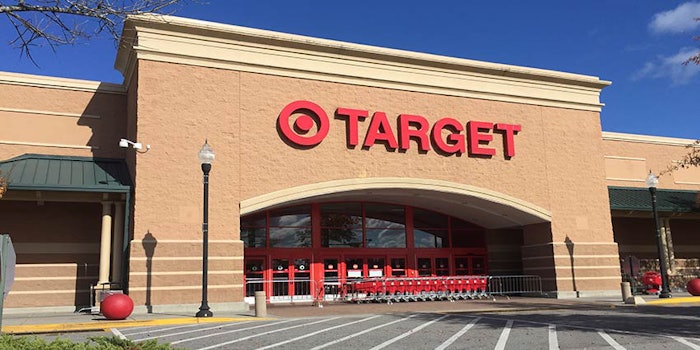 Target has selected emerging brands for its Target Takeoff boot camp, which serves to build the retailer's "differentiated assortment of must-have products," according to the company. 
Previously: Target to Offer More Than 150 Products for Medium to Dark Skin Tones
Target Takeoff is a "mini retail boot camp" that assembles the participating brands to Minneapolis to collaborate with business mentors to enhance their retail knowledge. At the program's end, each brand will pitch their products to a panel of experts to receive further feedback. They will be asked to refine their pitches and products, then return in late May for a product showcase with Target executives.
It's notable that, while last year's crop of participants came from the wellness world, this year's class is beauty-centric.
Why? Perhaps it's the sector's strong growth trend.
Here are the 10 brands, which comprise a range of inclusive and natural beauty concepts.
1. Adwoa Beauty, "a socially conscious lifestyle beauty brand that creates products for curly and kinky hair types."
2.  Amareta, which is built around "a hormone-based skin care treatment cycle."
3. Eu'Genia Shea, which is "focused on bringing the best shea butter to market, and created balms that are a natural alternative to petroleum jelly and chemical-based moisturizers."
4. Girl + Hair, a brand "for women to cleanse, nourish and protect their hair while it's in a protective style, such as a weave, braids or under a wig."
5. Heritage1933, "a socially conscious beauty company that creates a range of products for women of all backgrounds and prides itself on donating hair care products to shelters that support women and children."
6. Hue For Every Man, co-founded by Global Cosmetic Industry advisor Jessica Estrada, which features "products ... formulated to work for all men, regardless of hair texture or skin color, and provide a line of all natural products in a generally under-served space."
7. Oars + Alps, a brand of natural skin care products "created to offer men a better line of good-for-you grooming products that seamlessly fit in with an active lifestyle."
8. Rosen Skincare, which was "created for guests looking for ways to treat acne-prone skin without turning to harsh chemical products."
9. Sienna Naturals, which "treats hair care like skin care and creates products that focus on improving the health and wellness of textured hair, categorizing products into a simple four-step ritual.
10. Yuni Beauty, which "creates natural beauty and lifestyle products that are developed with a mindfulness of social and environmental sustainability."