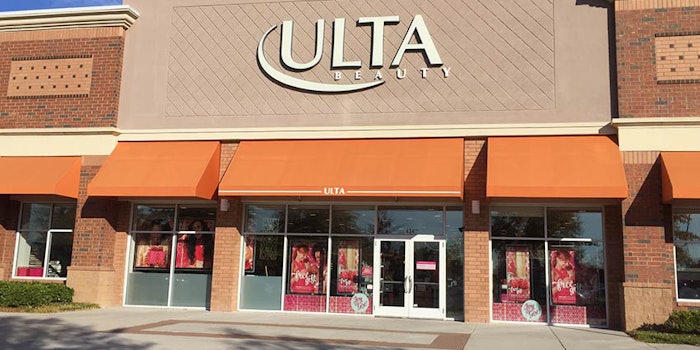 Ulta Beauty, Inc. has announced updates to its operations in response to the continued efforts to contain the COVID-19 pandemic, including keeping stores closed and offering warehouse staff a $2-per-hour wage premium.
Related: 12 Ulta Beauty Coronavirus Measures 
As a precautionary measure, the company has decided that all Ulta Beauty stores will remain temporarily closed until it is safe to reopen. The company will continue to consider available guidance provided by federal, state, and local government and health officials when making decisions to reopen stores.
Related: Kylie, KKW, ColourPop, Jeffree Star & More Face Fulfillment Shutdown
All guests can continue to shop through the Ulta Beauty app or visit ulta.com.
Associates working in Ulta Beauty distribution centers are continuing operations to support the company's essential e-commerce business. In gratitude for their continued commitment, Ulta is providing associates actively working at the distribution centers a $2-per-hour wage premium.
To continue to protect associates in its distribution centers, the company has elevated its already high levels of maximum sanitation and safety inclusive of social distancing and increased cleaning protocols in alignment with CDC guidelines.
"We appreciate the flexibility, collaboration and understanding our associates have displayed during this uncertain time," Ulta Beauty CEO Mary Dillon said. "We understand the direct impact these difficult, yet important decisions have on everyone. As such, we remain committed to paying our store and salon associates through mid-April and providing benefits for those who are currently enrolled. We will continue to evaluate the impact of COVID-19 in real-time, including recent legislation such as the CARES Act, should re-openings be further delayed."
Dillon continued, "As we vigilantly track this situation, we are preparing next steps with careful considerations and optimism for the time when we can safely bring our store and salon associates back together and invite guests back to Ulta Beauty."
Update: Ulta announes additional measures to help improve financial flexibility.
As the COVID-19 pandemic continues affecting businesses all over, Ulta has announced the steps it is taking to preserve financial liquidity while its stores remain closed, includiing:
Reducing expense plans, suspending new hires and deferring merit increases for all corporate and store associates;
Moderating the pace of investments to build international capabilities, but the company continues to expect to have an omnichannel presence in Canada in 2021;
Aligning inventory receipts with current sales trends and prioritizing expense payment obligations to focus primarily on essential services;
Reducing capital expenditure plans, particularly as it relates to new store openingss. While the company plans to open new stores this year, it no longer expects to open a total of 75 in fiscal 2020 and is working on an adjusted plan for store openings, relocations and remodel projects; and
Suspended its stock repurchase program.
"As we continue to vigilantly monitor this dynamic situation, we remain committed to protecting the health of our associates, guests, and operations," Dillon said. "We are operating with continued consideration and optimism rooted in the strength of our business model, and we look forward to the time when we can safely bring our store and salon associates back together to invite guests into Ulta Beauty stores."