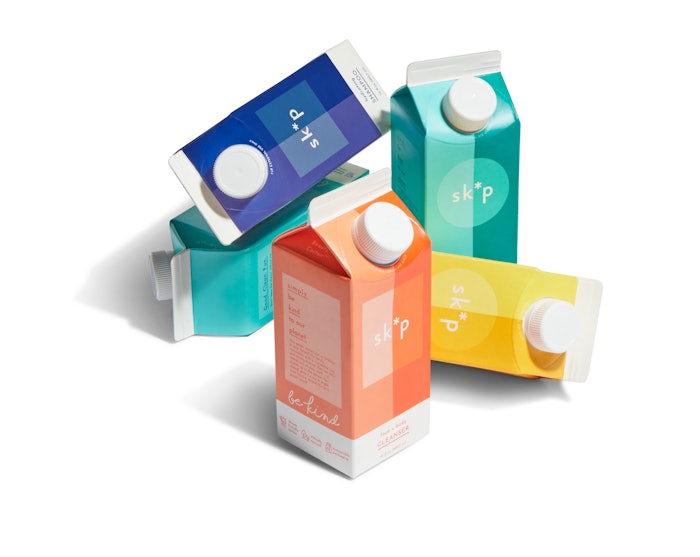 Sk*p is now be available on Ulta.com and more than 700 Ulta Beauty stores nationwide. The brand will roll out into all locations in Q3 2022.
Sk*p will join Conscious Beauty at Ulta Beauty, the retailer's holistic initiative rooted in delivering transparency to inspire more informed product choices.
This launch makes Ulta Beauty the first retailer to offer hair and body care products packaged in the brand's fully recyclable paper BeautyCarton.  
BeautyCartons are shower-friendly and made of more than 81% FSC-certified paper. It is also free of harmful chemicals (no BPA or VOC) and lightweight, giving it a smaller carbon footprint than a plastic shampoo.
Sk*p will kick off a nationwide initiative asking consumers to make the "Sk*p Swap," trading in their plastic beauty bottle for the brand's BeautyCarton.
Throughout April and May 2022, Sk*p founders April Hardwick and Mark Veeder will be taking their Sk*p mobile to more than 100 Ulta stores in key U.S. regions.
Veeder, CEO and co-founder, Sk*p, said, "Currently, the beauty industry contributes over 80 billion pieces of plastic waste to landfills and waterways each year. More than 500 million of those pieces alone are thick plastic shampoo bottles, and less than 10% of plastics in general are recycled successfully. This means, if only 5% of plastic shampoo bottles were replaced with a sk*p carton, there would be approximately 27.5 million less plastic bottles polluting our environment annually."
Hardwick, chief sustainability officer and co-founder, Sk*p, said, "Sk*p is not only on a mission to reduce plastic waste, we are also working hard to empower and amplify the voices of passionate activists and changemakers of tomorrow through our Board of Sk*p stars (B.O.S.S.) program and our strategic nonprofit alliances."