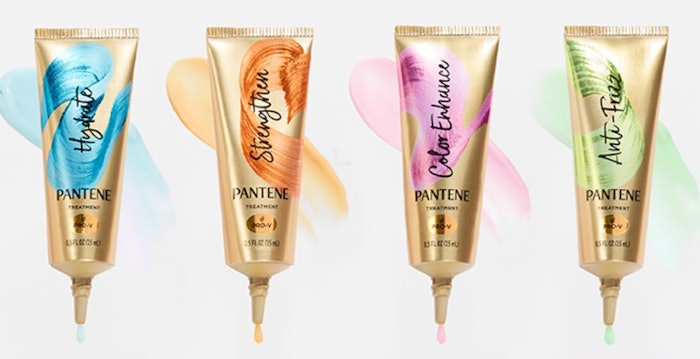 Olay and Pantene, in collaboration with Walmart, have launched new boosters for skin and hair. The boosters offer personalized solutions to consumer's personal care needs.
The Olay and Pantene boosters are crafted with no parabens, no mineral oil and no fragrance.
Olay and Pantene developed an online quiz to help consumers find the boosters best suited for their individual hair and skin goals. The three-minute assessment factors in their hair and skin concerns, types, preferred routines and relevant personality traits to suggest personalized product recommendations. 
The boosters are available now in-store at Walmart and online at walmart.com.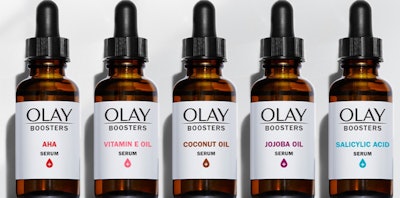 The booster collection includes:
Olay AHA Brightening Booster
Olay Salicylic Acid Exfoliating Booster
Olay Coconut Oil Nourishing Booster
Olay Jojoba Moisturizing Booster
Olay Vitamin E Oil Nourishing Hydration Booster
Pantene Pro-V Hydrate Booster
Pantene Pro-V Anti-Frizz Booster
Pantene Pro-V Strengthen Booster
Pantene Pro-V Color Enhance Booster
Stephanie Headley, senior vice president of Olay, said, "As an iconic brand within the beauty industry, it is our responsibility to continue to innovate and offer new beauty solutions to meet the changing needs of our consumers. We are excited to bring this consumer-inspired product to market at Walmart. It allows consumer customization and personalization at a level never before achieved for the brand."
Creighton Kiper, merchandising vice president—Walmart Beauty, said, "Walmart Beauty customers are always seeking innovative products that deliver personalization and value, and this game-changing new offering from Olay and Pantene delivers across the board. It is critical we continue to collaborate with our supplier partners to offer customer solutions at the speed of industry trends."