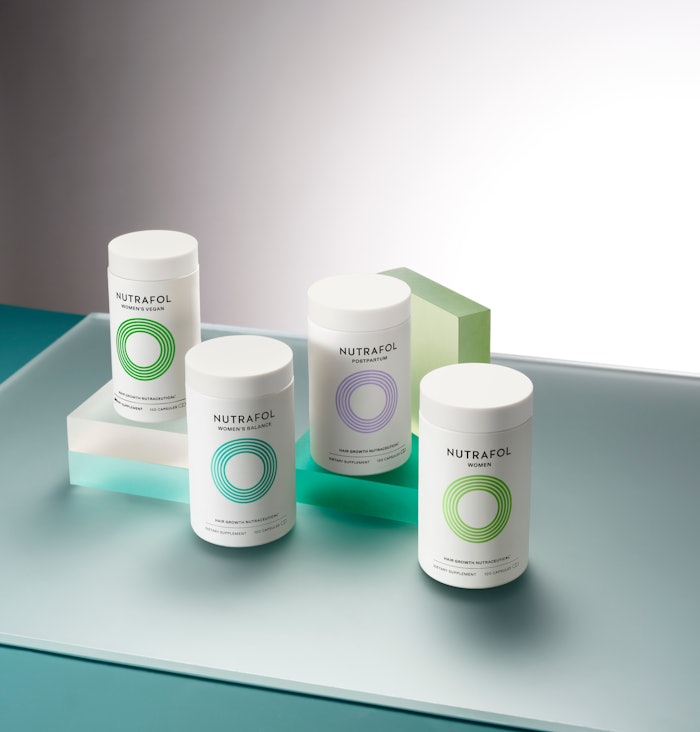 Sephora may be parting ways with some influencer brands, but it's also adding unique brands and SKUs to its range, including the debut of Nutrafol, new masks from Laneige, a setting spray from Caliray and Herbivore's new eye cream.
Nutrafol Debuts at Sephora
Perhaps the biggest launch in recent weeks is Nutrafol's debut at Sephora U.S., including its new Women's Vegan Nutraceutical. The move marks the brand's largest retail expansion yet and, in 2022, was among the hair care brands with the highest-growing search volume online.
The brand's full product assortment will be available on Sephora.com beginning January 31, 2023, and within select U.S. Sephora stores at the end of February 2023.
Sephora will debut Nutrafol's Women's Vegan Hair Growth Nutraceutical ahead of its availability on Nutrafol.com in April 2023.
The formulation addresses the hair thinning concerns of female shoppers who live primarily plant-based lifestyles. It reportedly helps the body support its own collagen and keratin production by leveraging the brand's Synergen Complex, which comprises Natreon's Sensoril Ashwagandha, marine collagen peptides, tocotrienol complex, curcumin and saw palmetto. The components reportedly lead to diminished visible hair shedding, improved hair growth and strength, and the promotion of faster-growing and longer hair, per Nutrafol.
Other key materials include dragonhead for natural collagen production, bamboo for hair strength, iron-rich beetroot for healthy circulation, pea sprouts for improved hair growth, probiotics for microbiome support, chlorella for the reduction of toxins in the gut, and vitamins B12 and D.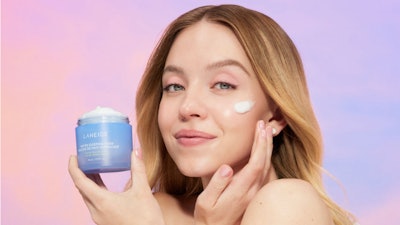 Laneige Dreamy Skin Campaign Backed by Sydney Sweeney
Laneige, which experienced significant search volume increases in 2022, per Spate data, is launching its Dreamy Skin campaign, highlighting its Water Sleeping Mask and Lip Sleeping Mask. The campaign is fronted by actress Sydney Sweeney.
The Water Sleeping Mask and Lip Sleeping Mask are available at us.laneige.com, Sephora.com, in Sephora stores and Amazon.com.
The Water Sleeping Mask ($29) features squalane, hyaluronic acid and a probiotic-derived complex comprising Lactobacillus ferment lysate and trehalose . The formulation reportedly brightens the skin, improves clarity and strengthens the moisture barrier.
Reportedly, 97% of users noticed skin was more moisturized and texture felt smoother the next morning.
The Lip Sleeping Mask ($24) features Berry Fruit Complex, murumuru seed and shea butter to visibly smooth and soften lips overnight.
Sweeney noted, "It's always exciting to work with Laneige and the Dreamy Skin Campaign is no exception. It brings to life an ethereal world with two iconic overnight masks—Water Sleeping Mask and Lip Sleeping Mask—in the spotlight. These have become a staple in my nighttime skincare routine. Not only do they have amazing textures and give an instant dose of hydration, but you can see the results when you wake up in the morning."
The actress continued, "One of my biggest beauty rules is to continuously drink water, so the Laneige Water Sleeping Mask really speaks to me. It's like a full glass of water for my skin. It provides long-lasting, intense hydration—no matter how much sleep I get—and I really like the lightweight gel texture which never feels heavy or sticky. And of course, we have to talk about the Laneige Lip Sleeping Mask! It's a cult classic for a reason and has been on my bedside table everywhere I go. The technology in it gives you intense hydration while you're catching up on your beauty sleep (even though I haven't had a chance to sleep that much lately)! It comes in a variety of amazing flavors–Vanilla remains my favorite, but Berry is a strong second!"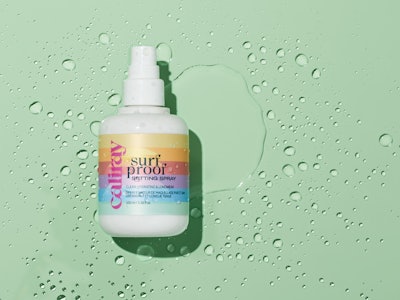 Caliray's New Setting Spray
Caliray's new Surfproof Setting Spray ($35/$33 refills) is a blurring ultrafine sprayer, featuring a formula comprising hydrating glycerin, agave and prickly pear extracts. The ingredients support the skin barrier with seawater-based niacinamide and transdermal magnesium for recovery and skin health.
The packaging comprises a 100% post-consumer-recycled bottle with a sprayer that can be used repeatedly when purchasing the refill option (sold without a sprayer). Furthermore, the bottle is curbside recyclable.
The spray is available at Sephora U.S. and Canada (both online and in-store), and caliraybeauty.com.
Herbivore's New Eye Cream
Herbivore's new Super Nova Eye Cream ($48) has launched at Sephora.com and on the brand's own site.
The formulation comprises brightening 5% tetrahexyldecyl ascorbate (THD) vitamin C and depuffing caffeine, as well as color-correcting turmeric and a collagen-promoting reishi mushroom probiotic peptide.
Proven Personalized Skin Care
Proven, a personalized skin care brand, is launching at select Sephora U.S. stores in late 2023. This marks Sephora's first move into personalized skin care as consumer demand for the category continues to grow.
There will be interactive displays in the stores where customers can take the Skin Genome Quiz to formulate their products and learn about the benefits of custom skin care.
Customers can also take the quiz online at sephora.provenskincare.com.
The Proven products available include Personalized Cleaner, Personalized Day Moisturizer and Personalized Night Cream. 
Ming S. Zhao, Proven co-founder and CEO, said, "I have long believed that personalization is the future of skin care, and this groundbreaking partnership is the clearest evidence yet. Bringing personalization to retail is not an easy task, but with the strength and savvy of Sephora, combined with our amazing team and leading technology, we are able to bring our innovative approach and beloved products to customers in a way they crave. All of us at Proven are proud to be partnering with Sephora and are thrilled to provide an entirely new customer base with skin care solutions as unique as they are."
Brooke Banwart, SVP skin care merchandising at Sephora, said, "We are so pleased to work alongside Proven and bring our clients effective, personalized skin care solutions in this new format. With its cutting-edge technology and scientific expertise, Proven offers custom skin care routines that account for several individual factors—like lifestyle and genetic background—to deliver efficacious results. We look forward to introducing this innovative partnership to our clients and know they will be excited by this truly unique system."