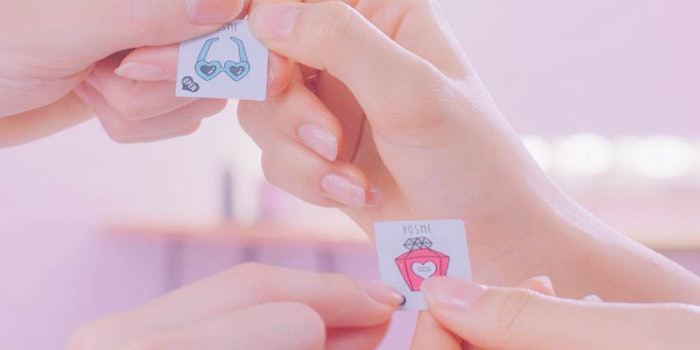 Shiseido has announced the launch of Posme, a new innovation project that will feature consumer goods co-created by high school girls and various companies and industries.
Video: Shisedo Re-Launches Tokyo Flagship
The brand's first product is Play Color Chip, a multi-use color item with usages that include eyeshadow and blush. Developed with input from more than 150 high school girls, the product will be sold in sets of six, single color clips. Users peel back the film for finger application, making the clips easy to "share and swap." The first release includes eight colors; releases in February and March will include an additional eight and five, respectively.
A survey conducted by Shiseido found that 93% of high school girls "perceived the novelty of the items because they can be swapped with friends, are easy to carry around, are good for a gift, and are perfect to try a new color."  
The project is the first for Shiseido's Innovation Design Lab, an internal organization established to create new businesses outside of the company's existing systems and frameworks. Products and services are produced and delivered in a swift, flexible manner. 
Play Color Chip is available at designated stores in Tokyo and Kansai, the Posme website and Posme Lab Sibuya; availability is slated to expand in March.