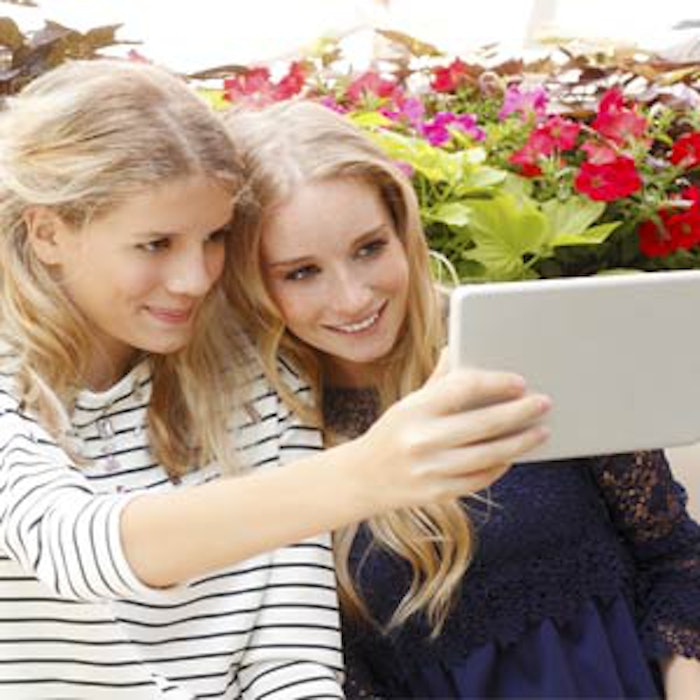 From social media retail to virtual direct-selling parties, beauty companies are leveraging technology to adapt their businesses to consumers' lives. Here, GCI presents just a small sampling of recent innovations that are shifting business models. 
Previously: Beauty Meets Tech
1. Virtual Coaching
My Skin Authority, a new free app, is delivering consumer-specific skin care advice from licensed skin care experts "outside the walls of a spa." Skin Authority CEO Celeste Hilling says the app changes the way people shop for skin care by inserting a human into the equation and answering this crucial question: how do you know what product is right for you?
Hilling built the company around data and technology and has integrated them into everything the company develops. In doing so, Skin Authority seeks to connect with consumers and create value. The virtual coaching service, which began seven years ago with email and phone consultations, has grown to encompass email, phone, text message and video chat formats, delivering crucial information and recommendations when and how consumers want. Last year, Hilling says, Skin Authority conducted more than a half million consultations.
"People want to see results right away," Hilling explains. "Consumers are not going to wait for results."
She adds that the consultation app helps consumers get the best possible outcome and value. The coaching is particularly helpful for consumers who are overwhelmed with thousands of product claims and require advice based on their lifestyles and stage of life. An ongoing relationship with consultants creates "real intimacy and trust," says Hilling," and "keeps a customer for life."
The consultations deliver an elevated level of service experience, Hilling says, adding that no purchase is necessary to access the consultants. Consumers can reach skin coaches on demand on the company's website.
Typically, Skin Authority clients begin with email and graduate up to chats and video conferencing. A typical call or video chat lasts about 20 minutes and includes questions about the consumer's skin condition, background and climate. When necessary, the consultants can introduce consumers to local skin care service providers.
The app can help spas increase sales and clientele, generate product suggestions for consumers (consumers may also use the app in-store as guidance), and create a branded customer service platform and retail portal for customers when they are off-site. There are no scripts for Skin Authority's consultations, but the experts do receive ongoing training and guidance. Hilling is very clear that these consultants are not doctors or dermatologists—merely skin care experts.
In a test consultation with GCI Magazine, skin care expert Katie Griffiths reviewed the client's skin health goals, climate and allergies, then made product recommendations based on them. Griffiths noted that about a quarter of the consumers using Skin Authority's service are men, a segment that is growing.
She also noted that consumers typically readily volunteer their ages as one of the first points of reference in describing their skin care goals. Griffiths added that consumers of all ages are very interested in anti-aging solutions and daily sun protection. The consultation lasted about 20 minutes and concluded with a selection of a daily regimen for the client, followed by an email detailing the products and resources for questions, as well as a request for a follow-up discussion.
Beyond connecting consumers with the right product, Skin Authority is learning in real time what consumers want and where the gaps are in product offerings. This type of priceless marketing data is difficult for most manufacturers to get, says Hilling. As for the future, Hilling says that, formats aside, the goal of any successful platform is to deliver service from Point A to Point B in the most convenient way possible. Consumers increasingly expect immediate access to the things they want and need, she adds. In such a world, could an Uber of cosmetics be far behind?
2. Virtual Direct-selling
Direct-sales company Younique has upgraded its virtual party scheduler to allow hosts to quickly create themes and push event announcements across multiple platforms, including Facebook Pinterest and Twitter (Instagram is notably absent). The Younique platform also grants hosts access to product information, videos and photos, and the ability to tie events into Younique campaigns and promotions. The social model is mobile-optimized, while purchases are processed and shipped directly from Younique.
"The social media-based business model breaks down geographic barriers, adding accessibility and convenience for consumers, party hostesses and presenters," says Younique founder and CEO Derek Maxfield.
3. Shop by Text
Nordstrom has launched TextStyle at all of its U.S. stores, allowing consumers to make purchases from salespeople and stylists with a secure text. The retailer had already enabled text communication with sales staff via its NEXT program. TextStyle completes the retail cycle.
How it works: "Using TextStyle, a customer or salesperson sends a private text message with a description or photo of a product," says Nordstrom. "If the customer likes any of the recommended items, they can purchase by simply replying 'buy' plus a unique code." The purchase is then completed via the Nordstrom ecommerce interface. "TextStyle is an important step forward in our continued efforts to develop ways to serve customers on their terms," says Jamie Nordstrom, president of stores.
4. #NoFilterRetail
"Consumers who view or interact with a piece of user-generated content featuring their products (plentiful on Instagram) are more likely to purchase an item," according to a new analysis from L2. As a result, the insights group recommends that brands and retailers "feature fan-generated Instagrams on product pages to boost conversions, instead of attempting to bring the [company's] e-commerce page to Instagram in a clunky, time-consuming format."
Instagram currently has about 300 million active monthly users and about 75 million active daily users. In 2014, Business Insider noted, "Over 90% of the 150 million people on Instagram are under the age of 35, which makes it an attractive platform for many apparel, entertainment, and media brands focused on the 18- to 34-year-old age bracket." Now, with the expansion of LikeToKnow.It (http://liketoknow.it), retailers and brands are about to take their Instagram engagement to the next level.
Until recently, LikeToKnow.It was a tool for bloggers to gain commissions whenever products they featured in their Instagram feeds were purchased. Now, 30 retailers, including Selfridges, MyTheresa, Moda Operandi and ASOS, are getting into the act, allowing them to sell products photographed on the social media platform. According to L2, "Users that sign up for LikeToKnow.It will receive an email about where to buy the coveted products in the posts they 'like,' provided the poster has signed up and linked the photo with LikeToKnow.It as well."