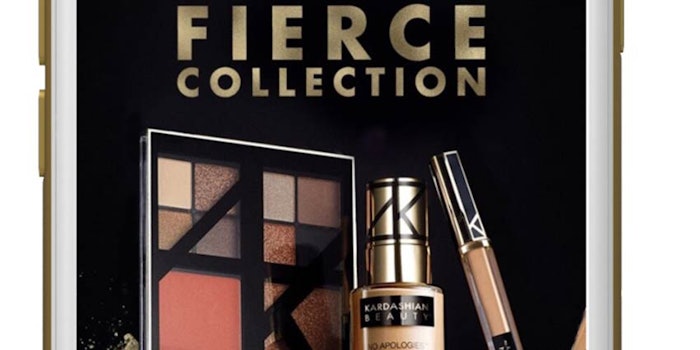 Sephora has already put 3,000 virtual lipstick shades on consumers' phones. Now, beauty lovers can try on Kardashian Beauty products' Fierce collection via the augmented reality app YouCam Makeup.
App users can snap a selfie and then virtually contour, sculpt and highlight their likenesses using contour palettes, eye shadows and lipsticks,"just like Kourtney, Kim and Khloé," according to the company.
"YouCam Makeup offers our social and mobile glam girls the ability to try on our new suite of fierce products in a fun and easy way."
Downloadable from Google Play and the App Store, YouCam Makeup's Kardashian Beauty range will include virtual Lip Slayer lipstick, No Apologies foundation and face kits, the Kontour Kase, Mirror Matte lip crayons and the Dashlight strobing/non-touring product.
Users can also virtually experience the Kardashian sisters' makeup looks in real-time with You Cam Makeup's Live Cam feature, which applies a filter of the products onto users' photos.
"We are honored to partner with a celebrity makeup brand Kardashian Beauty," said Alice H. Chang, CEO of Perfect Corp. "We are thrilled to bring this collaboration to our YouCam Makeup users who admire Kardashian Beauty's glamourous and innovative products. Together we are empowering girls to experiment with colors and styles to discover their best look that they can confidently recreate in real life with the Kardashian Beauty products."
"Kardashian Beauty is always looking for new ways to engage and inspire our community," said Erin Dwyer, SVP, global e-commerce, Kardashian Beauty. "YouCam Makeup offers our social and mobile glam girls the ability to try on our new suite of fierce products in a fun and easy way. They can 'fierceify' any selfie, try out lipsticks virtually to decide which color they are looking for, and most importantly feel more confident in their purchase decision. We are beyond excited to be giving this new YouCam Makeup augmented reality experience to our fans."