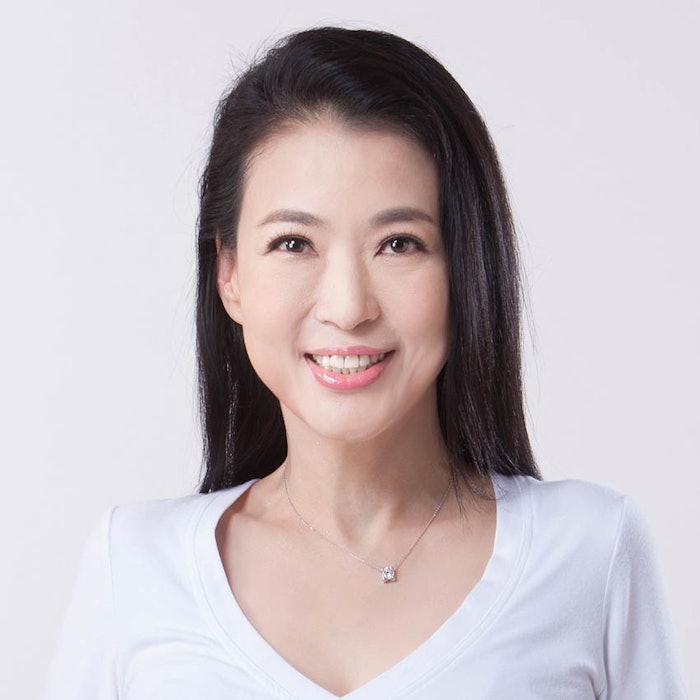 Not subscribed? Sign up here for your free Global Cosmetic Industry subscription.
Beauty moves fast, but technology evolves faster. In the last year, a range of technologies has emerged that allows consumers to capture and match color tones on a smartphone and pair those matches with products.
These innovations deliver new levels of personalization and accuracy, while gathering key insights into consumer patterns and behaviors. From Boots and Walgreens' No 7 Match Made to SwatchMate's Color Capturing Cube, the technology is making great leaps forward. Now comes YouCam.
Selfie Beauty Tech
Perfect Corp. CEO Alice Chang points out that 75% of photos taken on smartphones are taken by women. This insight, paired with YouCam's existing facial recognition and photo editing software (care of parent company CyberLink), led to the development of YouCam Perfect and YouCam Makeup.
YouCam Perfect is a selfie app that allows users to easily snap a photo and edit away blemishes. The app includes unique filters that can be applied to brief video selfies.
YouCam Makeup is a makeover studio that allows users to virtually try hairstyles and color makeup on their own faces to create new looks. It also provides makeup tips and tutorials. YouCam Makeup recently launched a range of virtual Fashion Week 2015 runway looks such as "Venus" and "Oh So Coco" for consumers to experiment with.
Achieving Instant Beauty
Sophisticated apps such as YouCam Makeup require strong computational power, which many mobile phones lacked until recently, says Chang. This, in addition to improved camera resolution, has allowed app makers to innovate better and faster.
"For an app to be successful you need the user to use them multiple times," says Chang.
This user frequency—think Snapchat or mobile games—ensures that newly adopted apps won't just be cycled out by the user after a few days. This is crucial as the app market sees tens of thousands of new introductions per month.
What made the YouCam Perfect launch so well was its ease of use, says Chang. The app had to allow users to easily and quickly edit photos with an interface that worked at the touch of a finger, achieving "instant beauty."
Beauty Apps are Never "Finished"
To ensure consumer engagement, the YouCam apps are kept in a state of continuous iteration, with new upgrades launching every few weeks. "Users want to see that your app is living," says Chang. About 100 engineers are required to keep up with the technology and timetable demands.
Brand Partnerships, Consumer Benefits
Using what Chang calls a "new economy model," YouCam Makeup launched as a free app that partnered with brands, allowing consumers to virtually try on makeup. The technology allows for users in different parts of the world to have a regional experience, whether in Taiwan, China, Japan or the United States. Partners, as of press time, have included Shu Uemura, Estee Lauder, Clinique and Maybelline.
The app allows YouCam to collect feedback from end users in real time. Chang says that brands with high digital IQ have immediately recognized the value of the platform, particularly in the areas of direct consumer interface.
Consumers benefit from YouCam Makeup by being able to experiment with different brands and looks on their own faces. Looks are separated by brand, occasion and other segments. There is also a section for tips and tricks and instructional videos, as well as Beauty Circle, a virtual bulletin board upon which to collect inspiration.
A "Platform for New Acquisition"
Every region has reacted differently to the app, says Chang. Some big brands have jumped in right away, while others have been more speculative. Some brands connect users to their story, while others link their offerings to an ecommerce site or physical store—it all depends on the brands' models. In-store, makeup artists can use YouCam Makeup to show shoppers different looks to save time and boost revenue.
As noted, apps are notoriously difficult to launch. When the technology first emerged, many brands pursued their own apps to allow consumers to engage and try on products. Many failed, notwithstanding some high profile successes such as L'Oreal's Makeup Genius. While YouCam can be customized into an exclusive private platform for brands, Chang says that users enjoy different brands in one app.
She views the app as a "platform for new acquisition," allowing consumers to experiment with brands they'd never tried or perhaps even heard of before. This risk-free experimentation allows people to be more bold and adventurous in their style.
The app's users may try out fashion week looks, as well as those for specific occasions such as Halloween. Brands have the option of sponsoring looks or free gifts. Beauty magazines, meanwhile, are providing content to the Beauty Circle.
What's Next? Nails and More
As for what's next, Chang says the company is gearing up (as of press time) to release YouCam Nails, which will benefit from stylists' contributions, as well as brand partnerships. But don't call it a technology. "I don't think this is a technology," says Chang. "We don't mention technology to the end user."
For YouCam, the sole priority lies in creating a seamless user experience for each of the 1 billion times each month that the app is used. How successful is the app? Launched in 2014, YouCam Makeup currently boasts 100 million installations globally. For perspective, it took Facebook four years to reach the same number of users.