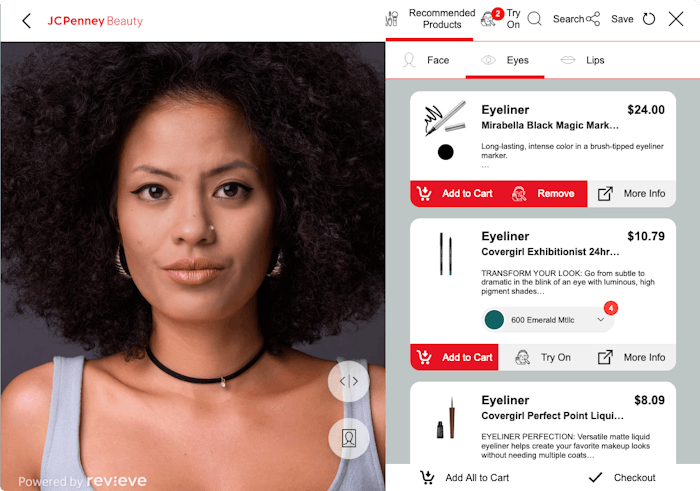 JCPenney is partnering with Revieve to offer AI-powered skin care adviser experience and true-to-life AR-powered makeup try-on capabilities.
JCPenney's Skincare Advisor features Revieve's proprietary Skin Diagnostics technology and AI-powered product recommendations.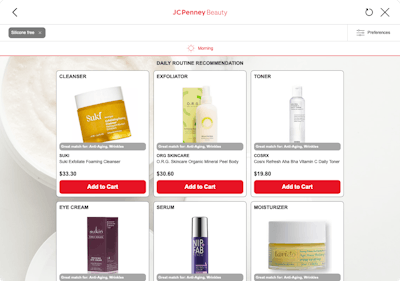 Customers can take or upload a picture of themselves and answer a quick questionnaire about their skin type and concerns. 
Revieve's Skin Diagnostics technology then analyzes more than 120 skin metrics to provide users with an in-depth analysis of their skin and offer JCPenney Beauty product recommendations and skin care education tailored to their needs. 
Michelle Wlazlo, chief merchandising officer at JCPenney, said, "We want to be the shopping destination of choice, offering a personalized approach that fully celebrates and honors them as unique individuals. Our partnership with Revieve allows us to deliver on our customers' desire for personalization regardless of age, gender, race, skin tone, beauty regimen, or budget."
Sampo Parkkinen, CEO and founder at Revieve, said, "We are delighted to be partnering with JCPenney—one of the only department chains in the US to bet on personalization and simultaneously launch new digital experiences in two beauty categories. We are honored to support JCPenney customers in finding the right makeup products and skin care routine tailored to their skin type and preferences, further strengthening JCPenney's position as a one-stop destination for all of its consumers' diverse and unique needs."