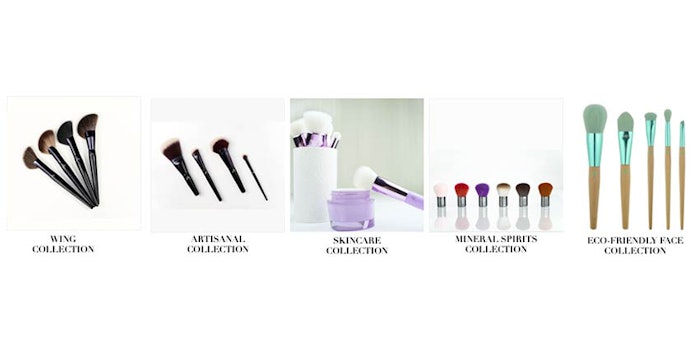 Anisa International will debut five new collections at Cosmoprof Worldwide Bologna, the company announced.
Additionally, the fibers and artistry tools company has also fulfilled its commitment to ending the use of animal hair, providing synthetic fiber replacements. The company completely exited animal fibers at the end of 2017 and has announced that all collections moving forward will be produced with man-made, cruelty-free fibers.
"Our latest collections spotlight a new level of innovation in an area that is very important to all women – their skin," said founder and CEO Anisa Telwar Kaicker. "It is our passion at Anisa International to empower women to see the beauty in themselves by creating a support system of artistry tools. We look forward to sharing these collections with our brand partners at Cosmoprof this year."
Related: Anisa: 5 New Beauty Tool Collections at Cosmopack Bologna 2017
The Anisa Collections to be presented at Cosmoprof Worldwide Bologna include:
Wing Collection—Designed to sweep product on to the skin with long handles and a tapered design, the eight-piece collection comes in four shapes for both face and eyes and is ideal for powder formulas.
Artisanal Collection—Combining lighter, flexible fibers for powders and darker, denser fibers for liquids, the brushes in this collection are designed to deliver "pro-driven looks."
Skincare Collection—A 12-piece collection with multi-functioning tools for moisturizing, cleansing and exfoliating the face and body.
Mineral Spirits Collection—Sunstone, rose quartz, amethyst, ruby, citrine and smokey quartz are ground to a mesh of 1,500 to in order to infuse 2% of their properties into the fibers found in this brush collection.
Eco-Friendly Face Collection—Inspired by the increased demand for eco-conscious and environmentally friendly products, this collection includes eight brushes for the face and eyes.