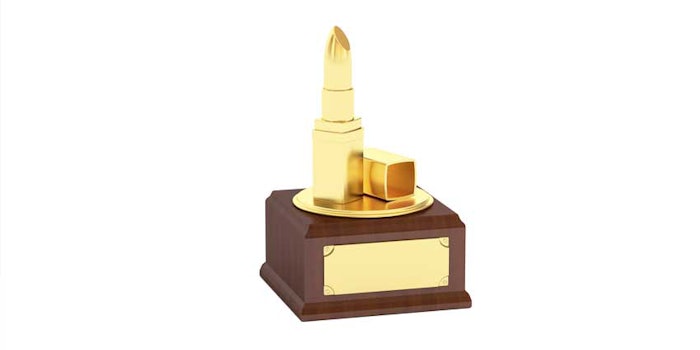 Cosmoprof Asia 2017 has announced the winners of the Cosmoprof Awards, which honors brands for being innovative and most outstanding.
The Innovation Circle Awards were presented for the first time in 2016. These awards recognize companies who stand out in formulation and packaging, which are exhibiting in AsiaWorld-Expo. There was one winner in each category:
Make Up Formula: Gotha Cosmetics S.r.l. with "Transforming Liquistick," consisting of sealed pearlescent pigments only revealed by gentle rubbing
Skin Care Formula: Bkolormakeup & Skincare S.p.a. with "Magic Mask + Spray Activator," combining emulsion-rich functional ingredients with an activator spray
Skin Care Packaging Technology: Yonwoo Corporation with "Powder Spray," which features a dip-tube preventing powder from hardening and the "Button Lock" system, which prevents moisture from getting into its content
Make Up Packaging Technology: Starry Vision Co., Ltd with "Separated Liquid Liner," which features a replaceable ink tube and rotating button
Packaging Design: HCP Packaging Hong Kong with its product line, including four compacts, one lipstick, one mascara and one pot, in various decorations
The Special Jury Award winner was Yonwoo Corporation.
The Beauty Circle Awards made its debut in 2017 and honors creativity and success in marketing strategies of exhibitors in the Hong Kong Convention and Exhibition Centre. These awards also had one winner in each category:
Make Up Product: Wunder 2 with "Prime & Behold," a primer for color makeup that locks any color pigment to the skin
Skin Care Product Award: Plabio Co., Ltd with "Plabeau," the first rechargeable and portable plasma-emitting skin care device
Manicurist: Nail Product with "Mirror Effect Kit," which comprises a base, a powder, a top coat and a foam applicator, packed in shiny silver packaging
Hair Product Award: Studio Ma D.O.O. with "Color Us Vibrant Party," which can be used for refreshing existing hair color, creating vibrant colors, toning of blonde hair and creating pastel tones
Natural & Organic Award: Gellé Frères France with "Eau de Parfum Encapsulated Queen Next Door"
The Best Beauty Brand Online Award also went to Gellé Frères France for its microcapsule technology, which is integrated into each of its perfumes to extend the lastingness of its fragrance in addition to allowing the elimination of alcohol, which avoids photosensitization and skin dryness.
Between the two categories, each are organized in partnership with Beautystreams, which is a company involved in concept planning, organizing the jury panel and designing the display area for the finalists' products. Centdegrés designed the trophies.
"We are pleased to receive such fervent participation in Cosmoprof Awards from exhibitors all over the world, especially for the Beauty Circle Awards, which is held for the first time in Cosmoprof Asia," said Alice Suen, event director of Cosmoprof Asia. "We look forward to seeing more outstanding products and innovations in further editions."
"We are honored to curate the Cosmoprof Awards and happy to see so many new ideas, creativity and innovative products presented by the exhibitors," said Lan Vu, CEO of Beautystreams. "We will continue to support the Cosmoprof Awards."