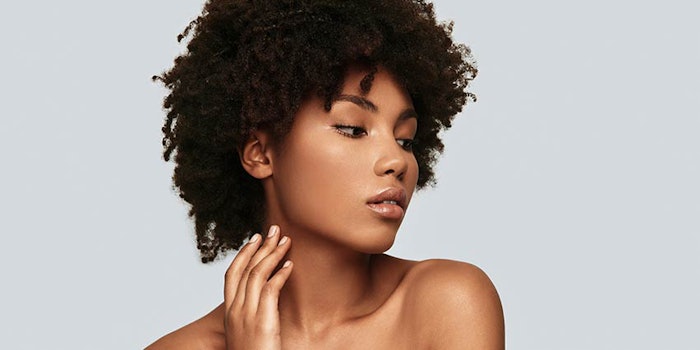 At CosmetAgora 2020, BASF's Care Creations presented its newly launched active ingredients for personal care products that moisturize and soothe the skin, as well as its range of active ingredients for makeup formulations.
The moisturizing active ingredient Hydagen Aquaporin (INCI: Glycerin (and) Glyceryl Glucoside) builds on scientific findings–the discoverers were awarded the 2003 Nobel Prize in Chemistry–that shed light on how water molecules are transported across skin cells via specialized channels.
This process relies on membrane proteins called aquaporins. BASF Care Creations has now brought the aquaporin-stimulating substance glyceryl glucoside in a highly concentrated, active form to the wider cosmetic market. In-vitro and in-vivo studies have proven Hydagen Aquaporin's hydration-boosting effect, the supplier says.
Related: BASF Launches Hydrasensyl Glucan for Lasting Hydration
Hydrasensyl Glucan (INCI: Water (aqua) (and) Beta-Glucan) is a multifunctional skin care active ingredient that combines several benefits. Like hyaluronic acid, Hydrasensyl Glucan consists of a long chain of sugar molecules. Its native beta-glucan structure enables the active ingredient to deliver short- and long-term hydration, as well as effects that smooth and soothe the skin.
This structure can also help to enhance the resistance of formulations to variations in pH or temperature and electrolyte load. Additionally, Hydrasensyl Glucan feels light on the skin.
Related: Inolixir by BASF Personal Care and Nutrition GmbH
BASF's bioactive Inolixir is a 100% natural extract of the chaga mushroom, which is native to Nordic birch forests and has been known for centuries as a healthy superfood.
Inolixir (INCI: Glycerin (and) Water (aqua) (and) Inonotus Obliquus (Mushroom) Extract) works in two ways: first, it offers a wellness approach proven to be effective on tired and stressed skin. Study participants reported that Inolixir was as effective as a five-day spa in reducing fatigue lines, dark circles and dullness.
Second, the bioactive ingredient presents a dermocosmetic solution for sensitive skin: it offers anti-redness and anti-dullness benefits, leading 85% of study participants to perceive a health benefit for their skin and 91% to report increased skin comfort within seven to 28 days of application.
The BASF makeup portfolio also features concepts and products developed by experts that go beyond hair and skin care.
BASF is working on its extensive bioactive portfolio to allow for easier use in makeup applications. Examples include harnessing the potential of the schisandra berry extract Sqisandryl to boost the growth of lashes, resulting in up to +2 mm after one month of use. In face color cosmetics, for example, MicropatchSerine has been confirmed by women to hydrate and comfort the skin all day long. Furthermore, 70% of users reported that the active ingredients enables the color of the foundation to be maintained for longer.
"For female consumers in particular, skin and beauty care has acquired a holistic value that is strongly aligned with personal confidence–as well as looking healthy and feeling comfortable," said Carole Boury, marketing manager at BASF Personal Care Europe. "Consumers increasingly expect makeup products to demonstrate skin care benefits such as hydration, radiance, or UV and air pollution protection, too."