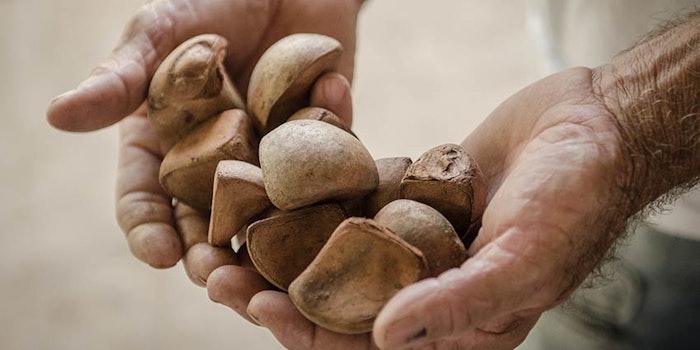 Beraca is launching a sensorial panel of natural oils.
The goal of the range, says the company, is to assist chemists in finding the best ingredient for their formulation needs, with an eye towards the market demand for natural and sustainable ingredients.
The panel will provide each plant's entire technical profile—including active ingredients, suggested uses and the sensory test results obtained from specialized laboratories. They include:
Active Revitalization Body System—Featuring a combination of ingredients extracted from rice bran, babaçu and açaí, the multi-functional complex provides skin revitalization, and can be used in oils, gels, creams and lotions. (It possesses additional qualities recommended for post-sun lotions and anti-cellulite creams)
Properties include lauric acid, omega 6, flavonoids and gamma-oryzanol combine. Efficacy tests have shown it to moisturize and revitalize the skin, and maintain, protect and enhance the color, intensity and brightness of eyebrow micropigmentation and tattoos.
Andiroba Repellent Active System—A multifunctional insect repellent base, the product includes andiroba oil, an Amazonian native with anti-inflammatory, emollient and moisturizing properties that has shown 6-hour efficacy in repelling against mosquito vectors of tropical diseases. It also offers 12-hour hydration, and is paraben and fragrance free.
Related: Beraca Awarded for Sustainable Use of Natural Resources
The andiroba seeds are collected on the beaches of rivers in the Amazon by local harvesting communities, promoting income for local families rooted in the concept that "the forest is worth more standing than cut."
"Our goal is to establish a production chain with cleaner and greener technologies, geared towards the development of bioactives, mainly created from recovered residues and biomass," said CEO Daniel Sabará. "This is an investment combining technology and nature, always focusing on solutions that will match sustainability with cosmetic performance."