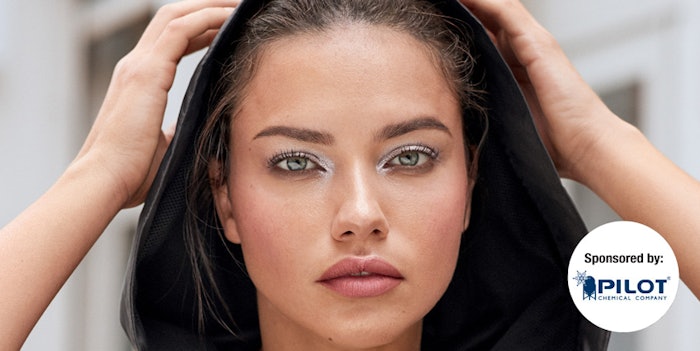 There's a good chance that the next person you see in yoga pants is not on their way to yoga class—and that's okay. Over the last several years, yoga pants, loose-fitting workout tees and other clothing in the "athleisure" category have become wildly popular, appealing to not only fitness fanatics, but anyone seeking self-care through comfortable clothing or stylish loungewear to fit an on-the-go lifestyle.
The trend's not going away anytime soon; according to MarketWatch (www.marketwatch.com), Morgan Stanley projected the athleisure wear market value to jump from $290 billion to $355 billion between 2018 and 2021, thanks to celebrity endorsements, social media and universal appeal.
It's only fitting that the athleisure trend has migrated into the beauty and personal care category—and vice versa. Brands both established and new are finding innovative and authentic ways to capitalize on the trend and integrate it into their marketing strategies—particularly around wellness.
"We know consumers are becoming more active and looking for products that are suited to fit that type of lifestyle," says Kristin Secora, director of brand marketing and sales, Oars + Alps. "We think there is a strong correlation between the two and consider it in all of our product innovation."
Fashion x Beauty Collab
When partnering with another brand on a collaboration, it's vital that there's synergy and a natural fit between the two. So, when Maybelline and Puma joined forces earlier this year to create a line directed toward the fast-paced Generation Z, it resulted in the athleisure-inspired 12-piece cosmetics collection, Puma x Maybelline.
"Our young consumer today prioritizes an active lifestyle whether it be career, fitness or personally," says Trisha Ayyagari, deputy general manager of Maybelline New York. "She's always on the go, never settles and needs high-performance products that keep up with her grind. The Puma x Maybelline Collection was created to do just that."
The products, which include smudge-resistant mascara, lip colors, and gloss face sticks that give a dewy, flushed look, come in sleek, portable packaging designed for post-workout touch-ups.
Longtime Maybelline spokesmodel Adriana Lima was brought aboard as the face of the campaign—a clear choice thanks to her passion for both athletics and fashion. The collab was promoted in top style magazines and blogs, and beauty YouTuber Tati Westbrook previewed the line in a video that's topped 1.5 million views as of this writing.
"This collection is truly the representation of the point where the gym meets the runway, a goal we strive for in everything we do for our female consumers," says Adam Petrick, global director of brand and marketing for Puma. "We believe that this first-ever collaboration will allow the Puma Woman to move seamlessly from the gym to the street and provide her with the tools to look and feel her best."
Apparel Crosses Over
But active beauty remains dominated by body care. For example, Lululemon has been synonymous with upscale athletic gear, and when it expanded into the beauty and personal care category, the move was right on brand. In June 2019, Lululemon launched its Selfcare line, which features dry shampoo, face moisturizer, lip balm and deodorant, all free from sulfates, parabens and phthalates.
"Over the years, we've heard the feedback that transitioning from sweat to life isn't always easy," says Sun Choe, chief product officer, Lululemon. "Lululemon has always been in the work of creating solutions for sweaty problems and our Selfcare line is an extension of that approach. Like our apparel, Lululemon Selfcare has been designed with function at its core and created to support guests pre- and post-workout."
Keeping in line with luxe brand, the Selfcare products are found in limited exclusive locations: 50 Lululemon stores, the brand's website, select boutiques and on Sephora.com.
Keeping Posi: Warts-and-All Branding
Anyone who's spent any time inside a gym (or outside in the summer) knows that there's a less glamorous side to post-workout beauty, involving a whole slew of body care solutions to combat sweat and stink. Brands are finding that an upfront marketing approach about their products—and the realities of consumers' experiences—leads to both body positivity and loyal fan followings.
Fashion blogger Katie Sturino of The 12ish Style founded Megababe in 2017 with Thigh Rescue anti-chafe stick, and quickly expanded the line to include Bust Dust Anti-Boob-Sweat Powder, and deodorant in Rosy Pits and Sunny Pits scents—all designed in mod, feminine packaging, in full and travel sizes. The brand has a large and growing Instagram following, which is frequently updated with launch news, videos celebrating product users and the ever-present #toocutetochafe hashtag.
"Our brand celebrates women and aims to destigmatize issues like thigh chafe—plus, it works really well!" says Sturino. "I think that Megababe is cute, fun and effective. It also helps that we have brought users along for the ride through social media."
Similarly, clean self-tanning brand Isle of Paradise's recent Get Body Posi campaign focused on body acceptance.
"The Isle of Paradise mission is not only to tackle the body confidence issue head on but to provide consumers with a solution that will encourage them to take the all important first step to achieving body acceptance," says brand founder Jules Von Hep. "The brand commitment is to create a product for real body types, where everybody is represented, and the only way to commit to that is to guarantee no editing or retouching. It's essential for the category and the industry to become more representative."
To celebrate the launch of the campaign, Isle of Paradise pledged £25,000 to Mind Charity, which focuses on mental health issues.
It should be noted that body-positive messaging isn't without its blowback. Unisex shaving brand Billie, which was originally designed around the concept of eliminating the "pink tax" from the category, has been upfront about promoting models featuring underarm and pubic hair. While the approach has endeared the brand to many, there was some negative commentary generated by the move.
In June 2019, Marci Robin, writing for Allurea, reported that, on one such body hair social media posting, "comments were full of disapproving (and often remarkably ignorant) opinions." One such comment, Robin noted, included the following: "I feel physically ill. Thats [sic] just plain unAmerican [sic]." Other commenters were more enlightened: "Imagine being mad about hair on other people's bodies."
Billie has owned the controversy, billing itself as "The first women's razor brand to show hair." It's marketing declares: "Women have body hair, yet showing it is a prickly subject. It's time to change that."
Packaging Formats Make a Difference
Increasingly, products are being designed around consumers' lives.
For instance, Oars + Alps, a men's active line designed to deliver skin-safe, cruelty-free products at an affordable price point (they recently expanded into Target stores), features everything from face wash to deodorant. For the active man on the go, its individually packaged Cooling + Cleansing Wipes provide a hygienic, convenient solution.
"They're infused with caffeine to enliven dull skin, and the addition of the cooling crystals really perk up and refresh while gently exfoliating the skin," explains Secora. "We made the cloth large enough to be used all over the body, not just on the face, so it's great after workouts or on a hot day."
Arm & Hammer has long held the standard in deodorizing products for the home and body and has recently expanded its footcare line to include Athlete's Foot 2 Way Spray. In this case, the company touts the package along with the products: the applicator, created by American Spraytech and Aptar, features a handy and unique dual actuator.
"Consumers complained that the products currently on the market left their hands and surroundings messy, it was difficult to get in between toes, and they had to buy additional products to help with dry skin," explains Stacy Crain, marketing manager, Arm & Hammer. "We wanted to develop a product that would meet the needs of the consumers in a more efficient way. Our easy-to-use spray can be utilized all over your foot, or [by flipping] the targeted straw and spray[ing] in between your toes without the messy residue—no more 'yoga moves' to reach in between toes!"
Deeper Body Care Benefits: Pain, Sleep and Beyond
In addition to soothing, protection and convenience, body care's next phase centers around a holistic, mindful value proposition.
For instance, CBD has become a game-changing ingredient in personal care, exploding from niche to the mainstream on the strength of its natural credentials and purported benefits, which include management of anxiety and insomnia, addressing chronic pain, antioxidant/anti-inflammatory properties, and addressing conditions such as psoriasis.
Launched in June 2019, Prima is a skin care brand dedicated to self-care through science, offering luxe CBD-infused facial skin and body care. The R&R Cream, though, takes healing and self-care to the next level.
"Our R&R Cream is designed to soothe muscles and joints with extra strength levels of our pure, whole-plant extract with naturally occurring CBD," says co-founder and COO Laurel Angelica Myers. "We've combined hemp cannabinoids with a soothing botanical blend of menthol, rosemary, lavender and tea tree to synergistically work together to bring comfort to tired, stressed and fatigued muscles and joints. With 750 mg of hemp cannabinoids, our R&R cream is one of the most potent formulas on the market."
A brand explicitly bridging wellness and fitness is La La Leaf, a natural CBD skin care range that is reportedly "designed for maximum hustle." Notably, the company focuses not only on CBD content, but also quality. Its packaging comprises a QR code that the brand says "verifies the stated CBD quantity and its metal-, chemical- and THC-free formula." Airless tubes further ensure defense of the product.
"La La Leaf's products have been expertly formulated to contain the highest amount of CBD necessary to be effective, alongside other botanical ingredients," says brand co-founder Michael Faiella. "We figure CBD is a gift from nature so why would we pair that with other chemicals?"
La La Leaf's Formula 1513 Antioxidant Cream (750 mg CBD) is designed "for weekend gym warriors and pro athletes to aid workout recovery" and to address fine lines and wrinkles, while the Guayaquil Hemp Lotion (250 mg CBD) is for all-over body hydration. The brand has two other recent launches, the Tru Athlete Sports Gel (550 mg CBD) and La La Lips (50 mg CBD).
Wellness brand Asutra, which was founded by Stephanie Morimoto and financially backed by Venus Williams, is built upon an active self-care mission centered around on-trend ingredients that support sleep, mood and pain management. Asutra tackles its mission by offering key ingredients—CBD and magnesium (for exercise recovery and health of skin, nails and teeth)—and mood-focused products, including aromatherapy mists.
In a recent interview with Global Cosmetic Industry, Morimoto noted that growth in natural beauty and body products drove the company's innovation, as well as the clinical, synthetic and male-focused limitations of many pain-relief products. By running counter to these trends, Asutra has begun to garner many five-star reviews and gain mainstream traction, including with Amazon, CVS and Walmart. At the same time, Williams, a sports and cultural icon, was able to generate extra hype and attention through PR.
Morimoto said more retail partners have been interested in the brand's sleep offerings, which include Chill the Night Away CBD Melatonin Lotion with Magnesium and Pure Soothing Comfort Aromatherapy Mist. In addition, Amazon consumers' specific search terms allowed Asutra to identify key emerging ingredients.
While female-friendly, the brand is very much designed for all genders—after all, stress, pain and insomnia management are critical needs for all humans. At the same time, Asutra is able to ride the wave of demand from retailers for more innovative wellness that is nonetheless accessible. Morimoto added that Asutra's packaging was redesigned to reflect the way consumers shop online and in-store, where products often have to highlight benefits up front and sell themselves right off the shelf.
As for the involvement of Williams, the tennis star will continue to help the brand with raising awareness, gaining retailer buy-in, boosting in-store merchandising with her own testimonials, and perhaps even some events. Williams—a lover of essential oils and skin care—is an entrepreneur across several industries, reflecting her passion for product development. Morimoto anticipates, therefore, that the celebrity will help ideate product formats, ingredients and more.
Meanwhile, Mineralgia has addressed pain with another hero ingredient, Dead Sea salts. The company's 98% natural Pain Relief Cream was developed by Dr. Brigitte Rozenberg, a Southern California chiropractor, for her wellness clients to address their acute and chronic pain. The cream reportedly offers immediate and lasting relief from aches and pains, muscle and joint soreness associated with arthritis, backache, sprains, minor injuries and overexertion
The non-greasy formulation is vegan, gluten- and cruelty-free, and scented with essential oils such as camphor and menthol. Key ingredients, in addition to Dead Sea salts, include magnesium, Arnica montana, aloe vera, and avocado.
The Next Frontier: Inflammaging & Chronic Disease
Could body care have a deeper benefit to consumers? According to researchers at the University of California, San Francisco (UCSF), and the San Francisco Veterans Administration Health Care System (SFVA), moisturized skin might prevent age-related ailments including Alzheimer's, heart disease and diabetesb.
The cosmetic and personal care industry hears it all the time: the skin is the body's largest organ; and we focus on its holistic status to treat signs of aging or address compromised conditions. But what we do not often consider is how its negative health could affect our overall health—being the largest organ. A new pilot study from dermatol­ogists at UCSF and the SFVA brings this perspective to light.
According to the researchers, as humans age, low levels of inflammation—or inflammaging—occur, driven by an increase in molecules in the blood known as cytokines. Such age-related inflammation has been linked to chronic diseases including Alzheimer's, cardiovascular disease and diabetes. And while scientists suspected the inflammation stemmed from the immune system or liver, this group of dermatologists have a different theory.
"The inflammation must come from an organ big enough that very minor inflammation can affect the whole body," explained study senior author Mao-Qiang Man, M.D, a research scientist in the UCSF, based at the SFVA Health Care System, who is also a visiting professor at Southern Medical University in Guangzhou, China. "Skin is a good candidate for this because of its size."
Of course, U.S. and other regulations prohibit medical claims for cosmetics. However, if true, this research shows that the next era of body care might take treatments to the next level.
Footnotes:
a"Billie's New Ad Campaign Celebrates Personal Choice by Showing Unshaven Bikini Lines and Underarms," www.allure.com/story/billie-razor-ad-campaign-unshaven-pubic-underarm-hair
b"Skin Repair Reduces 'Inflamm-Aging' Factors Linked to Chronic Disease," www.ucsf.edu/news/2019/03/413576/skin-repair-eliminates-inflamm-aging-linked-chronic-disease
Lisa Doyle was formerly the associate editor of Global Cosmetic Industry and is a freelance writer in the Chicago area. Her work has also appeared in Skin Inc., Salon Today, Modern Salon, Master Barber and Writer's Digest.