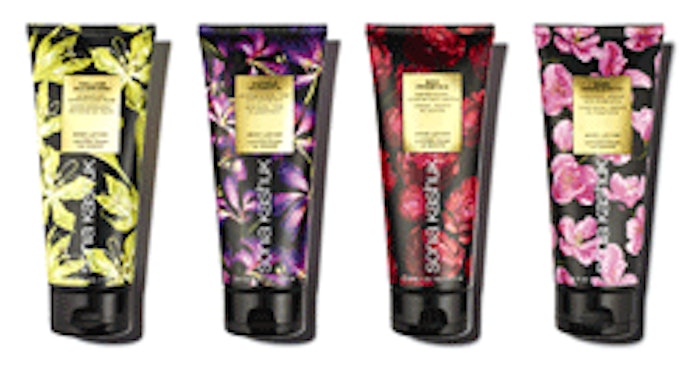 Looking to bring a little more luxury to the bath and body care section of Target, Sonia Kashuk released a new collection of body lotions, body, butters, shower gels, body washes, hand creams, body oils, body polishes and fragrances, as well as additional bath and body accessories, onto the market. With eye-catching packaging—vividly hued flowers in yellow, purple, pink and red on black backgrounds—and distinct fragrances—Pink Innocencia, Purple Seductia, Yellow Alluriana and Red Promisia—the products seek a sophisticated, chic niche on the shelves, attracting shoppers with luxe attraction and affordable prices.
GCI magazine had a chance to speak with eponymous brand owner Kashuk about her new collection, discussing her motivations and inspirations, the development process, how relationships spurred the project and what she's looking to next.
GCI: What spurred your decision to create a bath & body care line?
Sonia Kashuk: Truly, it was a void in the marketplace. I think that bath and body is such a focus as we all continue to be focused on our bodies, our exercise, looking good, taking care of ourselves—every aspect of skin and body comes into play. And it can be hard, because we are in such an overly saturated market, but when you can find and discover those kinds of little niches, it's kind of like finding a gem in the raw. It was something that I felt that nobody had really gone after.
And because of my partnership with Target, I was able to do exactly what I did almost 15 years ago [in color cosmetics]. For these products, there was no compromise on quality, so I was really able to bring forth the best of the best and be able to keep it affordable because we're able to go direct to the consumer—from the manufacturing direct to the consumer. It's really a win, not just for myself because I'm incredibly proud of it and know what this product is consisting of, but I'm so proud to be able to bring it to the Target guest.
GCI: What was your inspiration in developing the actual products?
SK: The main thing was definitely a fragrant, scented base. What we wanted to do was have it feel luxurious. It is about scent. With that said, there were three things that I had to check off [in the development process]. The first thing was, if you're walking down an aisle in Target, the first thing that had to happen was the package had to be exceptional and beautiful and eye-catching. It really had to, as I say, "dance off the shelf"—where it would stop you in your tracks. Because no matter how wonderful these scents are, no one was going to pick it up if the packaging didn't really take a stand.
So it was packaging that would stop you in your tracks, then it was the smell—these incredibly scented, beautiful aromas, developed by Robertet, which is one of the leading fragrance houses in the world. The scents are all naturally derived too. It's really partnering with the best of the best. We also worked with Bureau New York, a small design firm, on the packaging. They have worked on products for Givenchy, for Helmut Lang, for David Webb, so they're a very high-end, boutique design agency, and I feel like you sense that when you see the packaging.
So it was bringing that sense of design and style, and then Robertet bringing what they do into to the mix, and then making sure that the last thing that was going to be experiential, those formulas, would just seal the deal. To me, every partner I had on this project brought the best of the best. I feel like the whole experience, from beginning to end, is exhilarating, it's mesmerizing and your skin feels incredible. So I feel like every aspect of this [line] rivals anything in the prestige market.
Once it all came together, I recognized that it's amazing and that people in the mass market, where I sell, would love them, but so will the prestige market. I think that oftentimes in the market and category I sell in, there is nothing that rivaled the prestige world of bath and body. And I felt like I really became that bridge to bring those together, [which] is exactly what I set out to do 15 years ago when I introduced color and accessories. It was really cool for me that I stayed this focused for 15 years and was able to go back and find a void and see a niche where I could do exactly what I did in the original concept of the brand and to keep it going. I think that for me has been such an exciting aspect, in that I've been grateful to have incredible support by the industry. We've had an incredible response, and the winning person here is really that Target guest who is able to buy it.
GCI: What unique elements does your new line offer?
SK: I think number one is the scent, because there's nothing that's comparable. The scents are all natural, they're sophisticated, they're beautiful—there's just absolutely nothing in the [same retail] space with any resemblance. I think the fact that somebody could go in and buy an affordable fragrance at $19.99 is just completely unheard of.
We brought in an exfoliating body polish, which is interesting—it's being called out a lot, as is the body oil, because it's such as trend with oil right now. So I feel like we're relevant in what's happening, but I always like to have those core basics, which are the beautiful body lotions and body butters and the shower gels and washes. It's those of classics, those basics—not that the collection is basic in what we deliver, but in that's it's not hard for the shopper and user to understand.
I didn't want to over complicate the collection, but I wanted to make sure it was relevant and modern. I feel that all of these key ingredients—ingredients meaning not just what goes into the product [formulation], but what makes up the product, like the packaging and the scent—all of those things are really the differentiating factor.
GCI: How do you translate your experience with makeup and color cosmetics into bath and body products?
SK: I think what I translated was my sense of aesthetics. I hope that people got that, that I feel that it even kind of re-energizes my whole cosmetic line. Because when you see the whole thing in its entirety, I have a love of packaging and objects and things that look really beautiful, and I feel that what I bring to the table is going to make the product look super chic and yet maintain that affordability.
I am a shopper at Target. I go there to shop, my family shops there. So I am just constantly looking to be giving the unexpected. I feel like I'm so much a part of the "Expect More. Pay Less" motto of Target. I want to be always the "Expect More" portion. It's not just Target's motto, it's mine. I want to always be pushing the ante. I love nothing more than a "wow" response. That's what I love.
When I can design packaging or brush cups that have me coming up with my own design, or the patterns on the makeup bags—which I literally sit with the designers on the computer to create—that part for me is incredibly rewarding and creative. So I think it's that creative design aspect where I'm really the creative designer/director on the brand that I really like to own and have a passion and love for.
GCI: How was working with Target on the creation of this line?
SK: It's amazing. Where Target is incredible—and this what I encountered from day one when we started working together almost 17 years ago—is that they do what they do and I do what I do. I bring them my sense of aesthetic and my sense of design, and they are able to marry that with their marketing and their ability to know how to handle supply and the retail business end. I'm definitely the entrepreneurial designer that brings my end of it. So that marriage of my very entrepreneurial spin with their ability to market and deal with the operational part is where we've had great success.
GCI: How long was the product development process?
SK: A little over 18 months. About 18 months to two years of really being on it and focused and knowing the labs I wanted to work with. I knew right off the bat, from the get go, who I wanted to be formulating all these products. So I had my team in place. It was just a matter of finalizing everything.
In terms of the labs I worked with, there were some past and some new ones that I brought in that I had wanted to work with but hadn't yet had the right opportunity to do so yet. I'm very relationship based and trust based, and so there just is no room for concern. These partners get me. I get them. And whenever you're doing design work and innovation work, that sense of trust and respect is really key, and I so admire and respect everybody on my team. They all make me better, and I'm just so grateful to have those hands in it.
We're actually a pretty small team, and everybody really controls what they do. As we're evolving—we're not a big brand, but we're not a tiny brand—we hold a really good sense of the control of it. We really maintain and definitely watch our product, our image.
GCI: Do you have any plans to branch into hair care products or other beauty segments?
SK: I feel like everything is kind of our playground. For me, I try to stay focused. I'm talking lifestyle beauty, and it's really about those products and those things that are relevant and work under that umbrella. Never say never in life, but so far I've been pretty focused on that beauty segment and crossing that beauty-lifestyle thing, so I guess it's depending upon what fits into that. With a brand and name, it's really important to own who you are. You can so easily disengage and then people don't know who you are. So I feel like we've stayed very hyperfocused on the messaging and the visual content of the brand and what are those things that are going to fit it. And also I don't want to do a product just to do a product. It has to make a difference and have a point of view.
GCI: What's next on the horizon for you, if you're able to share?
SK: I'm always working. I'm always working on things to be better. It's about presentation in store, about product assortment… To me, it's so great that I've just done bath and body and that we've had such an incredible response to it. But, to me, it's now about what's next. You can never sit idle. You always have to be thinking about innovation. It's not that what you did is not important, because I feel it is. But the question I go to sleep at night with is, "What's next?"
GCI: Anything else you'd like to share with our readers?
SK: I think that I've just been so blessed and so lucky. The thing that I find astounding about my brand is that, we launched into a very busy, competitive segment of the business. And the thing that I'm so proud of is that we're celebrating, in 2014, our 15-year anniversary. We have sustained and grown year after year being in such a competitive [market] and being a small brand next to majors. I think that growth comes from making sure that I differentiate, that I continue to innovate, and that I really stay focused and own who we are. What the majors are doing, I try not to do that. They're doing it really well, so why would I go in to try to compete against that? They do what they do really well. So I try to own who I am and do it well.
My thing is also educating women—educating them in what their expectations should be in a product and how it should perform. To encourage them not to settle for a less than stellar product. Just because the price point is lower doesn't mean the product should be any lesser of a product. I think expectations should stay high. It's available to have what we've done—great products—and have them be affordable.
It's fun, and I'm lucky that I love what I do. Hopefully we are making a difference and that people are enjoying the product. Because at the end of the day, no matter how much I love it, somebody else has to love it too.
I definitely go down on my sword on these products. The quality, the experience—it's really quite amazing. The level of response we've gotten is what puts a smile on my face and what energizes me to go back and keep doing it again and again.