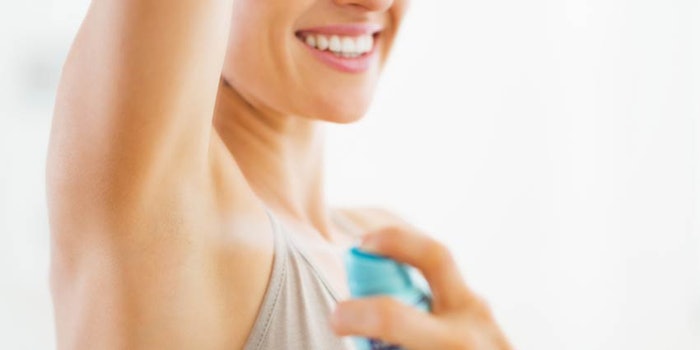 Less glamorous than other beauty categories, such as skin care and makeup, deodorants and antiperspirants often receive far less media attention. However, innovation is by no means lacking, as witnessed by the success of environmentally friendly compressed formats offering a genuine sustainability benefit and a focus on male-targeted solutions.
Previously: A Rockier Road Ahead for Booming Deodorants Category
According to Canadean, the global value of the deodorants and antiperspirants market was estimated at $18 billion in 2015, representing a slight decline of 2.8% year on year. However, global sales are forecast to pick up over the next five years to $23 billion.
"Innovation in this category is also not very dynamic due to the functional nature of the products."
Deodorants are firmly established as part of many consumers' daily personal hygiene routine. From Canadean's consumer survey, conducted in 2014, more than half (52%) of U.S. consumers say they use deodorants daily.
Further reading: Trends in Deodorant Fragrances
Compared to consumers living in hotter climates, this is relatively low: more than two thirds (67%) of Brazilians say they used deodorants every day.
Loyalty to specific deodorant products is strong, presenting a challenge to brands looking to innovate and introduce different formats and concepts. Canadean says that more than half (54%) of U.S. deodorant users claim to buy the same products every time.
In-depth: The Biggest Personal Care Innovation of 2015?
A further 31% buy something different only occasionally. Less than a tenth (8%) of deodorant shoppers in the United States say they usually splurge on high-end products.
The Low-innovation Problem
"Innovation in this category is also not very dynamic due to the functional nature of the products," says Ramaa Chipalkatti, lead analyst, Canadean. "Brands operating in this category face an uphill struggle to excite consumers about new products and novel usage formats. Yet, several brands are successfully thriving in such a challenging innovation landscape through effective understanding of consumer needs."
(Chipalkatti will present a session on deodorant and antiperspirant category trends during the in-cosmetics show in Paris, April 12–14; www.in-cosmetics.com.)
Price and value for money are important considerations for most consumers, but brands cannot skimp on benefits and increasingly offer multiple features in their products, such as 24- or 48-hour protection, stain-free functionality, suitability for sensitive skin and a sophisticated fragrance.
Don't Skimp on Benefits
Body-responsive technology is used by many of the major brands targeting issues, such as excessive sweating caused by stress, hormones and through sporting activity. For example, Unilever's Sure Maximum Protection Stress Control has a stress-activated formula, while Maximum Protection Sport Strength claims to give twice the protection in a long-lasting formula.
Another example is Soft & Gentle deodorant, boasting an Advanced Body Responsive formula that uses an ingredient that is activated when it senses wetness on the skin. L'Oreal Men Expert Thermic Resist is a 48-hour antiperspirant designed to deliver sweat protection from heat rushes in physical activity, extreme temperatures and stressful situations, and has been tested in temperatures of 45°C.
Another male targeted product with emphasis on long-lasting protection is Garnier Men Mineral Anti-Perspirant Deodorant, boasting 72-hour protection, along with other attributes such as anti-irritation, anti-white marks and yellow stains.
Traditional aerosols can feel painful on application, especially for those with sensitive skin. Powder formulations take the sting out of the spray and leave the underarm feeling smooth to the touch without leaving a residue.
Examples include Nivea Powder Touch deodorant, formulated with kaolin powder, known for its soft and absorbent qualities, and Dove Soft Feel Anti-Perspirant Deodorant, which comes in a compressed aerosol format and features the brand's ¼ moisturizing cream formula in an application that feels dry and soft like powder.
Improve the Eco Profile of Products
"Environmentally-friendly packaging is an important route for personal care brands to earn 'green' points," says Chipalkatti. "With today's consumers recognizing and placing significant importance on responsible packaging and waste reduction, the ongoing trend for compact has a promising future."
According to Canadean's 2013 global consumer survey, two-in-five consumers globally believe that if a beauty product has too much packaging, they will consider buying an alternative product.
Enter Unilever's compressed deodorant technology, which has proved to be a game-changer that might actually help to protect the environment in the long-term. Unilever claims that compact deodorant packaging contains less propellant in delivering each spray, whilst containing the same volume of product as a standard full-size product.
The new format has resulted in a carbon footprint reduction of 25% on average per can. Furthermore, the smaller packaging has practical benefits, making it more portable and appealing to busy consumers on the move.
However, getting consumers to switch to the new format has not been easy, and Unilever has needed to invest in educational campaigns for its Dove, Dove Men+ Care, Axe and Vaseline brands to encourage people to give it a go. The company now hopes that other deodorant brands will use of the technology in order to make "compressed" an industry accepted term.
Smart Deodorant and Other Novel Innovations
Novelty is an excellent lever in shifting consumer focus from price to value, especially in functional categories like deodorants. Launched in the United States just over a year ago and designed by a New Jersey student, ClickStick is a smart deodorant application device that "tells" users exactly how much deodorant to apply and reminds them when they have forgotten to put any on.
The right amount of gel is determined by the app and is dispensed by the click of a button, based on personal and activity needs. Another useful feature is that it can indicate when refills are needed.
British company Deciem has introduced Inhibitif, a product that contains high concentrations of multiple actives to minimize the need for hair removal under the arms whilst fighting odor. Results are meant to be visible in as little as two weeks, with further results seen in 4-8 weeks.
Canadean has picked up a Japanese foot odor deodorant spray called Foot-Medi Fundeo, that is designed for use in socks or tights and offers consumers a discrete way of minimizing foot odors—consumers use the product by pressing their feet on it. 
Innovation will be key to keeping consumers' interest engaged, although value for money will always win out over novelty.