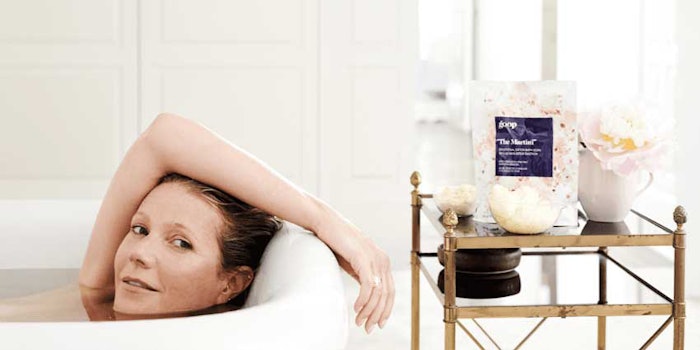 Gwyneth Paltrow's lifestyle brand, goop, has launched five bath soaks.
According to goop's website, the bath soaks "incorporate elements of Chinese medicine, herbalism and aromatherapy." The soaks were reportedly developed with a unique blend of salts, botanicals and essential oils. 
goop Bath Soaks 
The Martini
An emotional detox bath soak with Himalayan pink salt and chia seed oil
Retails for $35
G.Nite
A bedtime bath soak with valerian root and Australian sandalwood
Retails for $35
G.Tox
A detox 5 salt bath soak with glacial marine clay and activated charcoal
Retails for $35
Phys. Ed.
A recovery bath soak with apple cider vinegar, arnica and turmeric
Retails for $35
Nurse!
An under the weather bath soak with mustard powder, manuka and eucalyptus
Retails for $35